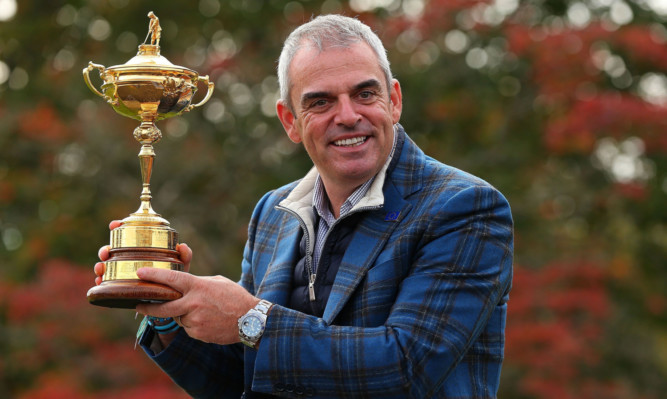 Despite the months of detailed preparation bringing a resounding Ryder Cup victory, outgoing European captain Paul McGinley was still insisting he was "lucky" as he left Gleneagles on Monday.
McGinley cheerfully admitted to a "disturbing" level of detail in his plan for the European team that routed the USA 16 to 11 on the PGA Centenary Course, conceding he might have gone too far in getting blue and gold fish for the team-room fishtank.
But while he also defended his rival captain Tom Watson after Phil Mickelson's public attack on the American tactics at Gleneagles, McGinley badly wanted to share the euphoria around the whole continent.
"My feeling right now is the same as it was when I holed the winning putt in 2002," he said.
"From the bottom of Italy to the top of Sweden, from the west of Ireland right across to Turkey, this is for everyone in Europe."
Luck played a big part, he insisted, despite the incredible detail of his plans even tweaking pairings at European Tour events to get possible partners playing together without their knowledge.
"I had a plan in place and strategies and I feel lucky to have had 12 players like that to execute it," he said.
"We were lucky to come out of the foursomes sessions 7-1. Why that happened, I don't know. I was lucky to have every guy on the team arriving here moving forward.
"I was incredibly lucky to inherit such a great team, to have four of the top five players in the world in my team. What European captain has ever had that?
"I was lucky to have guys like Jamie Donaldson and Stevie Gallacher racing to the line at the end in qualification.
"Everybody on that team came in moving forward."
But while often typecast as being over-reliant on statistics and having a cast of thousands on his backroom team, the Irishman was proved right on all counts.
"I had a stats team helping me formulate my plan, but all I wanted was statistical evidence to back up my instincts," he explained.
"I bounced ideas off Sir Alex Ferguson, but he didn't preach to me or tell me what to do, but he solidified my own ideas and gave me the confidence to believe that my instincts were right.
"I got some things wrong. Stevie Gallacher's first game, I wished I had more time to get Ian Poulter ready for the role of being his partner, the way I'd got Lee (Westwood) ready for Jamie Donaldson and Graeme (McDowell) ready for Victor Dubuisson."
As for Watson, his respect is undiminished, and he subtly made a comparison between the actions of his senior players and the American captain's chief detractor.
"There's no tougher competitor in golf than Tom Watson," he continued. "He's incredibly disappointed, but he's still got that smile, that steely grin this morning.
"He's a man I've always respected and in the last two years I respect him even more. I feel very privileged to have been on this journey with a man who has been a great hero of mine throughout my life that was a
win/win situation for me."