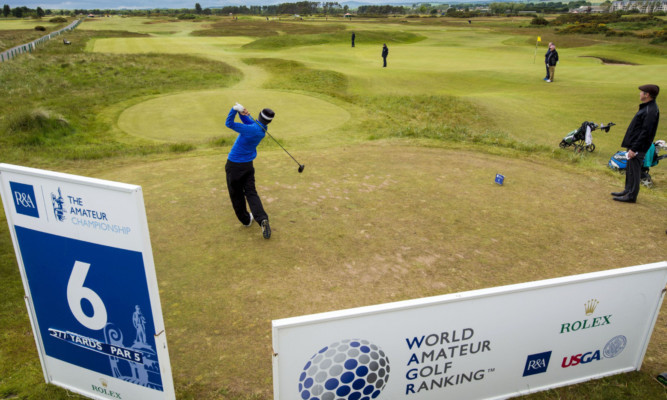 It's 117 years since it last happened, but three Scots players are in with a chance of producing back-to-back Amateur Championship titles for the Home of Golf at Carnoustie this weekend.
Grant Forrest, Greig Marchbank and Jack McDonald are into the last eight of the championship, and the home nation is guaranteed a semi-finalist as Forrest and Marchbank face off this morning in the quarters.
The ultimate aim is succeeding Bradley Neil as champion and it would be the first time we've had Scots win successive Amateurs since 1897 and 1898, when Jack Allan and Freddie Tait doubled up.
Certainly no players remaining in the field including four Frenchmen have played better than the Scotsmen these last few days.
Craigielaw's Forrest may be the class of the Scots trio, with national matchplay titles at junior and senior level and last year's St Andrews Links Trophy win on his cv. He certainly did little to dispel that notion yesterday with wins over Gisti Sveinbergsson of Iceland and Ashley Chesters, the two-time European Individual champion.
Coincidentally, these three had returned the best scoring during the brutal first round on Wednesday, all of them under par on a fiendishly difficult day for scoring. Yesterday, however, Forrest was in sole charge.
After beating the Icelander 3 and 1 in the morning, the last 16 clash between two Walker Cup squad players had top billing, with GB&I captain Nigel Edwards and selectors taking a keen interest, and 1995 winning captain Clive Brown refereeing.
The key came around the turn when the Englishman had reduced an early four-down crisis to a more manageable two-hole deficit. Forrest hit in to 12 feet at the 10th and Chesters responded with an approach inside the Scot, but after Grant holed nervelessly for his birdie, the Englishman missed with a nervy stroke.
Forrest then drained a 30-foot birdie putt on 11 to go back to four-up and the contest was just about over.
"I was a bit more scratchy today, especially on the front nine in the afternoon, but that was a big switch on 10," said Grant, who is 22 today. "I saw that Nigel and the selectors were there but I was in the hunt for Walker Cup last time and played for Nigel in the St Andrews Trophy match against Europe last year, so it's not a big thing for me.
"I just get on with my game. But obviously playing at Lytham in September is a big target for the end of the year."
Perhaps both having just completed their university degrees has helped Forrest and McDonald focus this week, although Jack had a scrap to beat the highly rated Welshman David Boote, who attends the prestigious Stanford University in California where Tiger Woods was briefly a student.
Two down with two to play, McDonald produced two telling pars to stay alive and then saw Boote miss a golden chance at the 19th before he secured the win at the 20th. In the afternoon, he was too strong and experienced for fellow Scot Robert MacIntyre, who had ousted England's Jimmy Mullen.
"It was a tricky situation in the morning but those last two holes, you know anything can happen so you've got to keep going," said McDonald. "He gave me another wee chance at the 19th and it was a good par to win up the second which was playing really tough today.
"I'm not thinking about Walker Cup or anything like that, I'm just thinking about playing as well as I can, trying to improve and seeing how good I can get," he added.
Marchbank has plotted his way carefully and quietly but after beating Germany's Yannick Paul in the morning, he showed great tenacity when he momentarily lost his bearings off the tee in the afternoon against big-hitting Finn Miki Kuronen.
Two down after nine, and that after holing a succession of decent putts to stay in touch, Marchbank got a spring in his step by merely finding the fairway on the 10th.
"I hadn't kept the ball on the golf course up until that point so it definitely proved the turning point and gave me a bit of confidence," he said.
He duly played the last eight holes of the tie in two-under with birdies at the long 12th and 14th to clinch the match 2 and 1 and a meeting with Forrest this morning.
France is assured of two semi-finalists with four of their squad facing off in the other two quarter-finals, Alexandre Daydou and Antoine Bozier meeting in the top match and Romain Langasque taking on Robin Sciot-Seigrist in tie at the foot of the draw.
McDonald's opponent in the last eight will be Lancashire's Sean Towndrow, a beaten semi-finalist at Portrush last year.
Results
Second round
A Bjornsson (Iceland) bt M Cea (Italy) 4 and 3; A Daydou (France) bt G Moynihan (The Island) 4 and 3; P Barjon (France) bt J Oda (USA) 6 and 5; A Rozier (France) bt V Maroy (Norway) 2 holes; G Marchbank (Thornhill) bt Y Paul (Germany) 2 and 1; M Kuronen (Finland) v C Ross (Kirkhill) at the 19th; A Chesters (Hawkstone Park) bt J Yule (Middleton Hall) 5 and 4; G Forrest (Craigielaw) bt G Sveinbergsson (Iceland) 3 and 1.
J McDonald (Kilmarnock Barassie) bt D Boote (Walton Heath) at the 20th; R MacIntyre (Glencruitten) bt J Mullen (Royal North Devon) 2 holes; S Towndrow (Southport & Ainsdale) bt M Mehles (Germany) 3 and 1; M Gradecki (Poland) bt G Kristjansson (Iceland) 1 hole; R Langasque (France) bt H Endycott (Australia) 6 and 5; A Blomme (Sweden) bt F Andersen (Denmark) 2 and 1; R Sciot-Seigrist (France) bt B Moore (Kedleston Park) 2 and 1; A Tosti (Argentina) bt T Rosemuller (Germany) 7 and 6.
Third round
Daydou bt Bjornsson 2 and 1; Rozier bt Barjon 3 and 2; Marchbank bt Kuronen 2 and 1; Forrest bt Chesters 4 and 3; McDonald bt MacIntyre 4 and 3; Towndrow bt Gradecki bt 1 hole; Langasque bt Blomme 2 holes; Sciot-Seigrist bt Tosti 3 and 2.
Today
Quarter-finals 8:15 Daydou v Rozier, 8:30 Marchbank v Forrest, 8:45 McDonald v Towndrow, 9.00 Langasque v Sciot-Seigrist.
Semi-finals 1 pm and 1.30 pm.