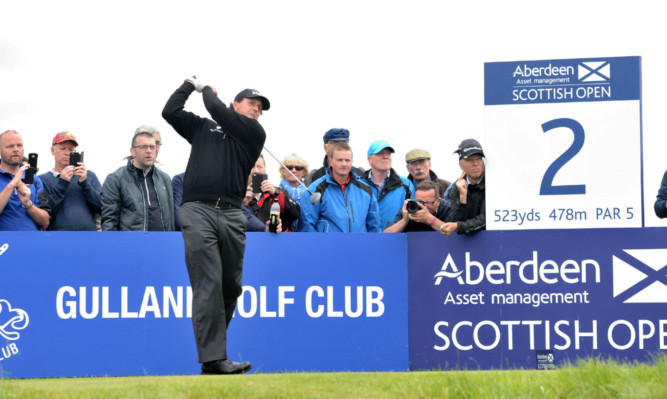 Politics even if they involve slandering an entire country shouldn't enter into golf according to an uncomfortable Phil Mickelson yesterday as the future of the Aberdeen Asset Management Scottish Open came into focus.
Phil's perma-smile never wavered as he tried to head off a couple of controversies yet simply bounded headlong into another one.
The controversy was Phil's partial defence of Donald Trump and his influence over this tournament, which he has loyally attended for over a decade now and helped build up to its current level of prosperity.
Having previously been supportive of the event moving around to a selection of Scotland's great links, he now seemed to suggest that keeping it one place would suit him better.
But where? Perhaps the Trump International Links at Menie, which has been rumoured as a possible venue for three out of the four years starting in 2017? Only this was before Trump spouted his ill-judged remarks about Mexicans that have sponsors and some golf authorities running for cover.
Phil stayed and played at Menie during last year's Scottish Open at Royal Aberdeen. We know from former First Minister Alex Salmond's autobiography that he tried to broker a dtente between Trump and the Scottish Government over the wind turbines proposed offshore near to his course.
Could it be that Phil's at least partly behind a plan to move the Scottish to Menie? If so, Trump's comments have not helped.
"Everybody's in a tough spot," said Phil, not specifically referring to the Scottish Open, but maybe subtly. "We were all disappointed to hear (Trump's) comments, yet it doesn't take away from all he's done to try and better golf.
"His place at Aberdeen is just a wonderful golf course. It puts everybody in an awkward situation, because we don't agree with those comments but we are appreciative of what he's done to promote the game".
Didn't the comments now make it difficult to take the Scottish to Menie?
"I don't know. I played that golf course last year when I was there and I stayed at his place. I thought it was wonderful.
"I hope that politics doesn't come into golf. It's unfortunate that it has, because I think that golf course and many of his properties are just wonderful to play."
Phil had previously tried to head off what he thought a packed pressroom would be most interested in, the story last week about large sums he'd wagered on sports events ending up as part of a money-laundering investigation – "I'm comfortable enough with whom I am as a person that I don't feel the need to comment on every little report that comes out," he remarked.
The other issue was his last press conference in the UK, the infamous post-Ryder Cup session at Gleneagles when he threw Tom Watson's captaincy under a bus.
"Tom's one of the great champions this game's ever had," he said. "I'm certainly appreciative of all he's done for golf and I hope next week, at his last Open Championship, is a celebration of that."
Phil's ever-sunny disposition wasn't for darkening, and he's delighted to be back in a part of the world so special to him, after his Open triumph half a mile up the road two years ago.
"I'm going to stop by at Muirfield," he said. "I'd just love to walk the back nine again that was probably the best nine holes I've played, probably the most special victory of my career.
"To be this close and not go back would be a crime. I will definitely do it."