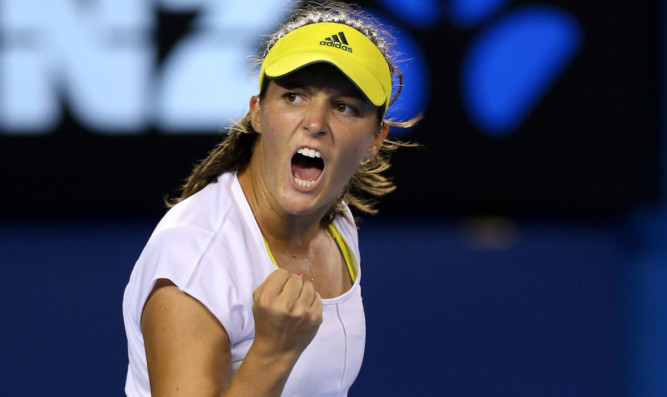 LAURA ROBSON displayed nerves of steel to progress to the third round of the Australian Open yesterday after outlasting eighth seed Petra Kvitova in an "ugly" three-hour marathon.
The 18-year-old overcame a woeful first set to grow into the match, winning 2-6 6-3 11-9 in exactly three hours.
With Heather Watson advancing on Wednesday, it is the first time since the 1991 US Open that Britain has two women in the last 32 of a grand slam.
It certainly was not pretty but Robson again displayed a bloody-mindedness which, allied to her natural talent, bodes well for the future.
She next plays another rising star, American Sloane Stephens, who beat her in Hobart last week.
Although happy with a victory she described as "her toughest", the British No 2 admitted it had been a patchy encounter.
"I thought it was pretty ugly but in terms of how tough it was to close it out.
"I never gave up, even when she went up a break twice in the third.
"I thought I had to get as many returns in as I can and, in the end, I thought I have nothing to lose so I relaxed on my serve and decided to go for it."
Kvitova, the 2011 Wimbledon champion, has been struggling for confidence in recent months and suffered early-round defeats at the warm-up events in Brisbane and Sydney.
She again appeared mentally fragile, especially in the deciding set, as Robson held her nerve rather than the more experienced Czech.
The first two sets were instantly forgettable, with both players making a catalogue of errors as the momentum swung one way and then the other.
Kvitova had the better of the opener.
"In the first set, it was just too up and down," said Robson.
"You can't win a set when you hit five unforced errors to every winner.
"At the start of the second I knew I had to play with more consistency."
She did exactly that to hit back, aided admittedly by Kvitova's inability to keep the ball in court.
Most of the drama was reserved, though, for the deciding set, after Kvitova had surged into a 3-0 lead.
Robson held and then got the break back as, from nowhere, Kvitova threw in three double faults in an awful game.
In keeping with the match, Robson promptly handed it back, more serving woe compounded by a netted backhand on break point and so it continued, Robson breaking again to change ends at 3-4 down.
There was eventually a hold as the teenager made it 4-4.
The standard was improving, both players holding before Robson profited from yet another Kvitova meltdown to break for a 6-5 lead.
She could not serve it out, however, being broken to 15 as nerves got to the younger woman.
Two holds followed before a disputed line call at 7-7, 30-30 unsettled Kvitova but, to her credit, she came through to again pile pressure on Robson.
She held firm as the match, remarkably, then went into a spell of being dominated by serve until Robson broke for 10-9.
This time the Czech had no reply as Robson served it out to go through with the match finishing well after midnight.
"I was pretty disappointed at how I tried to serve it out at 6-5. I gave her too much time on the ball so to come out with a win is pretty pleasing," Robson added.