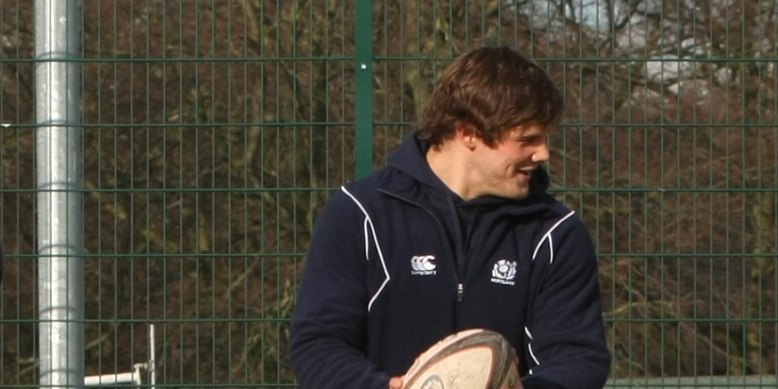 Andy Robinson will pick from five players to inherit the captain's role from injured Chris Cusiter and Al Kellock when Scotland face the formidable task of taking on New Zealand in the first of three autumn tests next month.
The head coach has named a squad of 34 from which he will pick the 22 for the November 13 clash with the All Blacks who have never lost to Scotland in 27 meetings but the squad will not necessarily be the only players who come into contention for the tests to follow against South Africa (November 20 at Murrayfield) and Samoa (November 27 at Pittodrie).
With Cusiter ruled out after knee surgery and Kellock unlikely to pass the head coach's insistence of match fitness, even if he does return for Glasgow in the next three weeks, the job of skipper for the three games will surely be between the five members of the squad's "leadership group."
"The captain will come from the five of John Barclay, Kelly Brown, Ross Ford, Mike Blair and Rory Lawson, depending on who is selected for the first game," said Robinson. "All five could very much captain the team and we place a lot of store on the leadership side. There are captains for specific parts of the gameplan, attack, defence, lineout, scrummage and so on.
"Injuries have been an issue with selection but players will come in as they recover, but only if they prove themselves to be match fit. I'm not concerned with players like Dan Parks, Rory Lawson or Simon Danielli who have picked up injuries because they've been playing from the start of the season and a couple of training sessions will be all they need, but guys like Al and Nick De Luca will be returning and starting from scratch and need to get up to speed."
Already without Kellock, Cusiter, De Luca, Johnnie Beattie and Phil Godman, Danielli pulled out of the reckoning with an injury at the weekend and Northampton's Joe Ansbro is called in as one of several young players being given a chance, with most attention likely to be on Glasgow fly-half Ruiradh Jackson.Jackson impresses"I've been impressed with Ruiradh this season. He has played very well, particularly in the last fortnight in the Heineken Cup, and he's shown some great moves in attack," said Robinson. "We've done a lot of work with him over the past couple of years and I'm delighted to see the way he's taken that on."
The coach has as many as 12 or 13 of his starting 15 picked, with one of the positions in question being that of tight-head, where three specialists have been picked Moray Low, Geoff Cross and Euan Murray.
Because of his personal stance against playing on Sundays, Murray has had very limited playing time for his club Northampton.
"Tight-head is one position that is up for grabs, and we have to take account of the fact that Euan hasn't had a lot of game-time," said Robinson. "However we also take into account previous international performances and the fact that there are players who raise their game in a Scotland jersey, and Euan is one of those.
"All the tight-heads are playing well, but scrummaging is a key element for us."
There is no place for former skipper Jason White or Ally Hogg, enjoying a new lease of life at Newcastle, but Robinson isn't closing the autumn door to them or other up-and-coming players, including the former Dunfermline forward Fraser McKenzie and Mike Blair's younger brother David.
"Fraser gave a fantastic performance for Edinburgh at the weekend and what we want to see from him and also from David is five or six performances like that in a row, showing consistency," Robinson added. "If they can do that, they'll definitely be international players before long."
Robinson said, "Jason wouldn't have made the 22 for the New Zealand game, but I'm pleased with his performances in France and he could come in for South Africa and Samoa which are different challenges and require different tactics.
"We're taking each game in isolation, each team will ask us different questions. New Zealand have played some fantastic rugby this year and if you over analyse them you would end up not wanting to take the field.
"We've done our analysis and we'll be confident of our tactics to take the game to New Zealand and understand that we are in control of our own performance."Scotland squad:Backs Joe Ansbro (Northampton Saints), Mike Blair (Edinburgh), Ben Cairns (Edinburgh), Max Evans (Glasgow Warriors), Alex Grove (Edinburgh), Ruaridh Jackson (Glasgow Warriors), Greig Laidlaw (Edinburgh), Rory Lamont (Toulon), Sean Lamont (Scarlets), Rory Lawson (Gloucester), Graeme Morrison (Glasgow Warriors), Dan Parks (Cardiff Blues), Chris Paterson (Edinburgh), Hugo Southwell (Stade Francais), James Thompson (Edinburgh), Nikki Walker (Ospreys).Forwards John Barclay (Glasgow Warriors), Kelly Brown (Saracens), Geoff Cross (Edinburgh), Alasdair Dickinson (Gloucester), Ross Ford (Edinburgh), Richie Gray (Glasgow Warriors), Dougie Hall (Glasgow Warriors), Jim Hamilton (Gloucester), Nathan Hines (Leinster), Allan Jacobsen (Edinburgh), Scott Lawson (Gloucester), Moray Low (Glasgow Warriors), Alan MacDonald (Edinburgh), Scott MacLeod (Edinburgh), Euan Murray (Northampton Saints), Ross Rennie (Edinburgh), Alasdair Strokosch (Gloucester), Richie Vernon (Glasgow Warriors).Not considered due to injury Johnnie Beattie (Glasgow Warriors), Chris Cusiter (Glasgow Warriors), Simon Danielli (Ulster), Nick De Luca (Edinburgh), Phil Godman (Edinburgh) and Alastair Kellock (Glasgow Warriors).