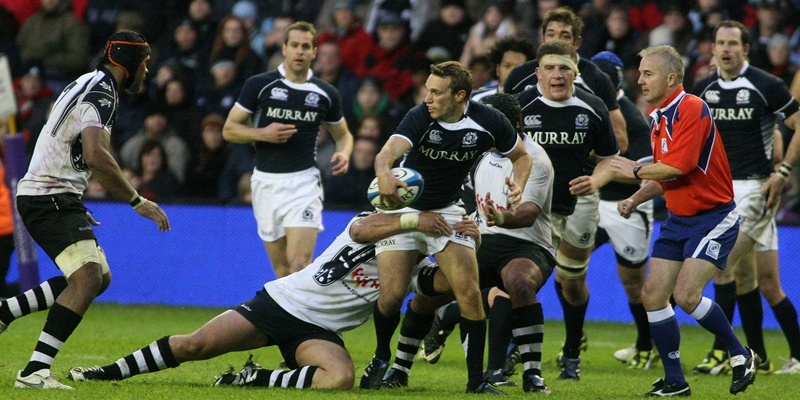 Edinburgh's Mike Blair has volunteered to make an early return to duty in an attempt to boost his side's hopes of getting an early revenge in the second leg of the Greaves Sports 1872 Cup against Glasgow at Murrayfield on Sunday.
The former Scotland skipper had been expected to be out for a month after suffering an elbow injury against the Ospreys just over a fortnight ago, but declared himself available for selection to the surprise of Edinburgh coaching staff after Wednesday's first training session after Monday's 30-18 loss to the Warriors at Firhill.
It is less than two weeks since Blair got the news he would not need surgery on the injury and started his rehabilitation, and while he is unlikely to be pitched straight into the starting line-up his return is a boost for the capital club, who have lost the last four meetings with their inter-city rivals and badly need a win on Sunday.
Head coach Rob Moffat was unable to name a team yesterday as players continue to be monitored after Monday's game but he predicted there would be no ill-feeling hanging over from the fight that broke out at the end of the game which saw Edinburgh's international lock Scott MacLeod and Glasgow's young reserve flanker Chris Fusaro red-carded.
"You don't condone violence, but if you looked at the game it was hard fought and physical and it certainly wasn't dirty," he said.
"We've been doing our preparation with a view to being without Scottie this week, even though he still has to go through a hearing.
"We're well covered for second rows with Stevie Turnbull, Craig Hamilton and Esteban Lozada so it's something we'll be looking at in selection over the next couple of days."
Glasgow head coach Sean Lineen didn't think that the sendings-off incident would reflect on the second game and pointed out that it had occurred on the last play of the game.
"It's a derby, there's a lot of passion and in some instances guys are playing for Scotland jerseys, so no way do we want to lose that competitive edge," said Lineen.Niggle"The players know each other so well there will always be a bit of niggle and it just blew over right at the end there."
Lineen will be without Graeme Morrison, the Scotland centre having injured a knee which Warriors team doctors believe will result in an absence of "weeks instead of months."
"He's a crucial player for us and has been playing well, but in total we know that our performance has to be several notches up from what we showed at Firhill," continued the coach, who also named a squad but is unlikely to make many more changes to his starting team other than the one enforced.
"We were beaten at the contact area where Roddy Grant and Ross Rennie were outstanding, and our discipline was poor, although it was silly rather than cynical, so we've been working to improve there.
"There should be some seriously good rugby played on Sunday because Edinburgh have been doing well at Murrayfield and we love playing there as well. The crowd were magnificent for us on Monday and we're hoping that a good crew come through to back us this weekend."
Glasgow have added Peter Horne, Alex Dunbar and Ryan Wilson to their squad while Edinburgh have called up Lozada, David Denton, Ross Samson and wing Andrew Turnbull as well as Mike Blair.
The loan spell of centre Alex Grove has been completed and the Scotland international centre has returned to Worcester Warriors.
The 23-year-old made eight starts and two appearances off the bench during his spell with Edinburgh.
Edinburgh squad: Backs: Chris Paterson, Lee Jones, Jim Thompson, Tim Visser, Simon Webster, Andrew Turnbull, Ben Cairns, John Houston, Nick De Luca, James King, David Blair, Greig Laidlaw, Mike Blair, Ross Samson. Forwards: Allan Jacobsen, Ross Ford, Geoff Cross, Andrew Kelly, Kyle Traynor, David Young, Esteban Lozada, Fraser McKenzie, Steven Turnbull, Craig Hamilton, Stuart McInally, Scott Newlands, Ross Rennie, Roddy Grant, Netani Talei, Alan MacDonald, Dave Denton.
Glasgow Warriors squad: Backs: Federico Aramburu, Alex Dunbar, Max Evans, Colin Gregor, Hefin O'Hare, Peter Horne, Ruaridh Jackson, DTH van der Merwe, Peter Murchie, Henry Pyrgos, Bernardo Stortoni. Forwards: John Barclay, Ryan Grant, Richie Gray, Dougie Hall, Robert Harley, Alastair Kellock, Moray Low, Aly Muldowney, Fergus Thomson, Kevin Tkachuk, Richie Vernon, Jon Welsh, Ryan Wilson.