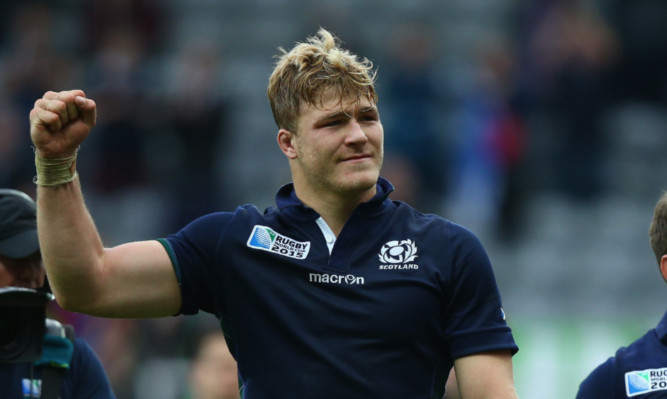 David Denton hoped it wouldn't have to happen again, but he's getting his ears taped up in readiness for second row duty.
With Jonny Gray suspended for three matches as a result of the controversial citing commissioner decision, Scotland have only two second rows to pick from for Sunday's Rugby World Cup quarter-final against Australia in Jonny's big brother Richie and Tim Swinson.
The best option should either of those two become incapacitated is Denton, although at a push Josh Strauss and Ryan Wilson could be pressed into action.
However Denton has been set for the back-up role from much earlier in the tournament, he revealed at the team's new base of the Surrey Sports Park in Guildford yesterday.
"I might be playing second row," he said. "I'm going to go and get my ears taped up, just in case!
"It was a conversation we had when Grant Gilchrist picked up his injury. I spoke with Vern (Cotter) and he said that might be a possibility, that I might need to cover the second row.
"Of course if I have to, I'll do what I need to do for the team. Did I once say I wouldn't play there? That might have been the hope!
"It's not my favourite and I'd much rather be playing No 8, because that's my position. But when you're at the tail end of the competition you've only got a certain number of players and there's niggles, citings and things like that, people need to be flexible."
Denton has seen time in the second row for Edinburgh during the club's injury crisis of a season ago.
"I was thrust in there for six or so games in a row, which I wasn't thankful for," he recalled. "It's a different experience, put it that way. It's a lot harder to get around the park from that position.
"But it's also interesting. You have to play rugby in a different way so, from that perspective, it can be quite fun."
Another option and he was in boots yesterday – has had to be discounted.
"That was the other one, bring Wagga (assistant coach Nathan Hines) back," joked Denton. "No, it's something I'm comfortable with."
As much as citing commissioners are clearly keeping an eagle eye on players, it's not something that can be considered too much in the heat of battle, he added.
"It is difficult from our point of view because we've got a split second to make a decision that could have ramifications for the next three weeks," he said.
"From a player's point of view, as much as we can stay away from someone's neck, all the better; however unintentional things are, when you go near the neck people it seems to be a problem.
"I don't think any of us are the kinds of players who would be looking to do dirty things and it's not something that I personally think about, anyway."
But even as the team take in the fallout of the suspensions, they have to concentrate on the job ahead, he added.
"We can't be sitting here feeling sorry for ourselves. We've got a huge match to win on the weekend," continued Denton. "So we have to deal with it, park it to one side and move on.
"The Australians have got a very strong back row, no doubt about it. If we lose the breakdown game and the physical contest there, we're fighting an uphill battle."
There's only one way to be assured of beating Australia's two ball jackals David Pocock and Michael Hooper, he believes.
"There only way is to get there before them! If they get into that position over the ball, they're very hard to move.
"So what we're going to focus on is getting there before they do and being clever about it.
"But I think it's kind of a myth that the Australian rugby team isn't physical. They are a physical team, and we can expect them to come at us.
"They are going to look to play rugby, yes. But rugby matches are won up front, in the trenches, if you like.
"We've got to win that physical battle, and I think we can."