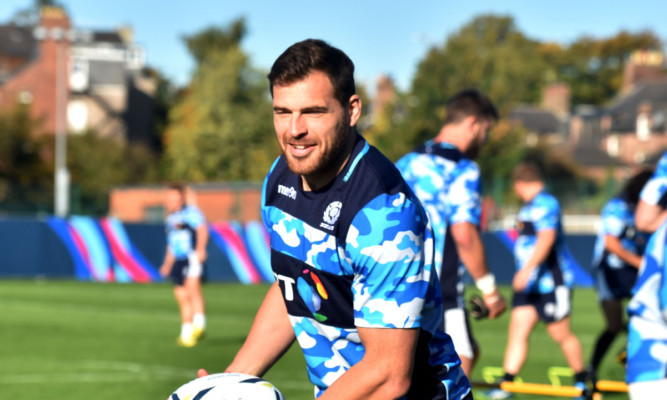 He didn't touch the ball, he didn't make a tackle. Even the fact that he got on for his 100th cap was secondary to Sean Lamont.
"The thing was to qualify," said the Perth-born wing, standing in the tunnel under St James' Park, wearing his newly presented gold-stitched and tassled 100th cap after the nerve-shredding finale against Samoa. "If I'd sat on the bench all day today and not got on, it wouldn't have bothered me as long as we won.
"My focus is the team doing well, and the players who represent the team showing themselves well. That's what we did today."
The second man to reach three figures for Scotland could hardly have expected to get the call from the bench, replacing Stuart Hogg again struggling with cramp, to come at such a crucial juncture. The roar from the 52,000 was still unmistakable in the tension of a contest not yet safe for his team.
"I didn't think about it then, I had one job to do, one focus," he said, adding that he hadn't considered the moment properly until the actual presentation by SRU president Ed Crozier in the dressing room amid the other celebrations.
"We knew Samoa would put up a good fight, and we knew it would be physical, and it certainly was that. Take nothing away from them, but we've qualified, we're into the next stage.
"Regardless of me getting 100, the boys played really well today. It's made up for last time around (failure to qualify in 2011) which was a big factor for me.
"But we're not done here. We've got another game to play next week and we'll start prepping for that now."
There was some time to reflect for him after the presentation, witnessed by his wife and two young sons – in "Daddy 100" hoodies his mother and father, and his brother Rory, who also played 29 times for Scotland.
"It was a big deal, 11 years in the making," he laughed. "A lot of love from the boys in the squad which is greatly appreciated. It's a great squad, I love being here and this squad's one of the best I've been around, not just for playing ability but for spirit within the squad.
"Somehow, caps 1, 50 and 100 have all been against Samoa. My focus has changed a lot since 2004. When you start out you want to make a name for yourself and it's about you as a player but now it's not me, it's the team."
And he thinks the team can keep moving ahead.
"I'm not finished yet, I'll keep plugging away, I'm still making new memories." he added.
"A bit of self-belief and confidence will take us a long way. We'll see what happens next week."