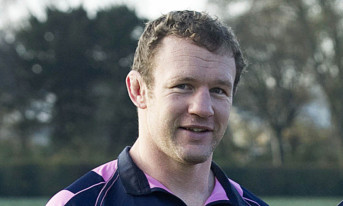 Sixteen years after the team was wound up, the Caledonia Reds will be reborn this Sunday at Duffus Park in Cupar with a view to reclaiming their role in Scottish Rugby.
A Reds team picked from senior clubs in the north and coached by former Scotland captain Jason White who played for the Reds as a teenager supported by club coaches Colin Robertson and Kevin Wyness, will take on invitation side the Co-Optimists, who will feature Glasgow's Carlin Isles the fastest man in world rugby in their team.
A second match in Prestonpans next week against a Newcastle Falcons XV has also been arranged, with a view to putting the Reds and Caledonia region on the map again as Scottish Rugby debates how to expand representative rugby and widen its player base.
The Reds were the team representing the old North and Midlands district all territory north of the Forth and were disbanded after playing two Heineken Cup seasons in 1998.
The team was merged with Glasgow into the Glasgow Caledonians team which has since become the Glasgow Warriors pro-team.
The recent revival began in unlikely circumstances, after financier Martin Gilbert indicated his interest in helping fund a third pro team in Aberdeen last month, when some supporters started a Facebook page under the Reds name.
The response to the page snowballed quickly until the games were arranged at short notice, and Sunday's match kick-off 2pm will be in aid of the Murrayfield Centenary Charity.
"It just shows that the identity of the Reds is still alive even after all these years and furthermore there are players who are really desperate to be involved," said Dundee HSFP coach Robertson.
"There's a lot of discussion about structure in Scottish Rugby at the moment and we don't know where the Reds would fit into that.
"Ideally it would be a third pro-team but we understand there are a lot of obstacles, financial and logistical.
"We think there is definitely scope for a revival of the district championship, on a more structured scale than before, to help fill the big gap between club rugby and pro rugby that everyone knows is there."
While the senior team was disbanded, Caledonia has continued at under-16, 17 and 18 level, producing a stream of players for the pro-teams and international rugby.
Seven players from Stirling County, four each from Aberdeen Grammar and Dundee HSFP, two from Howe of Fife and a smattering of experienced players from other clubs like Peter Jericevich of Ayr and Cameron Ferguson, Jason Hill and Murray Douglas from cup champions Heriot's have been selected in the squad for Sunday's game.
Fred McLeod, the former SRU president who is the long-time president of the Co-Optimists, has named a strong side led by Heriot's cup-winning captain Graham Wilson, augmented by Glasgow's two American players, the electric Isles and Fola Nuia.
Both played leading roles in the Warriors' win at the Melrose Sevens last week and have been released from the Glasgow squad to play.