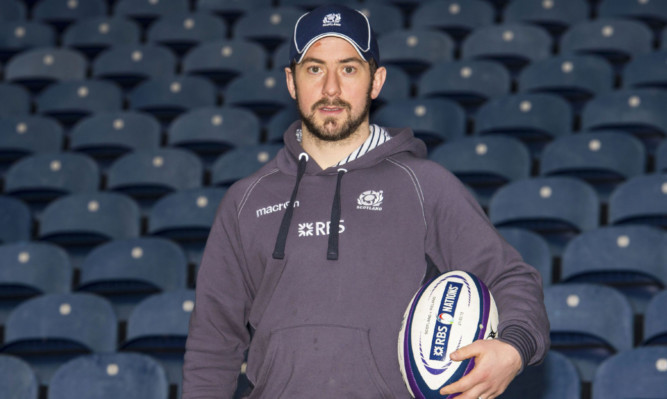 Just one precious win will stave off humiliation, be due reward for their efforts and set Scotland up for the run-in to the Rugby World Cup, believes captain Greig Laidlaw.
The skipper is desperate to avoid joining Chris Paterson and Ross Ford as whitewash captains of Scotland in the last 10 years, but still feels that the potential is there in the squad to defeat Ireland at Murrayfield in their final RBS 6 Nations match on Saturday.
The squad remain upbeat, despite the latest setback at Twickenham, meaning that the Irish still with a chance of retaining the championship have to be beaten to avoid the wooden spoon.
"There are still huge positives in there," said Laidlaw. "I think everybody can see some of our play is brilliant and some of the confidence we get from that.
"It starts in training. We had a great session again today, and now it's about players making sure they know Ireland inside out.
"When you're under a little bit of pressure, players can go quiet. For me it's got to be the opposite. I'll be encouraging the players to keep coming out their shells, keep expressing themselves, keep attacking.
"If we do that, that'll put us in the best position to win the game."
Not that the squad were satisfied with the performance against England, with another review session that was harsh on themselves on Monday, especially the way that their defence was opened up by the English backs.
"We're very frustrated that after a great first half performance we've come up short again," he said. "We're not expecting miracles, but we're going down there to win and putting ourselves in position to do so.
"It's just a question of understanding why we didn't push on in the second half, I think some of the boys got a bit of an eye-opener in meetings in the last couple of days. Vern's a very clever coach and he's explaining to them if we keep doing this, this and this, the outcome will be a positive one.
"Maybe there wasn't enough urgency in the early part of the second half, but even at 20-13 I felt we were in the game. I think we're getting away from what we're doing well.
"When the game gets tight, we have to realise we're in because of what we've been doing and stick to it."
But any kind of victory, even a backs-to-the-wall effort that defeated the Irish two years ago, will give a huge lift to the squad, he said.
"Against a team like Ireland, it will certainly help, they've had a good championship up until last weekend," continued Laidlaw.
"If we can win, it shows that our improvements have come to something in the end. Thenwe look at how and why we did it, and it gives you confidence to keep replicating it.
"We want to win for the jersey, win for ourselves, win for the fans, because they've been brilliant throughout a tough campaign.
"We can hugely feed off our own fans. We want to give the fans something for their continued support, send them off on a good note, because it's been a tough championship for the players and fans alike."
The other aspect is that it will have the squad in positive mode going into the summer.
"This is one last competitive game, we have four warm-up games (prior to the World Cup) which will be pretty competitive but this means a lot more.
"This is an opportunity this weekend to finish on a high. If we can win, it gives us a bit of a sigh of relief going into the pre-World-Cup games. If you lose it's a long time before you then play for Scotland again.
"That's the worst situation to be in. In that respect it's good we've only had a week to try and rectify some of the problems and give everybody the boost that they want."
No new players have been called into the Scotland training squad prior to the Ireland game, hinting that the injury crisis head coach Vern Cotter referred to after Twickenham turned out not to be as bad as feared.
The head coach had joked about "playing the Under 20s" after saying that all eight players replaced on Saturday had been due to injury and all were doubtful starters against Ireland.
However all were on the training field yesterday, with just a few – including dead leg casualty Matt Scott – wearing pink bibs indicating they had to stay out of contact situations.
The Edinburgh centre, who had to come off at half-time at Twickenham, is thought to be the only question for Saturday.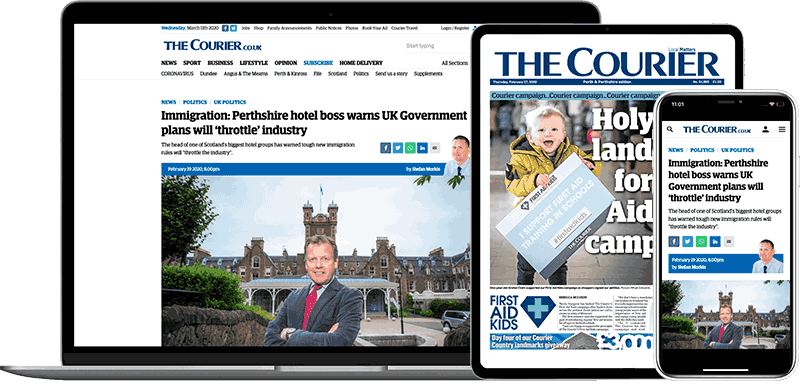 Help support quality local journalism … become a digital subscriber to The Courier
For as little as £5.99 a month you can access all of our content, including Premium articles.
Subscribe