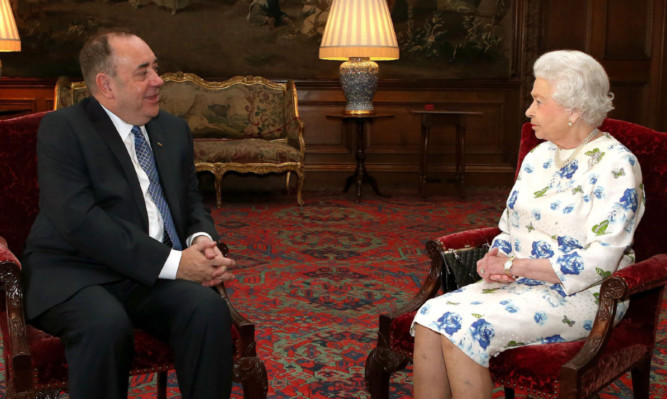 It was a gaffe by David Cameron which still rankles with the former First Minister.
Mr Cameron was caught on camera talking about how the Queen "purred down the line" after he phoned her to say Scotland had voted no to independence.
The former SNP leader's hackles rise at the very thought of it. He lambasted Mr Cameron's behaviour as "disrespectful" and accuses him of "showing off" like a "schoolboy" in front of wealthy friends.
He does not even believe what he said.
"It was total nonsense," he said. "Anybody that knows the Queen would not believe that's she'd behave like that. Cameron was just boasting to a billionaire like some schoolboy.
"What a ridiculous way to behave."
The Prime Minister's exchange with Michael Bloomberg, the former New York mayor, was accidentally picked up by Sky News.
Mr Cameron said: "The definition of relief is being the Prime Minister of the United Kingdom and ringing the Queen and saying: 'It's all right, it's OK'. That was something. She purred down the line."
Part of the conversation is inaudible, but he was then recorded saying: "But it should never have been that close. It wasn't in the end, but there was a time in the middle of the campaign when it felt…"
Mr Cameron said that he was "extremely sorry" and "very embarrassed" about the comments, and would apologise to the Queen during his next audience with her at Buckingham Palace.
Mr Salmond said he initially thought the Conservative leader had set it up for the cameras.
"But when I watched it back, I realised he had just blurted it out without thinking because he was showing off. Like a naughty schoolboy," he sneers.
Mr Salmond refuses to talk about his relationship with the Queen and holds up his hands, saying he will never reveal what they discussed about the state of the country's affairs. But he does admit that they bonded together over horse racing, a love they share.
In fact, one of the Queen's race horses even landed him a small windfall, after she updated Mr Salmond on how it was faring during their last meeting at Balmoral.
"She said that she was really keen on Mustard, one of her new two-year-olds," he explains.
"If the Queen mentions a horse to you, then of course you go for it. I didn't put a prince's ransom on it, but I wish I had it won at Haydock the next weekend."
Mustard romped to victory at Haydock Park Races on September 27, beating Emirates Skywards in the last furlong.
"I took the Royal hint," laughs Mr Salmond.
"She knows an amazing amount about horse racing and it's a great joy to her.
"I'm sure the equanimity that she shows between good news and bad news, ups and downs, is because of her length of time on the throne.
"But also I wonder if it's because, being the owner of race horses, you have to learn to cope with disappointment at the same time as enjoying the occasional triumph."