A horse that is "as brave as a lion" took on the towering puissance wall at the 2014 Scottish Horse of the Year Show and won.
Giving Inverness rider Lucy McAngus an experience of a lifetime, Dark Weather became the only horse to soar over the imposing 1m90 fence at the recent championship event at the Morris Equestrian Centre.
Lucy has forged a partnership with the 10-year-old Grade C stallion which was previously owned by Ron Brady and ridden by Craig Hamilton over the last five months, and this was their first attempt at a puissance class together.
She bought 'Storm' in May on the advice of her Fife-based trainer Douglas Duffin with the hope of tailoring him towards this type of specialist class.
"It was definitely a night that I am never going to forget," said Lucy, who herself had only ever ridden down to a puissance wall once before taking third in the same class at SHOYS on Parelda Van De Kapel last year.
Lucy has spent the summer season getting to know the son of Tornado, and together they have competed up to 1m40.The puissance wall was built at SHOYS with a first round of 1m30, before progressing to 1m40, then 1m70, before reaching 1m90 in the fourth round.Lucy said: "I really didn't think the wall would go that big, but Storm is as brave as a lion."He really will give anything ago."She said the stallion thrives on a big atmosphere, and her ultimate aim will be to get him to the Horse of the Year Show.During the three-day affiliated British Showjumping competition, Glenrothes young rider Kirsty Aird achieved a double of 1m30 wins with her relatively new horse Jumping Mac Flash.Kirsty bought the 10-year-old Grade B gelding, sired by Kannan, early in the year from Robert Snaddon who had produced him in Banbury since he was a four-year-old."After spending the winter training with Robert and having sold my own horse to Greece I bought Mac and returned home with him in March."Hitting the ground running together, they jumped their first 'bigger' tracks together at this year's Royal Highland Show which was highlighted by a seventh place in the Young Rider Final.As the season progressed, the duo were placed in all of their 1m30 classes at Hickstead and also achieved a seventh in the 1m40 Grand Prix at Bicester and Finmere Show in the 1.40m Grand Prix."With William Funnell, Peter Charles, Tina Fletcher and James Fisher, to name a few in that class, I was absolutely ecstatic," said Kirsty.She said the opportunity to jump consistently big, technical courses south of the Border has made a marked difference to their performance in Scottish competitions coupled with Robert flying north once a month toprovide training for Kirsty and a number of other riders.In the jump-off for the first 1m30 class, on the Friday at SHOYS, Kirsty said she had initially only planned to aim for a clear, because Mac had been "quite spooky" in the first round."After jumping the first fence I changed my mind," she said.Kirsty and Mac took a stride out between the second and third fences, but also used a tight turn back to the second-last upright to clock the winning time."In Saturday's 1m30 I was just delighted to be clear again."A stronger field made for tougher competition and Kirsty made the best of being drawn midway through the seven-strong jump-off field."It was quite a long jump-off with lots of space between each fence, but Mac is so careful that I can really trust him to keep coming forward and jump his fences," she said.Nailing a tight turn to the final oxer, they forged into an unassailable lead."Mac has so much scope and ability he truly is one in a million," said Kirsty.equestrian@thecourier.co.ukResultsFridayBritish novice: 1 Kenyah Mcintosh Brown, JJS Clio; 2 Kenyah Mcintosh Brown, JJS Pollyanna; 3 Patrick Williams, Master Calvaro. Discovery: 1 Sanda Trenchard, Valasay; 2 Miriam Brackenridge, Charlie L; 3 Jane Ault, Ballinteskin Eye Catcher. SHOYS adult 1m open championship: 1 Stuart Muirhead, Merllyns Mondena; 2 Kathryn Keiller, Ballytarsna Gold; 3 Emerson Sender, Coolys Cruiseland. Newcomers: 1 Moira Williams, Ankaras; 2 Aileen Craig, Bellini; 3 Logan Creighton, Porscha H. SHOYS adult 1m10 open: 1 Emerson Tough, Callumbus; 2 Laura Templeton, Vurelise; 3 Emerson Sender, Van De Bay Girl. Foxhunter: 1 Charlotte Ash, Galant Van Het Vijverhof; 2 Charlotte Geddes, Chento D; 3 Ian Warnock, Harperland Micky Finn. 1m20 open: 1 Laura Hutt, Wyona; 2 Trevor Nicholson, Amadeus; 3 William Walker, Brogue. National 1m30 open qualifier: 1 Kirsty Aird, Jumping Mac Flash; 2 Moira Williams, Castlelawn Kannan; 3 Rachel Walker, Bo Gi.SaturdayBritish novice: 1 Kenyah Mcintosh Brown, JJS Pollyanna; 2 Jane Ault, Ballinteskin Eye Catcher; 3 Kirsty Thomson, Leagh Magpie. Discovery: 1 Aileen Craig, Bellini; 2 Mischa Irving, Why Not; 3 Kenyah Mcintosh Brown, JJS Pollyanna. SHOYS intermediate championship: 1 Lucinda Stewart, Con 3; 2 William Walker, Alexia II; 3 Heather Donaldson, Dylan XI. SHOYS small open championship: 1 Maurice O'Connor, Ronnoco Cruise; 2 Martin Arnott, Casino Royal XI; 3 Martin Arnott, Her L'Amour. National 1m30 open: 1 Kirsty Aird, Jumping Mac Flash; 2 Rachel Walker, Bo Gi; 3 Gillian Anderson, Congeniality B. SHOYS puissance: 1 Lucy McAngus, Dark Weather; 2 (equal) Nigel Springer, Mullentine Quick Step Diamond; Ian Warnock, Mckenzie II; Maurice O'Connor, Miss Doctro B; and Nigel Springer, Ballyhane Etto.Sunday (ponies)SHOYS 70cm starter open: 1 Georgia Glen, Tullibards Four Socks; 2 Emma Woods, Solo Vivace; 3 Codie Mcgowan, Dorito. Pony British novice: 1 Karina Dunlop, Treflan Fioled; 2 Chloe Dobbie, Millie Mooh; 3 Emma Calder, Cloud 9 II. 80cm open: 1 Georgia Glen, Tullibards Four Socks, 2 Georgia Glen, Derrymore Flyer; 3 Alexander Mclean, Woodburys Harlequin. Pony discovery: 1 Stuart Muirhead, Katy Manor; 2 Eilidh Campbell, Hit The Deck; 3 Emily Macfarlane, Bradmoor Tess. 90cm open: 1 Lucy Bainbridge Craig, Bowes Cemtex; 2 Chloe Templeton, Vo-Tran; 3 Georgia Glen, Derrymore Flyer. Pony newcomers/1m open: 1 Angel Tough, Forever Star Turn; 2 Chloe Templeton, Vo-Tran; 3 Amelia Palmer, Jiminy Cricket. SHOYS 128/138cm handicap: 1 Emma Crawford, Mitchel Troy Welsh Express; 2 Alexander Mclean, Madonna; 3 Mya Roxburgh, Styx Evo VIII. Scottish Pony leading rider: 1 Charlotte Ash, Aughnashammer; 2 Alexander Mclean, Red Flamenco; 3 Rory Aird, Caprice III. BS Scottish branch pony scurry championship: 1 Charlotte Ash, Killack King; 2 Fraser Reed, Bay Friend; 3 Alexander Stormonth, Shappen Pilgrim.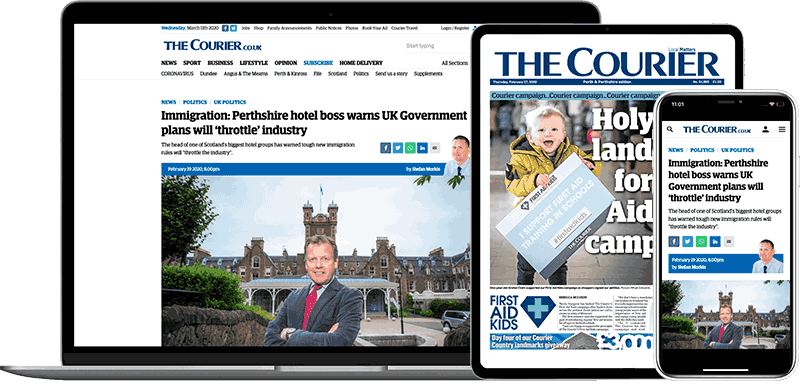 Help support quality local journalism … become a digital subscriber to The Courier
For as little as £5.99 a month you can access all of our content, including Premium articles.
Subscribe