 Scottish equestrianism welcomed Highfield at Howe with open arms during the centre's official relaunch weekend.
With bumper numbers of riders and spectators descending on the Giffordtown venue, the new centre managers were delighted to raise more than £3,200 from the charity showing extravaganza, marking their first 'proper'open competition weekend.
At the end of the official relaunch event, Highfield's Tom Myles revealed the total raised for The Grass Sickness Fund and HorseBack UK had reached an impressive £3,225.
To mark the occasion, two new trophies were donated for in-hand and ridden competition. The show was judged by Jessie Singleton, David Picken, Keith Neilson and centre riding instuctor Laura Henry.
Sweeping to the top of the overall in-hand championship was Waxwing Raspberry Ripple, owned by Kirsty Miller, from Auchterarder, and handled by David Russell, of the Heathpark Show Team, in South Lanarkshire.
The two-year-old Welsh section A filly by Thistledown Vierra was bred in Saline by David Blair and Tom Best, of the Waxwing Stud, out of the renowned Waxwing Penny Dainty.
Although the filly only joined the Heathpark team a month previously, she has already amassed a win and reserve championship from the Ingliston Grand Slam and was, more recently, champion at the Puddledub In-hand and Youngstock event at Errol, in Perthshire.
The reserve in-hand title went to Elmwood College horse-care student Georgie Noonan and her non-native coloured mare Ruby's Gem.
"I was so shocked, I wasn't expecting to achieve such a brilliant result," said Georgie.
Georgie, who hails from Kirriemuir and liveries at Auchlishie, has owned the 11-year-old thoroughbred cross Welsh mare for the last four years.
For the 16-year-old former Forfar Academy pupil, the reserve supreme ticket is their best success yet.
During the summer show season Ruby's Gem sired by Ax'L Foli and out of Mompesson Crown Jewel won the reserve championship in the ridden coloureds at Kirriemuir Show, having stood as champions at the same show last year.
They have also won winter league competitions at Inchcoonans.
Meanwhile, the supreme win in the ridden show ring went to Rowanlea Carnoustie, with 10-year-old Ami Conchie and her increasingly successful pony Wynswood Footprint.
The Welsh section B gelding, sired by Millcroft Evensong and out of Wynswood Cufflink, has been with Ami for the last year.
Although he came to the Conchie family as an all-round working hunter and Pony Club pony, he has proved his consistency in the show ring.
"He was bought to jump, but he has proved himself every bit as good as our other showing ponies," said the family.
During their last season together Ami, who goes to school at Carlogie, has ridden the 12-year-old gelding to top their working hunter class at Brechin, win the show pony class at Alyth, take second place in both the show pony and show hunter pony classes at the Grand Slam and finish fourth in the TSR rider final.
Ami took centre stage in the ridden championship alongside eight-year-old Jasmine Bleazard, who stood reserve overall on her little grey pony Thistledown Scots Haar.
The "true child's pony", known at home as Poppy, has been in the Bleazard family now for the last 18 months and has turned her hoof to absolutely everything.
From one-day events to pony racing, showjumping, working hunter, first ridden and small breed mountain and moorland and concour d'elegance classes, the partnership has done it all.
Jasmine, a pupil at Kinnaird Primary School, is also a member of Linlithgow and Stirling Pony Club.
Back in the show ring, their successes during the season have been extensive and include the supreme championship at the Puddledub working hunter show and reserve supreme at the City of Edinburgh.
"We also went to Equifest this summer, where they won first in Tiny Tots First Ridden Welsh and child handler, third in the 10 years and under equitation, second in the Pony club pony, third in the Tiny Tots First ridden mixed M&M all in in massive classes of 30 plus," said Jasmine's mother Louise.
"Poppy is an amazing pony, which never fails to try her hardest all the time," she added of the mare which was sired by Blackhill Piccalo and bred out of Thistledown Queen of Scots.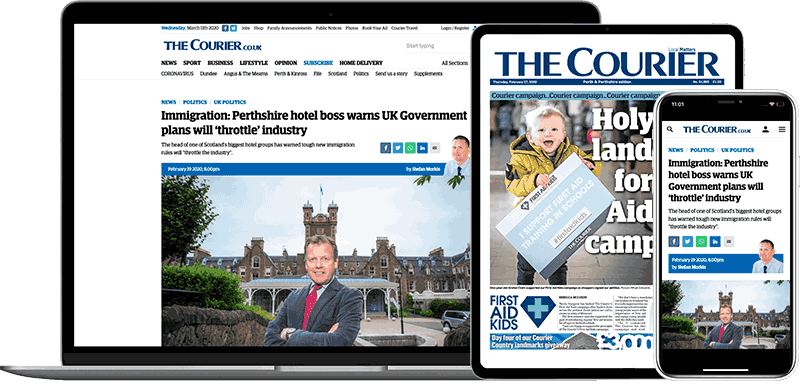 Help support quality local journalism … become a digital subscriber to The Courier
For as little as £5.99 a month you can access all of our content, including Premium articles.
Subscribe