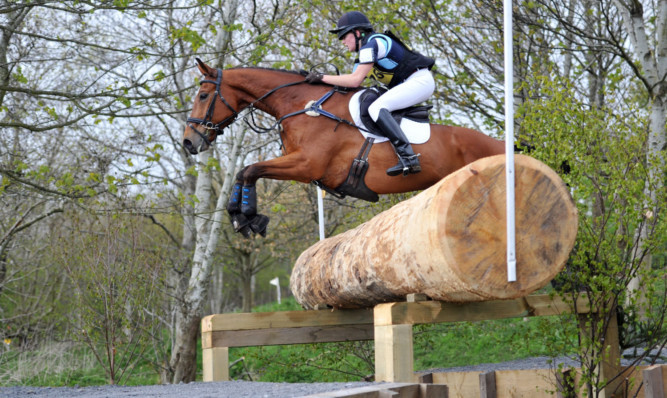 Organisers of the Kirriemuir Horse Trials celebrated the 10th anniversary running of the competition at Auchlishie Farm.
New for 2015, an additional loop carved into the Novice track by cross country course designer Andrew Hunter presented riders with a fresh challenge.
Here, newly constructed fences included a trakhener, an arrowhead skinny and a 'floating' fence in the water, while the BE100 class tackled a related arrowhead to roll-top as their entry to the water complex.
"It's made the water far more technical, it's certainly not a walk in the park," commented event organiser and farm owner James Helyer.
"We've been overwhelmed with the amount of praise and thanks we've received, by email and social media, for the changes we've put in place. The BE80 competition which will now be a permanent fixture was also very well received. In all it was a fantastic weekend."
Mr Helyer said while the change of date, which saw Kirrie take Brechin's traditional later calendar slot, was clearly beneficial "weather wise", he hoped in future years the Scottish events would not have to clash with those in the north of England.
He said: "With less events left up here, there's plenty of calendar dates to go round. Riders shouldn't have to chose one or another BE competition when they could potentially support both, on alternate weekends."
This year's clash with Richmond, said Mr Helyer, seemed to affect Novice competitors the most but regardless Kirrie still ran with a near-full top height section.
Stopping the clock on the button of the optimum time to snare this Novice win was final year Glenalmond pupil Olivia Strang Steel.
She topped the leader board with eight-year-old Cooley Q sired by Olympic showjumper Defi Platiere and bred by Kathleen Seymour out of Arctic Melody adding nothing to a dressage of 28.8 penalties.
Campaigned throughout the 2013 season from BE100 to Novice level by Badminton and Burghley winning rider Oliver Townend, Cooley Q returned to Liz and Richard Sheane at their Cooley Sport Horse stud in County Wicklow for much of 2014.
"I went to Ireland with Wills Oakden last summer to look at various event horses and I was immediately convinced that Q was the right horse for me," explained Olivia. "He arrived in Scotland in August just in time for me to run him round the BE100 at Wee Burgie before the end of the season."
Olivia and Q launched their 2015 season with a BE100 run at Lincoln before making the step to Novice level at Burgham and gaining a double clear for seventh place at Burgie. Although Olivia explained there is room for improvement with Q's dressage, which has benefitted from "invaluable" training with Sue Hendry, she was "thrilled" to finish the day without any jump or time penalties.
"I was hesitant about riding in double reins for the showjumping, as I hadn't competed Q in them before but they were hugely effective in giving me the reassurance of the extra control if I needed it, yet allowing us to generate the power needed in his canter."
Olivia said, courtesy of cross country commentary, she knew she had the opportunity to win: "It fuelled me with extra determination and Q was still full of running through the finishing flags!"
Her aim now is to campaign Q in the under 18 sections for the coming season although one-star international qualification is also on her mind. Q will share the Strang Steel's lorry for 2015 with Olivia's 14.2hh Connemara Western Glan, before Olivia heads south to Wiltshire in December to take up a role as working pupil for leading UK rider Harry Meade.
The BE100 sections were topped by Aberdeen rider Robert Wilson with Harlequin Moon and Stirlingshire's Giorgia Burns.
Giorgia a freelance coach who schools horses of all levels won with her own eight-year-old Avontuur, sired by the Dutch stallion Cavalier.
"He's progressed so well after a very difficult start to his career he wouldn't even go over a pole on the ground at the beginning," said Giorgia, who trains with Eric McKechnie.
"This is his last BE 100 as he moves to novice now, so it was great to finish on a win."
The event also provided a first win for vet nurse Alison Bogue, from Stirling, and her five-year-old Marqued Man.
"I bought Kenny as a two-year-old and he is completely home produced. I was absolutely thrilled to win," she said. "It was his third ever event and his second BE90 so I was not expecting any high placings I just wanted a good run.
"I had to keep checking the results as I couldn't believe we had actually won."
equestrian@thecourier.co.uk Across the grassroots sections at Kirrie, the standout performance of the weekend came from Aberdeenshire's Laila Bedawi and her pony Sherbet who ended their day on 18.3 courtesy of a 14.3 penalty dressage.
The 15-year-old's score smashed the previous winning record for Kirriemuir, which had been set by Isabella Innes-Ker and Cartown Wallabe just last year after they completed on a dressage of 22.5.
Prior to both these achievements Moray rider Isabella Mackenzie trumped the Auchlishie scoreboard with a 24 back in season 2012.
"I got Sherbet when I was 12 and she was my very first pony she'll be 17 this year," said Laila of the pint-sized 14.2hh palomino mare.
"She was the one that basically taught me how to ride. I had never even jumped a cross pole before I got her so it amazes me to look back now on how far we have come together."
The event at Kirrie was their second outing of 2015 and they travelled south fresh from a BE90 win at Burgie on a dressage of 26.8. Laila credited her low scores to training behind the scenes from Sally McCarthy at Aberdeen RC, and to regular clinics with Pheobe Buckley.
Previously, the Albyn pupil's personal best dressage at BE came with Sherbet at Hopetoun last year, where they scored 20.5.
The partnership is also the current British Riding Club Junior 80 Horse Trials champions after they travelled to Oxford in August last year, representing Findon, and took the national win.
"She can occasionally be a bit anxious during a test, especially during her walk steps. However, as soon as I entered the arena at Kirrie she felt very relaxed and calm and was very attentive to me," said Laila.
"Showjumping is our weakest phase we had an unfortunate back pole at the second last fence but our cross country round was amazing."
Looking forwards she said: "My ambition is to one day compete at Badminton in the Grassroots Championships. I'd also like to be selected to compete in the u18 teams."
RESULTS BE90 A: 1 Laila Bedawi, Sherbet, 14.3,4,0,0=18.3; 2 Jennifer Cushnie, Diablo Sie, 21.8,4,0,1.6=27.4; 3 Angus Broad, High Approach, 30.3,0,0,0=30.3. BE90 B: 1 Alison West, Strachbell Sergant Bilko, 24.3,0,0,0.4=24.7; 2 Sarah Finlayson, Baro Castlecoole, 26.3,0,0,0=26.3; 3 Gillian Edward, Benny Station, 30.3,0,0,0=30.3. BE90 C: 1 Alison Bogue, Marqued Man, 31.5,0,0,0=31.5; 2 Anne Shaw, Finnan Boy Blue, 34,0,0,0=34; 3 Lauren Webster, Balhagarty Lancelot, 29.5,0,0,5.6=35.1. BE100 D: 1 Giorgia Burns, Avontuur, 30.3,0,0,0=30.3; 2 Sarah Yeaman, Avonmills First Edition, 33.3,0,0,1.6=34.9; 3 Rebecca Stephen, Rockhill Rock And Roll, 35,0,0,0.4=35.4. BE100 E: 1 Robert Wilson, Harlequin Moon, 18,0,0,0.4=18.4; 2 Selina Cairns, Quality Control, 25.5,0,0,2.4=27.9; 3 Claire Simpson, Margarets Choice, 27,0,0,2.0=29. Novice F: 1 Olivia Strang Steel, Cooley Q, 28.8,0,0,0=28.8; 2 Sonya Cunningham, Opposition Eclipse II, 28.8,0,0,0=28.8; 3 Leona Blacklaws, Eclips Vant Schuurken, 28.5,0,0,2.4=30.9. BE80 G: 1 Megan Pratt, Voltaires Diamond, 36.5,0,0,0=36.5; 2 Hannah Cuthill, Lupo II, 36.8,0,0,0=36.8; 3 Zoe Niven, Siepkes Ilonna, 37,0,0,0=37. BE80 H: 1 Charley Hamilton, Del Boy II, 36.3,0,0,0=36.3; 2 Eloise Plant, A Kind of Magic, 26.5,4,0,6.8=37.3; 3 Daisy Cross, Mr Tumnus, 33.5,4,0,0=37.5.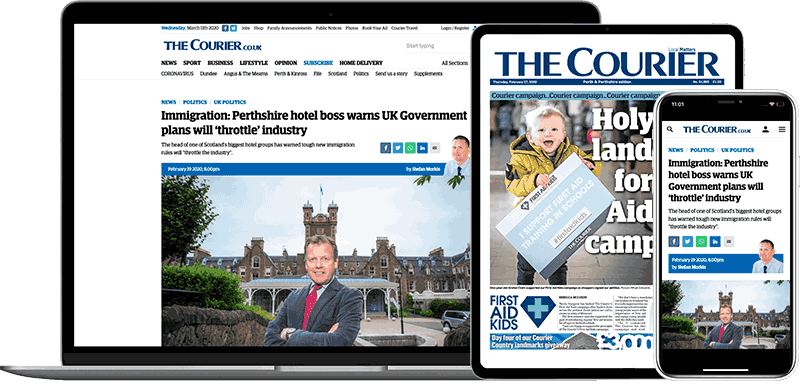 Help support quality local journalism … become a digital subscriber to The Courier
For as little as £5.99 a month you can access all of our content, including Premium articles.
Subscribe