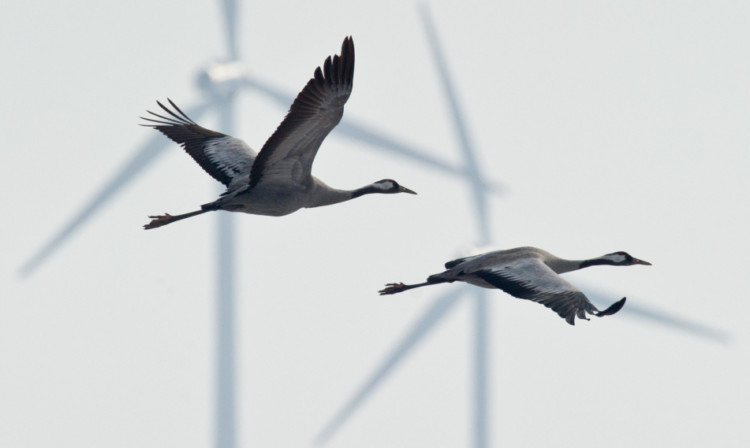 Scotland's wind power industry is to launch a good-practice guide designed to reduce the number of birds killed or displaced by turbines.
A conference in Perth will today hear how more than £50,000 has already been spent on a series of studies by the Scottish Windfarm Bird Steering Group a special interest body made up of representatives of the Scottish Government, Scottish Natural Heritage, RSPB Scotland and trade body Scottish Renewables.
The summit will be told how the partnership is to develop a guide to the management of bird population and the habitats on which they depend.
More funding has already been earmarked to support the initiative.
The threat of bird strikes has been one of a string of difficulties for wind developers, and continues to frustrate the progress of both on and offshore arrays.
But the move to establish a new set of guidelines for best practice has been welcomed by Environment Minister Paul Wheelhouse.
"This is an important step forward, demonstrating that the renewables industry and conservation groups are working together to help the conservation of bird populations across Scotland," he said.
"It is particularly encouraging to see the focus from the group to base the guide on real evidence rather than on speculation.
"By working closely with the industry I am sure they will produce a practical guide for the future."
SWBSG has research worth around £54,000 under way, funded by the Scottish Government, Scottish Natural Heritage, RSPB Scotland, Scottish Renewables and industry partners SSE, ScottishPower Renewables, RES and Vattenfall.
Academics at Stirling and Newcastle universities are examining the long-term effects of wind arrays on birdlife and habitats, as well as studying monitoring and survey techniques.
Chairman Colin Galbraith said creating practical advice to help protect and encourage birdlife required a cooperative approach.
"The renewables industry is acutely aware of the need to protect the environment, and this guide will provide it with additional tools to do this," he said.
"By involving industry and conservation groups in its production, the guide will build on existing monitoring of bird populations and data-sharing initiatives, as well as providing a unique overview and insight into the techniques used to manage habitats for birds around windfarms."
The move was also welcomed by Scottish Renewables' senior policy manager Joss Blamire, RSPB Scotland head of planning and development Aedan Smith, and chairman of Scottish Natural Heritage Ian Ross.
Mr Ross said the plan gave the renewables sector "as much certainty as possible by providing practical examples of how we can balance environmental, economic and social interests".
Today's summit, at the Battleby Conference Centre near Perth, will hear from some of the recent research undertaken to support the SWBSG, and will include workshop sessions in which conservation and industry figures will discuss priorities for action.