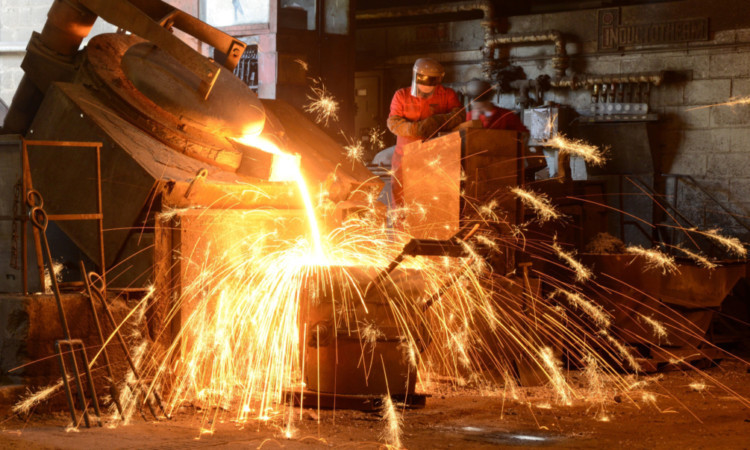 Sparks are set to fly at a historic Bo'ness ironworks once again after a new partnership succeeded in its bid to take over a failed historic business with the help of almost £100,000 of public cash.
Ballantine Castings was formally established yesterday, and said its incorporation would help to guarantee the future of traditional iron founding in Scotland.
The start-up has acquired the land and assets of the former Ballantine Bo'ness Iron Company, which fell into liquidation earlier this month after being run by administrators since September.
Joint-owner Gavin Ballantine, the son of the former managing director of Ballantine Bo'ness, has taken on the premises with the help of an unnamed backer.
He refused to reveal the value of the deal, but said he hoped to grow the business to a turnover exceeding £3 million and a workforce of more than 30, including four apprentices, inside three years.
"This is an important day for local business in Bo'ness, for the history and tradition of iron founding, and also for manufacturing in Scotland," Mr Ballantine said.
"We are excited about the future, and are already optimistic about growth plans across core markets such as rail, machinery, ornamental ironwork and drainage castings.
"We will also have the opportunity to identify and work on some really exceptional and historical projects which would showcase our ironwork excellence to a global audience."
Accountants from business recovery firm BDO took over at Ballantine Bo'ness in September, but failed to find a buyer for the business, founded by the Ballantine family in 1857.
The company's workforce dwindled from more than 70 to around 15 at the time of its liquidation earlier this month.
But Mr Ballantine who believes that central Scotland's "proud heritage" of iron founding and quality workmanship can produce high quality products to rival cheaper suppliers from Asia said he had been working on his bid since he was made redundant from Ballantine Bo'ness in January.
The move has been supported by a £98,000 regional selective assistance grant from Scottish Enterprise, and assistance from Falkirk Council's Growth and Investment Unit and Business Gateway.
"The creation of Ballantine Castings Ltd continues a long tradition of foundries operating in Bo'ness and will utilise the area's highly skilled workforce," said Scottish Enterprise director of enterprise and innovation Jim Watson.
"We are delighted to have been able to support the company, creating 32 jobs through Regional Selective Assistance. We look forward to watching this company grow and thrive."
The former Ballantine Bo'ness Iron Company had a history stretching back more than 200 years, and has produced bespoke specialist ironworks for Edinburgh Castle's cannons, refurbishment of London's Westminster Bridge and international projects in Sweden, Greece, Bermuda, Kuwait and Jeddah.
It recently helped to refurbish the dramatic spiral staircase for Dundee's new Malmaison hotel, and has previously worked on the railings encircling the city's Baxter Park and on projects for the city's Morgan Academy.