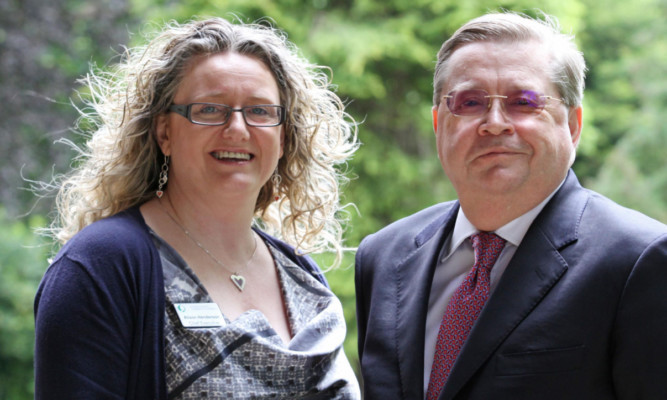 Senior Bank of England economist Ian McCafferty says the timing of the rise in interest rates is uncertain, but when it happens it will be modest.
Addressing Dundee and Angus Chamber of Commerce on Thursday, the Monetary Policy Committee member said the rise will depend on the economy's performance into next year.
"Financial markets still believe that an interest rate rise is unlikely until May or June next year, and economists suggest February or March," he said.
"Either of those dates and the possibility of a late rise before the end of this year are critically going to be data dependent."
The base rate has been kept at a historic low of 0.5% since 2009, as Britain recovered from the recession.
The rise will be based on data on the performance of the economy, he said, and how fast it grows.
It will also depend on emerging wage pressures from declines in unemployment and the absorption of spare capacity in the economy.
Mr McCafferty said the "normalisation of the monetary stance" after the disruption of the financial crisis and recession would be gradual and limited.
"Once we start raising rates we think we can do so at a relatively modest and gradual pace," he said.
"That is important to allow businesses and consumers to adapt to the changing circumstances after six years of unchanged rates."
There may be sensitivities in terms of consumer or business reaction to the change in rates, and being gradual would allow the Bank to take account of the sensitivities in setting policy.
Mr McCafferty said his visit to Dundee, following engagements in Edinburgh and Glasgow, was to take soundings from the business community.
"We are talking to businesses and giving them more detail about our thinking on some of the issues we are grappling with in assessing how the economy is performing," he said.
"By far the most important and useful part is listening to individual businesses and learning about how they see business conditions.
"Official data is somewhat backward looking. Understanding what is going on now and in the near future and, in terms of understanding why things are as they are in the data, it is imperative to talk to business groups."
He wanted to pick up from the gathering at the Invercarse Hotel "the key business issues we can bring back and add to our understanding and analysis when we are making our deliberations".
Mr McCafferty said the central outlook for the UK economy is still very positive, and the slowdown earlier this year was temporary.
Some of the momentum and growth should return through this year and next, stimulated to some extent by the impact on consumer real incomes of the sharp fall in oil prices and the very low rate of inflation.
He added: "Our view is that the very low rate of inflation will continue for some months before starting to pick up as we go into 2016. We still think we are on track to meet the inflation target of 2% by the end of the next couple of years."