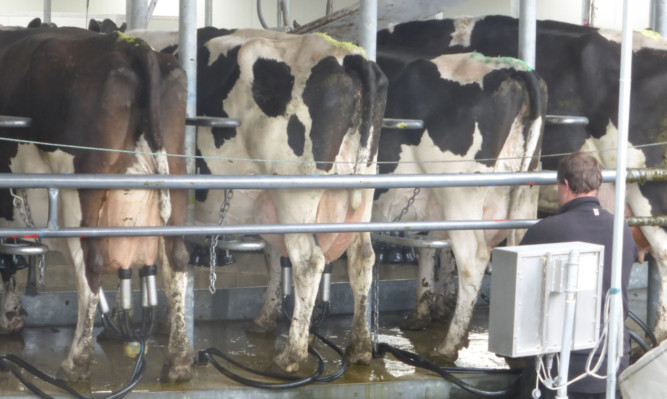 UK dairy farmers are hamstrung in a "dire situation" following First Milk's announcement that it will withhold milk pay cheques for the next two weeks.
According to lobbyist David Handley the revelation could be the death knell for some UK farm businesses, with many more spiralling towards significant financial difficulty.
The chairman of Farmers For Action voiced his concerns from the platform of the Semex Dairy Conference, in Glasgow, yesterday.
First Milk, the UK's largest wholly farmer-owned dairy company, said 2014 was a "year of volatility that has never been seen before" in the global dairy industry.
Chairman Sir Jim Paice MP said the move to delay payments to farmers by two weeks and all subsequent payments by a fortnight would build a "stronger business platform", with the deferred payments expected to bolster First Milk's cash flow to the tune of £10 million.
But Mr Handley said the result will impact severely on farmers who are "stretched already".
"It's a dire situation when farmers get told they've got a delay of two weeks in receiving their milk cheque," he said.
"Some people may be lucky enough to be financially sound enough that their bank supports that. But there are many that are stretched already. Their bank manager may see this as a death knell and say 'Sorry, we cannot support the business for another fortnight'.
"There may be creditors who are owed considerable amounts of money who are in the same position.
"If they sit back and wait for a fortnight then maybe they could be in a very difficult position," he said.
"I think this move by First Milk could open itself up to a legal challenge as to whether this is legally correct and can be applied in the manner it has done and with the speed it has done because, at the end of the day, everybody has got cash-flow issues."
He added: "The last thing we want at the moment is for First Milk to go into receivership that would bring 800m litres of milk into the marketplace, which is already flooded with milk. That could cause major problems and push milk prices down even further. So we've got to support, but we've also got to be critical."
Mr Handley, who farms in Monmouth, south Wales, said he will be reassessing his own position in April and will consider an "exit policy" for his business if the situation does not look more positive by then.
He said: "I am not going to be in the bankruptcy court because of milk price."
Also among the speakers in Glasgow, English National Farmers' Union president Meurig Raymond criticised the timing of First Milk's decision, again stressing the "huge financial pressure" dairy farmers are already under.
He said some farmers are receiving just 20p per litre for milk, the lowest price since 2007, as milk becomes cheaper than mineral water in some supermarkets.
"What we want is an economically sustainable dairy industry for the future," said Mr Raymond.
"As farmers face volatile markets, I'm also convinced that the Government can do more to help by ensuring its policies are sympathetic to the current situation and will help farmers and farming businesses continue forwards."
Issuing the announcement for First Milk at the end of last week, Jim Paice said: "We understand that the milk payment deferral will cause concern for members as direct debits and payments will have been lined up against milk cheques.
"On that basis we are working with all major banks at national, regional and local levels to explain the rationale around this decision. That way, bank managers should be well equipped for any conversations they have with First Milk members.
"We are a business owned by dairy farmers. The board are acutely aware of the difficulties this current extreme volatility is causing First Milk members and the UK dairy industry."