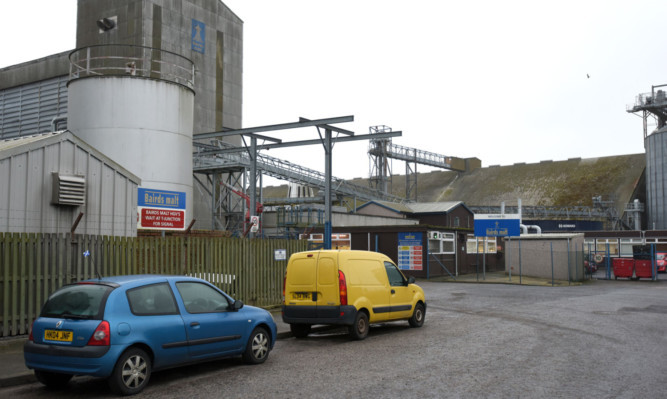 A malt-producing giant wants to install a wind turbine to make its premises more energy-efficient.
Bairds Malt, based in Arbroath, has revealed plans to build a single turbine at its plant on Elliot Industrial Estate.
The company has 57 Angus employees and has supply contracts with more than 1,000 farms, 230 of them spread throughout Angus.
The energy consumption of the plant costs Bairds Malt £2.5 million per year in energy bills.
However, the company believes a single turbine will significantly reduce the electricity consumption of the facility.
It says the turbine will also help secure the future of the facility and safeguard local jobs.
Dr Richard Broadbent, commercial and technical director, said: "Bairds Malt has operated in Arbroath since 1970 and we're proud to be based here.
"Angus has been very good to us as a company, especially as it is home to some of the finest quality cereal farms in the UK.
"We have invested in the Bairds Malt facility over the years, with the plant upgraded in 1980 and again in 2010, making it one of the most modern malting plants in Scotland.
"The plant operates 24/7 and the high energy demands of the plant means we must look at ways to reduce our energy costs.
"We have been working closely with our partners, Kilmac Construction, over the last 18 months to ensure we develop a scheme for the plant that is viable.
"So we are delighted to have now submitted the planning application for our single turbine.
"The savings the turbine could bring would help us secure the future of the facility and safeguard the local jobs that the facility provides."
Kilmac is a Tayside company which has worked with Bairds Malt for a number of years and has, to date, undertaken more than 100 projects in Angus.
The proposed single turbine would be situated on the south-west corner of their site, with a height of 252ft to tip.
The installed capacity of the turbine would be 900kW, which would produce in the region of 2.3GWh per year the equivalent of the annual energy usage of around 500 homes.
Bairds Malt first announced the plans for a medium-sized single turbine in summer 2013 and invited residents to two information days at the plant to answer any questions.
Neil Chapman, plant manager, said: "I've worked at Bairds Malt for 21 years and, as well as the income it provides for me and my family, the plant brings a lot of investment to our community.
"Anything that guarantees the long-term future of the plant and local jobs should be supported.
"And that's why I'd like to see the Bairds Malt turbine get given the go-ahead."