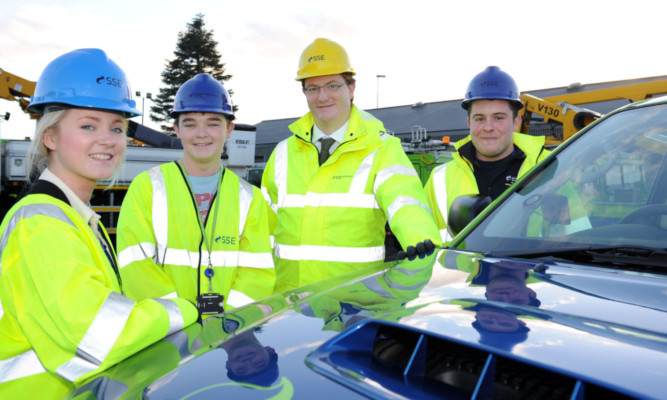 Scotland's rural electricity network is to receive its most significant upgrade in decades after Perth-based utility SSE accepted a new £1.118 billion funding proposal for the project.
Subsidiary firm Scottish Hydro Electric Transmission Ltd (Shetl) has agreed to the revised cost for the 1.2 gigawatt Caithness to Moray subsea transmission link after months of negotiations with energy watchdog Ofgem.
The project, which involves laying a 160km long subsea cable between Blackhillock near Keith and Spittal in central Caithness, is seen as vital to ensuring security of supply to the Highlands for generations to come.
It is also designed to provide a grid connection for future renewables capacity to be established in the Moray Firth.
Shetl originally pitched for funding of £1.23bn for the project, but Ofgem dismissed the figure as being too high in October and countered with its own cost estimate of £1.06bn, £174m lower.
Negotiations over the spending for the project continued between the two parties throughout the latter part of last year, and Ofgem last month returned with a revised figure of £1.118bn.
The figure was £56m higher than the watchdog's first proposal, but still more than £100m shy of Shetl's initial estimate of project costs.
Confirmation that Shetl had signed up to develop the scheme in line with Ofgem's revised cost base came as Chief Secretary to the Treasury Danny Alexander visited SSE's Inverness office yesterday.
The laying of the subsea cable and associated onshore infrastructure works will support 600 jobs during the construction phase and boost SSE's in-house apprentice, trainee engineer and graduate programmes.
"This investment by SSE and the 600 jobs it will support across the north of Scotland is a welcome boost to our local economy, which is already a powerhouse for the expansion of renewable energy," said Mr Alexander.
"The hard work done by engineers in difficult conditions over the last week shows how important it is to have personnel with the skills necessary to keep power supplies connected, so the apprenticeship element of the deal is particularly welcome.
"I'm very pleased to be able to thank the SSE staff who have helped weather the storm in person today, and to celebrate this new investment in our energy future with them."
While the base case for costs has now been established, revisions to regulatory arrangements mean Shetl can apply for additional funding during construction if needed.
David Gardner, SSE's director of transmission, said: "Investment of around £600m for financial year 2015/16 will see work commencing on the vital Caithness-Moray subsea link, along with further investment in a number of other approved projects, all unlocking renewable sources of energy for decades to come."
* The UK and Scottish governments have jointly confirmed their commitment to the development of significant renewable energy capacity in the Scottish islands.
At the latest meeting of the Scottish Island Renewables Delivery Forum, Energy Secretary Ed Davey said he recognised the importance of Government support for renewable energy projects in rural locations.
Scotland's Energy Minister Fergus Ewing said a joint commitment to the industry from Holyrood and Westminster was a "huge boost" for developers.
He said: "It signals a clear demonstration of political will that the transmission owner and the regulator have stated is necessary to progress the case for the island grid links."