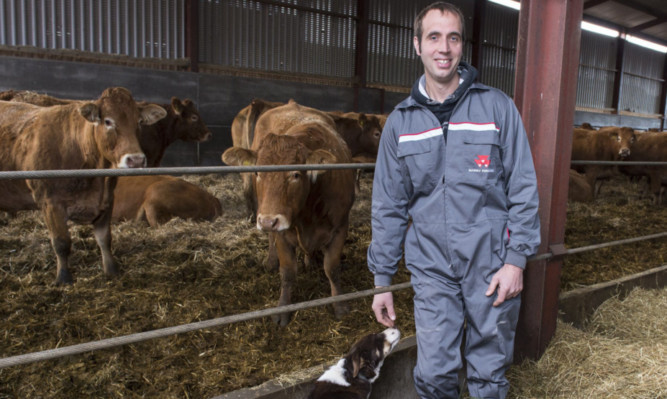 Fast finishing and good grades are key to the profitability of the beef enterprise at the Gilchrists' family farms near Dunbar, East Lothian, another finalist in the 2014 Scotch Beef Farm of the Year.
James Gilchrist, his father Jim and brother David, farm 1,300 acres in total at West Meikle Pinkerton and Newmill, where they run 170 cows and 1,300 ewes as well as 400 acres of wheat and barley and 120 acres of silage.
James was surprised they were chosen as one of the final four in the award, which is run by AgriScot and Quality Meat Scotland (QMS), as his mum had sent in the entry without telling him.
The award aims to showcase excellence in the production of cattle in Scotland and raise the profile of the dedication and stock management skills behind the production of Scotch Beef.
The award assessors were particularly impressed with the cows on the farms, the majority of which are pure Limousin.
Mr Gilchrist said the herd started 20 years ago when the family moved from Dophinton to Dunbar and his father gave each of the boys a Limousin cow as a gift.
"We had about 20 cross cows but a few years later we bought 10 more pure cows and have kept all our heifers and used Limousin bulls to build the herd up to the current numbers," he said.
"The plan now is to breed out the remaining cross cows and have 170 pure Limousin females.
"We like the Limousin because of its shape and the fact it kills out so well."
This is especially obvious in the bull beef unit where spring-born bulls are finished on ad-lib barley and straw at 14 months of age.
Weights range between 380kg to 420kg deadweight, with an average killing out percentage of 65%.
Half of the bulls which are sold to ABP are E grades and half U.
Mr Gilchrist said: "It is really worthwhile achieving good grades because there is a premium of about 15p/kg on the base price.
"This year the bulls averaged £1,450 per head, although that was back around £400 on 2013."
Their careful management and health monitoring of the cows, through SAC's Premium Cattle Health Scheme, results in a tight calving period, which means the bulls are all sold in two batches resulting in fewer trips to the abattoir.
The majority of the cows are spring calving, starting on March 10th, with 20 calving in the autumn.
Mr Gilchrist pointed out that bulls are only in for 10 weeks.
Heifers are synchronised and AI'd with an easy-calving Limousin bull the success rate over the last few years has been around 70%.
However this is the only time the Gilchrists select sires for ease of calving.
They believe in developing a big pelvis in their cows, which comes from using bigger framed bulls.
They also like decent birth weights and growth rates for the animals which go through the finishing unit.
Mr Gilchrist said: "We usually buy bulls at Carlisle and expect to pay the price of about 10 calves for what we like.
"We consider EBVs but tend to choose more on physical appearance."
The Gilchrists also sell a few bulls at Stirling and at home on a regular basis under their Pinkerton prefix and have sold to a top of 3,500gns.
The two farms plus about 100 acres of rented grazing are run very much as one unit with cows all wintered on the 500-acre, mostly arable, unit at West Meikle Pinkerton, and grazed along with the sheep at the mainly grass farm at Newmill.
The heifer calves spend the winter on a growing ration of silage and barley before being selected to join the herd or finished off grass at 16 to 18 months.
They mostly grade U and R and range from 350kg to 380kg deadweight.
Because they employ no staff except for an extra hand at lambing and harvest, it is important to the Gilchrists that cattle and sheep work slots in around harvest and silage.
They have found efficiency has improved since they took advantage of the Land Management contract in 2011, investing in electronic software so that now all cattle are electronically tagged.
Around 140 of the Texel cross ewes lamb in February to take advantage of the early lamb market in May when they are finished at around 42kg and sold through UA at Stirling. In 2014 they averaged £105.
The remainder of the ewes lamb in April with lambs finished off grass from August through to November and sold at Lanark and Stirling.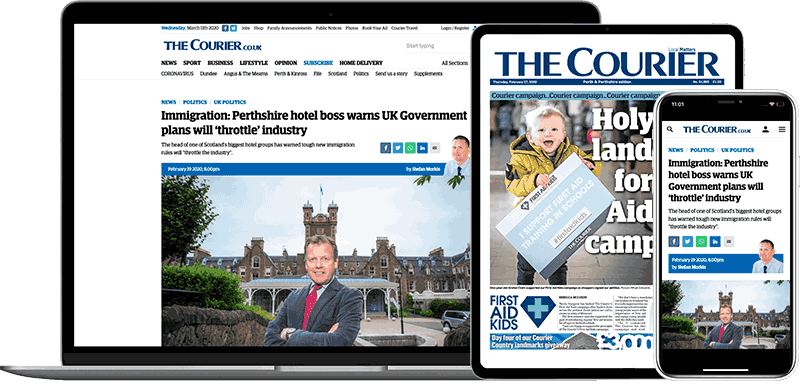 Help support quality local journalism … become a digital subscriber to The Courier
For as little as £5.99 a month you can access all of our content, including Premium articles.
Subscribe