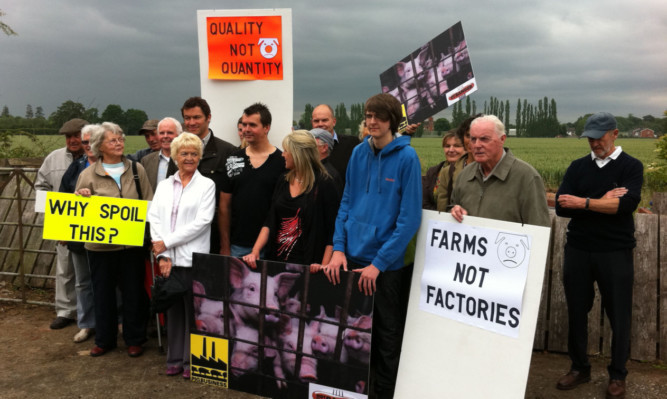 The decision to refuse an environmental permit for one of Britain's first industrial-style 'mega' pig farms has been welcomed by campaigners.
The 25,000-pig unit at Foston, Derbyshire, has been the subject of fierce opposition in a four-year-long fight, which has seen stars including The Wire actor Dominic West and River Cottage chef Hugh Fearnley-Whittingstall stand up against the proposed farm on the basis of its size.
Now, in a landmark decision made on Monday, the Environment Agency has turned down a permit application by Midland Pig Producers for the Foston farm project on the grounds it would "offend human senses" and generate "significant pollution due to odour".
Welcoming the outcome, campaigners said there is mounting public anxiety that industrial, intensive pig rearing systems cause stress and illness in animals and threaten human health.
They said regular over-use of antibiotics in such 'factory' farm systems produce antibiotic-resistant superbugs, while the farms also pollute the air and water.
"These factory systems are cruel to pigs," said Tracy Worcester, director of Farms Not Factories, which campaigns for consumers to buy their pork from real farms.
"They are also a threat to traditional family farmers who, though they have a lower cost in terms of human health and environmental pollution, incur higher costs when rearing their pigs humanely and therefore cannot compete economically with cheap, low-welfare pork."
A statement from the Environment Agency said: "After considering all of the information, the Environment Agency cannot be satisfied that the activities can be undertaken without resulting in significant pollution of the environment due to odour."
The agency cited health threats from bio-aerosols and ammonia, impact on wildlife sites and the contamination of watercourses among its reasons for refusing the permit.
They also considered the rights of the people living nearby under the European Convention on Human Rights.
Jim Davies, leader of the Foston Community Action Group, said residents, who had been almost unanimous in opposition to the plan were hugely relieved.
More than 34,000 people signed a petition against the mega pig farm.
"After four years of public consultation the facts are now clear the applicants provided insufficient information and should now abandon this flawed scheme forever," he said.
A spokesman for Midland Pig Producers, which lodged proposals for a pig unit and anaerobic digestion plant in 2011, said: "Now we have an actual decision, we can move forward. This is not the end but the beginning of the second stage."