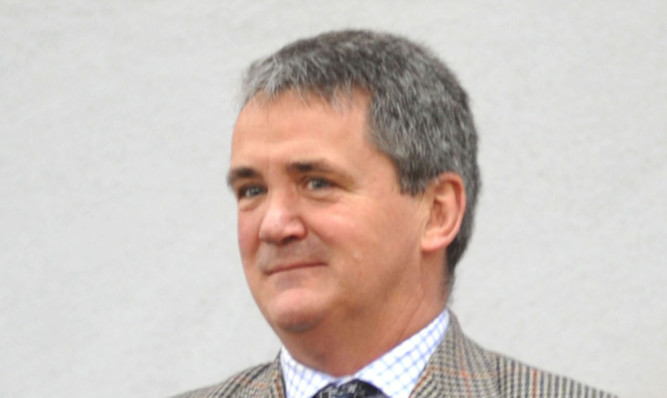 One of the highlights of the Stirling Bull Sales was the dispersal of ex-international rugby player David Sole's Glenbuchat herd.
The herd was established in 2007 at the farm in Upper Donside, which has since been sold to a neighbour.
David said: "I am very disappointed to be giving up farming, and proud of the successes I have had with my Angus cattle which include senior champion at the 2012 February bull sales and overall champion in May 2014."
However, he said he could not make any money from farming as he did not qualify as a new entrant for SFP and would not be eligible for full payment until 2019.
"It was very difficult to keep up margins when I was £40,000 light in income," he said.
He will continue to concentrate on his leadership consulting business, while the farming connection will be retained by his eldest son, who works for Norvite.
He thought the trade fairly mixed for his herd, reflecting the earlier bull sale prices, but said good cows with quality calves at-foot sold well: 64 cows and calves averaged £2,461, while 14 in-calf heifers averaged £2,123 and 12 maiden heifers averaged £1,580.
The top price was 8,200gns, paid by George and Aileen McFadzean, Woodhead of Mailer, Perth, for Glenbuchat Blackcherry by Rawburn Lord Ross, a six-year-old cow with bull calf at foot by Lockerley Kobra.
Seven-year-old Glenbuchat Jess by Fordel Emperor with heifer calf at-foot made 5,500gns to Willie Yeats, Deskie, Huntly, who also paid 4,000gns for the six-year-old Glenbuchat Georgia by Idvies Edward, with heifer calf at-foot.
At 5,000gns Glenbuchat Rotarua, a six-year-old also by Idvies Edward with heifer calf at-foot, went to Northern Ireland breeder K McOscar, Island Farm, Co Tyrone.
Bruce McConnachie, Culfoichmore, Grantown-on-Spey, paid 4,800gns for three-year-old Glenbuchat Faithful by Lockerley Kobra, with heifer calf at-foot.