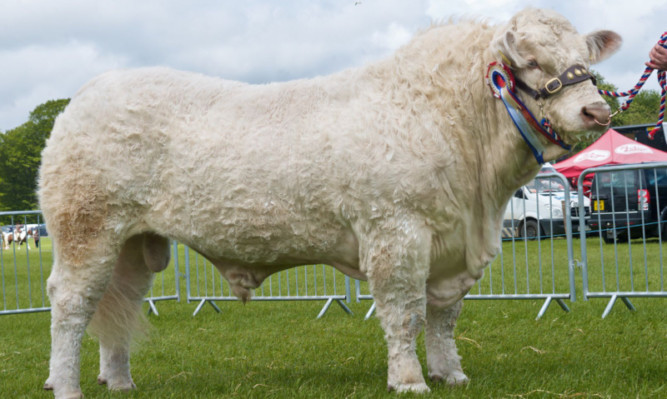 Normally it is Chicago that is known as "the windy city" but on Saturday the description would have been equally apt for Brechin.
Fortunately the Angus Show's field at nearby Brechin Castle is well-sheltered but even there by mid-afternoon the marquees and stands were taking punishment from a stiff wind.
It didn't, however, affect the stock judging with Sandy Brown, Edzell, pulling out a strong two-year-old Charolais bull from Major David Walter, Balthayock, Glencarse, as his interbreed champion. The home-bred Balthayock Imp, a son of Blelack Forester, has been retained as a stock bull and this was his first show outing.
Mr Brown commended Imp for his "shape, structure and good temperament".
For the reserve interbreed he chose the Aberdeen Angus champion, the four-year-old home-bred stock bull Mosstonmuir Mr Angus from breed stalwart Tom Rennie, Mosston Muir, Guthrie, near Forfar. Mr Angus was also breed champion at Angus last year.
On the sheep lines the interbreed champions were chosen on a points system with all the breed judges involved.
Once the arithmetic had been completed the winner emerged as the previously un-shown Texel champion from David McKerrow and his sons David and James from Nochnary, Freuchie. This was a tup lamb by Stainton Vigilante, an 11,000gns Lanark
purchase and out of a Knock Firefly sired ewe.
The reserve sheep was a Beltex ewe lamb from Rory Gregor, Thainstone.
The lamb is by the 4,800gns Kingledores Wordsworth and out of a ewe imported from Belgium.
Saturday's win would come as some consolation to Rory who just before lambing had half his 70-strong Beltex flock stolen from a roadside field. The crime remains unsolved.
farming@thecourier.co.uk RESULTS
CATTLE
ABERDEEN ANGUS Tom Rennie, Mosston Muir, Guthrie, Forfar, with the four-year-old bull Mosstonmuir Mr Angus by Hoff First Edition and out of Coldstream Annie. Champion at Angus in 2014. Reserve: Tom Rennie with the four-year-old cow Mosstonmuir Ingrid by Mosstonmuir Mr Innes and out of Mosstonmuir Proud Irene. Shown with heifer calf at foot.
COMMERCIAL Blair Duffton and Rebecca Stewart, Bogie St, Huntly, with Lady Moo Moo, a 17-month-old Limousin cross heifer by Haltcliffe Donny. Bred by Grant Morrison, Newtack, Keith, and bought at the Thainstone Spectacular for £2,800. First at Spring Show. Reserve: Blair Duffton and Rebecca Stewart with Cheeky Boy a Limousin cross bullock by Gurkha. Bred by Hugh Dunlop and bought at the Caledonian Marts YF sale for £1,400. First show.
SIMMENTAL Gerald and Morag Smith, Drumsleed, Fordoun, with the 19-month-old heifer Drumsleed Evita by Ravensdale Chopper and out of Drumsleed Valtina. Reserve at Fife. Reserve: Gerald and Morag Smith with the six-year-old bull Grangewood William by Popes Laird and out of Grangewood Sundial. Champion at Angus in 2014 and champion of champions at Fettercairn.
CHAROLAIS Major David Walter, Balthayock, Glencarse, with the two-year-old bull Balthayock Imp by Blelack Forester and out of Balthayock Christina. First outing. Reserve: Jimmy McMillan, Craigmore, Farnell, with the five-year-old cow Dunesk Diana by Burradon Talisman. Previous champion at Kirriemuir.
ANY OTHER CONTINENTAL BREED Andrew Gammie, Drumforber, Laurencekirk, with the 14-month-old Limousin bull Westpit Jockey by Netherhall 007 and out of Westpit Florence. Going to RH. Reserve: I and G Grant, Banks of Gallery, Montrose, with the 19-month-old Limousin bull, Gallery Idris, a purchased embryo by Wilodge Cerebus and out of Hollybank Oprah.
ANY OTHER NATIVE BREED JM Cant and Partners, Easter Knox, Arbirlot, with the yearling Hereford bull Panmure 1 Lorenzo by Panmure 1 Jimbo and out of Panmure 1 Plum. First outing. Reserve: Doldy Farms, Glenisla, with the yearling Shorthorn heifer Eastmill Meadowsweet Hazel by Glenisla Dr Who and out of Dunsyre Meadowsweet 8th. First outing.
HIGHLAND Keith Hownam, Borland, Blacklunans, with the two-year-old heifer Maireared Stuamaig 2nd of Borland by Stepdancer 4th of Glengorm and out of Maireard Stuamaig 1st of Borland. Junior champion at Perth in 2014. Reserve: Ian and Mary Adams, 24 Beech Tree Rd, Banchory, with the two-year-old heifer Frangag Dudh of Cladich by Seonaidh Mor of Ardura and out of Frangag Donn 10thof Torloisk. Reserve senior native at Stars of Future 2014 and champion at Echt.
DAIRY CATTLE Alstons of Drumchapel, Chapelton of Menmuir, Brechin, with the fourth lactation Holstein cow Drumchapel Atlas Veltma by Atlas. Classified EX90 and giving 44kgs 100days after calving. Reserve: Carcary Farms, Carcary, Farnell, with the second lactation red Holstein Carcary Skipper Tracy by Ard Skipper Red. Classified VG 86 and giving 55kgs three months after calving.
SHEEP
NORTH BLACKFACE RC Myles, Dalbog, Edzell, with a gimmer by a Billy Grant tup. Champion at Angus last year and first at Fettercairn. Reserve: R C Myles with the two shear tup Woolfords Bulldozer, a £4,800 purchase at Stirling as a shearling. By a Woolfords sire.
SOUTH BLACKFACE M Simpson, Sidlaw, Blairgowrie, with a gimmer by an £1,100 Dullatur and out of a ewe by a £5,000 Dalchirla. First outing. Reserve: A Walker, Cramie, Glen Prosen, with an Aitkenhead bred shearling by Islay Mist. Bought for £10,000 in partnership with Wileysike, Lurgan, North Amulree and Kindrum Park.
BELTEX Rory Gregor, Oakfield, Thainstone, with a ewe lamb by the 4,800gns Kingledores Wordsworth out of a Belgian imported ewe. Reserve: Bryan Wylie, Balbrydie, Kirriemuir, with a February-born ET tup lamb by Kingledores Rascal and out of Balbrydie Sunlight.
CROSS SHEEP Helen Smith, Scobshaugh, Cortachy, with a pen of three seven eighth Beltex March born lambs by Kingledores Statesman. Reserve: David Black, Minard, Kirriemuir, with a pen of three Texel sired gimmers out of Cheviot Mule ewes. Bought at Forfar in September from Pitnacree and to be sold at Forfar this September.
SUFFOLK J Scott, East Ingliston, Forfar, with a two shear tup by Ardlea Atomic bought in 2013 at Stirling for £1,000 in partnership with Drumpark. Champion at Kirriemuir and Angus 2014. Reserve: Tom Sands, Southfield, Abernyte, with a tup lamb by a Broomknowes sire bought at Stirling for 850gns and out of a home-bred ewe by a Muirton sire.
TEXEL David McKerrow, Nochnary, Freuchie, with a tup lamb by the 11,000gns Stanton Vigilante and out of a ewe by Knock Firefly. Reserve: Alstons of Drumchapel with a gimmer by Deveronvale Ulysses and out of a Cambwell ewe bought at the Select Seven sale at Lanark.
JACOB Mr and Mrs W Crowe, Heughead, Friockheim, with Hope Becky, a gimmer bred in Wales and bought at St Boswells as a ewe lamb. First outing. Reserve: Mr and Mrs W Crowe with the one crop home-bred ewe Gowanbank Anna by Hyndshaw Ryan.
ANY OTHER BREED W and C Ingram, Logie Durno, Inverurie, with a December-born Charollais ewe lamb by the retained tup Logie Durno Officer and out of a home-bred ewe. First outing. Reserve: W and C Ingram with a Charollais gimmer by Loanhead Midas Touch and out of a home-bred ewe.
GOATS Sylvia Mearns, Westhill, Aberdeen, with the British Saanen milker Homeacres Hannah. Recorded at the show as giving 4.4kgs in 12 hours. Reserve: Fiona Fairley, Avonvale Cottage, Falkirk, with the AOV milker Ladeside Ladyria.
HEAVY HORSES
CLYDESDALE Sandy Aitken, Newton Cottage, Memus, with the two-year-old filly Newton Glens Kara by Muirton Sabre and out of Redcastle Pretty Amazing Grace. Champion at Northern Spring Show and first at Stallion Show. Reserve: John Anderson, Drummygar, Carmyllie, with the yearling colt Redcastle Lyndon by Great American GW Carver and out of Redcastle Alena. Champion at Forfar Foal Show and second at Stallion Show.
HIGHLAND Mrs Heather Gow, Pitscandly, Forfar, with the seven-year-old yeld mare Westray of Alltnacailleach by Donald of Shielhill and out of Kilda of Alltnacailleach. Reserve champion last year at Angus as a ridden pony and reserve novice at Highland Pony Breed Show. Reserve: George and Alan Baird, West Whitefield, Burrelton, with the three-year-old filly Ulrika of Whitefield by Oliver of Forglen and out of Queencake of Whitefield. Champion at Drymen 2014.
SHETLAND HP Sleigh, St John's Wells, Fyvie, with the five-year-old yeld mare Wells Tawood Lady. Champion at Echt and Banchory in 2014. Shown by Emma Jamieson. Reserve: HP Sleigh with the three-year-old filly Wells Payton by Wells Extra Special and out of Wells Phoenix. Champion at Fettercairn and reserve at New Deer in 2014.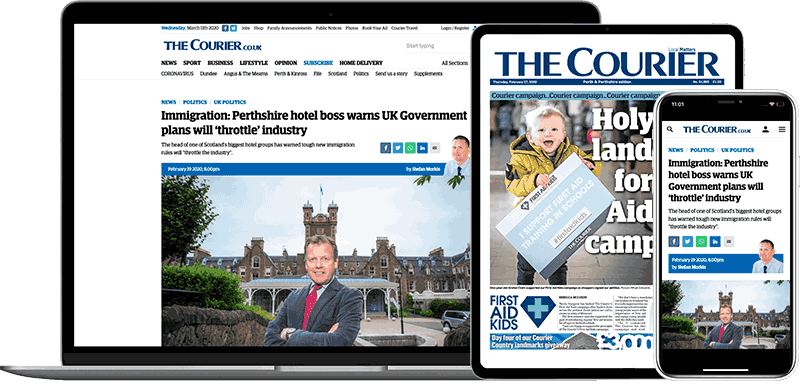 Help support quality local journalism … become a digital subscriber to The Courier
For as little as £5.99 a month you can access all of our content, including Premium articles.
Subscribe