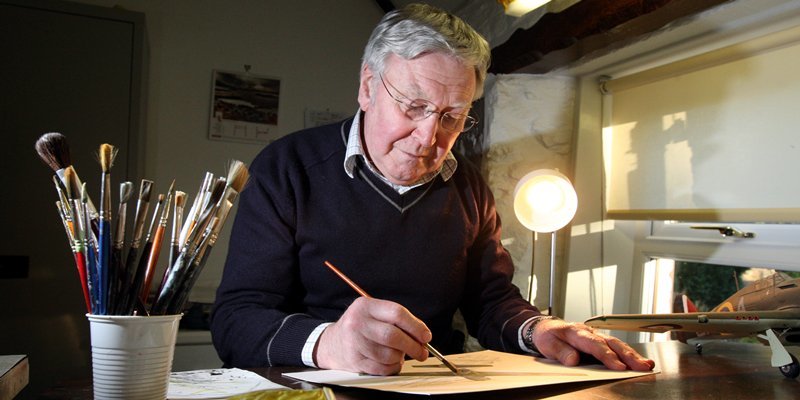 In a village on the edge of Dundee lives a very gentle, softly-spoken man. Ian is 78 now, and lives in a nice cottage with Gladys, his wife of 58 years, just yards from a view made famous by James McIntosh Patrick.
He keeps himself to himself and enjoys a quiet life, with occasional trips to the doctor he is recovering well from prostate cancer and a regular pub lunch with old friends. He's also one of the most revered illustrators of the post-war period, with a 61-year career that reads like a Who's Who of comics.
The name Ian Kennedy isn't well-known to the public, but his talent is legendary in the publishing industry. His most famous work is for Commando, DC Thomson's pocket-sized war comic, especially his breathtaking depictions of aircraft. But his CV also includes magic words like Hotspur, Buster, Wizard, Warlord, Air Ace, Dan Dare for the 1980s relaunch of the famous Eagle comic 2000AD's Judge Dredd, Blake's 7, even Bunty and the other girls' titles.
Gone now are the heroes of Wizard's Typhoon Tennyson and Buster's Jeff Craig, Detective but there's still a lot of hero worship out there.
"I don't have a computer but it doesn't stop people getting in touch with me," he says, almost sheepishly. "The number of websites about me it's actually a wee bit embarrassing."
The modest artist, settled comfortably into his conservatory, is a reluctant interviewee but it doesn't take much to coax him into sharing his memories. Born in 1932, he was too young for war service but old enough to begin a lifelong obsession with aircraft.
"There was always something flying overhead in those days," he grins, and suddenly there's a hint of the small boy of 70 years ago. "We had Tealing aerodrome, we had Leuchars over the way, the Catalinas would come down on the Tay, as well as Walruses and Kingfishers. There were always Spitfires and Hurricanes around, too.
"I grew up wanting to fly. That was my ambition. I was going to be one of the daredevils."
Sadly, an ear infection, which persisted throughout Ian's youth and ended with a mastoid operation, put paid to his hopes of flying and excluded him from National Service, too. The silver lining was he met Gladys, then a nurse, while he was being treated. They married in 1953. By that time, Ian was already an artist, having gone straight from Dundee's Morgan Academy to DC Thomson as a trainee illustrator in 1949.
"It was like an apprenticeship and, in my own mind, I can put it no higher than it was like the medieval artist's workshop. You had the Michelangelo or whoever and he had his minions around doing fill-in jobs or whatever.
"You just sat and sucked all this in. You were learning and you didn't know it. It was just a wonderful place to be and the guys were always very helpful."
Filling-in was correct Ian's first job was inking the black boxes in the Sunday Post crossword. But the intensive nature of the drawing school his only training other than a brief period of night classes at Dundee College of Art served him well.
Asked about his influences as a young artist, he cites Spanish and Italian creators, especially Italy's Ferdinando Tacconi, and another talent closer to home.
"My icon was George Ramsbottom in the DC Thomson art department. He was quite a magnificent artist among quite a few others but he was the one that I benefited most from."
But, with his responsibilities as a married man and a father growing, Ian decided to switch to more lucrative freelancing in 1954, picking up jobs with Amalgamated Press later IPC through an agent, but keeping in touch with DC Thomson, who continued to use his work.
Continued…
Sighing regretfully about this digital age and its effect on publishing, he describes those days as "golden times", when a talented young artist could find work easily. His first freelance strip was the wild west story Kit Carson, but he was soon looking for an excuse not to draw horses an "ugly" animal, he jokes.
"Air Ace was a favourite, because I could draw aeroplanes, of course, but also Warlord Picture Library, which included things like tanks and boats."
As the years went on, Ian took whatever opportunities came his way, working on pretty much every children's comic produced in the UK between the 50s and the 80s. Science fiction became popular, so he turned his hand to that, too, drawing for early 2000AD strips like MACH 1. One big opportunity was the comics version of the TV programme Blake's 7, although the comic lasted only 23 issues before the show's cancellation killed it, too, in 1983.
"That was quite good fun because I went down one day to meet the cast and watch them working on one of the scenes in the studio, and to get photographs of the equipment they were using."
Soon afterwards, he was recovering from a road accident. His car left a local road and overturned, in icy conditions, leading cheeky IPC well-wishers to draw it flying with the Red Arrows and get the pilots to sign the art. But it was around then that Ian was offered the work that would introduce his work to a new generation of young fans the revamp of Dan Dare.
"It wasn't the original Dan Dare. It was his nephew or grandson or something. It was a different character, although there were similarities. I got stuck into doing all these space ships and things. I loved it."
Since Dan Dare was created by Frank Hampson for the original Eagle in 1950, there have been several attempts to relaunch the character, and the Kennedy era was no more permanent than the rest. But it is well-remembered and collected by fans today for its incredible illustration and design work, especially on those ever-present aircraft.
The planes have never stopped flying around Ian Kennedy's head, as he has clocked up more than 1200 covers for Commando and provided the art for a huge number of interior pages. He used to provide a painting every year for the cover of the RAF Leuchars Airshow programme, until Photoshop undercut him, but the originals still hang on mess walls for airmen to enjoy. Even his most famous image for 2000AD, a cover printed 25 years ago, features Me 109s, taken through a time tunnel to Judge Dredd's dystopian future. One pilot screams, "Himmel! This isn't Stalingrad!"
Ian was diagnosed with prostate cancer but has responded well to treatment, the cancer having been caught in time. He now urges everyone he knows to visit their doctor for a check that could save their life.
"I'm not totally retired," he smiles. "I do the odd commission, and I still do the odd Commando cover. I do little aircraft features for their inside back cover, too, which is an interesting little exercise.I work maybe three or four mornings a week. I try not to work the full day now, as I'm easily tired. I find if I do maybe two or three hours at the drawing board, that's enough. I'm pretty lucky."
He continues, "It's nice still to be involved, in a small way. If you're in your cot with a pencil and paper, as I was, it's inborn. It's just something that I still enjoy doing. I'm lucky enough to be able to do it at my own pace. It's almost a therapy."
His therapy is framed on the walls of Ian's home, and it has medical benefits for anyone who glances at it. The huge, full-colour acrylic paintings are pin-sharp in their accuracy and very, very beautiful. They are, of course, of aeroplanes, framed by clouds.
Ian chuckles, "They must have thought I was mad at Jessops, because I would hand in a whole 36 spool just of clouds. I've always loved doing the clouds, getting them right."
Again, there's that grin and he looks a bit like his Dan Dare, because illustrators often look like their characters, having practised drawing faces with the help of a mirror.
"Head in the clouds," he laughs.