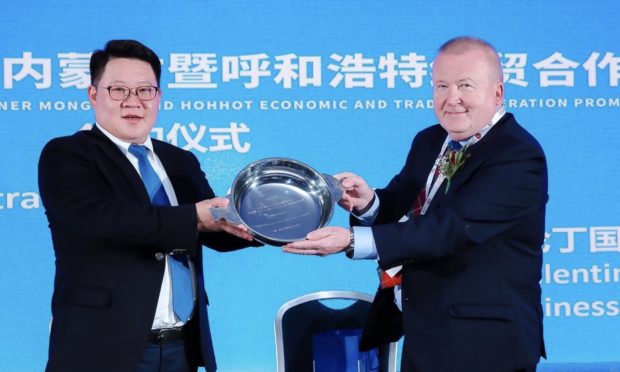 A Forfar company has signed a deal to deliver a whisky distillery in Inner Mongolia worth more than £3 million to suppliers in Scotland.
Valentine International LLP will manage a "design and build" project that will see the first phase of the distillery built next year in Ordos – a modern, vibrant city of more than two million people.
Owner Dave Valentine concluded the six-figure contract at the 15th World Chinese Entrepreneurs Convention in London which was attended by around 3,000 Chinese business representatives from 60 countries.
He said: "Building a distillery in Inner Mongolia is the brainchild of MengTai's chairman, Mr Ao FengTing, whose ambition is to create China's best and globally award-winning whisky.
"MengTai will provide all of the buildings and ancillary accommodation required to establish the distillery in Ordos costing several million pounds.
"However, the production equipment will be manufactured here in Scotland and shipped to Inner Mongolia for assembly by Scottish engineers.
"The initial phase of distillery production equipment will create a circa £2.5m export order for Scotland."
Mr Valentine, who owns Simpsons Golf Shop in Carnoustie, said other Scottish firms were being lined up to design and build the distillery production equipment and to supply bulk whiskies.
"As the project progresses there will be opportunities for skilled industry experts required to oversee the operation during the initial phases of the development," he added.
The client for this project is the MengTai Group Co Ltd, ranked sixth of the top 100 private companies in Inner Mongolia and ranked 34th among the top 100 coal enterprises across China.
MengTai's core businesses are coal production, electricity generation, aluminium fabrication and the distribution of urban heating systems.
The company, which employs more than 4,000 people, has recently diversified into energy, e-commerce and financial services.
MengTai chairman Ao FengTing said: "My ambition is not just to produce China's best quality whisky but one that is globally recognised in terms of world rankings.
"Scotland is the home of whisky and has the greatest expertise in terms of distillery equipment manufacture and knowhow.
"We are confident that Valentine International will deliver a world-beating project for us in Ordos."
The deal follows a series of Scottish Chamber of Commerce-led events which welcomed business groups from Inner Mongolia to Scotland.
Scottish Chambers of Commerce chief executive Liz Cameron said: "This deal creates a significant opportunity for Scottish suppliers worth over £3m.
"We are confident of more investors coming to Scotland as a result.
"It is an example of what can be achieved by forging relationships and adding value and confidence between businesses across the globe."
rmclaren@thecourier.co.uk