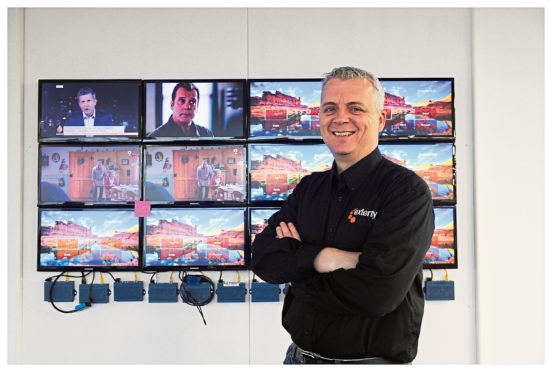 A Dalgety Bay tech firm that earns 80% of its revenues from overseas has been recognised with the Queen's Award for international trade.
Exterity's software powers in-house video systems found within hotels, cruises and government buildings around the world.
The firm employs 90 staff in Fife and has enjoyed strong growth over the past three years, with sales of around £16 million last year.
Chief executive Colin Farquhar said he was delighted to be one of the eight Scottish companies who have won the prestigious recognition this year.
"Exports are a big part of what we do, accounting for 80% of our sales," he said.
"We have offices in France, Dubai, South Africa, Singapore, Australia and the USA and have carried out projects all over the world.
"The win is really nice recognition of the success we've achieved."
Exterity specialises in IPTV – a way of distributing television around an organisation via its network – and provides hardware as well as software.
With hospitality firms among its clients, Mr Farquhar said Exterity had been impacted by the Covid-19 crisis.
"Hotels and cruise liners are very important to us but we are fortunate to have a broad set of customers," he added.
"We provide systems for broadcasters and Government department, big businesses and stadiums.
"Although some of the sectors we are involved with have been badly affected in the short term.
"We hope that once they are past this period they will continue strongly."
The chief executive said the company had made strong growth in the past few years by combining several of its products to give clients and end-to-end solution.
The Middle East region has been particularly strong, as well as Australia, New Zealand and Asia.
"We are continuing to look for opportunities to deliver more of our technology to our customers," Mr Farquhar added.
The Queen's Awards for Enterprise are the most prestigious business awards in the UK.
The awards were first established in 1965 and since then over 7,000 companies have achieved a Queen's Award, with 220 businesses recognised this year.
The awards celebrate the success of businesses that are leading the way with pioneering products or services, delivering social mobility programmes or sustainable development practices.
rmclaren@thecourier.co.uk