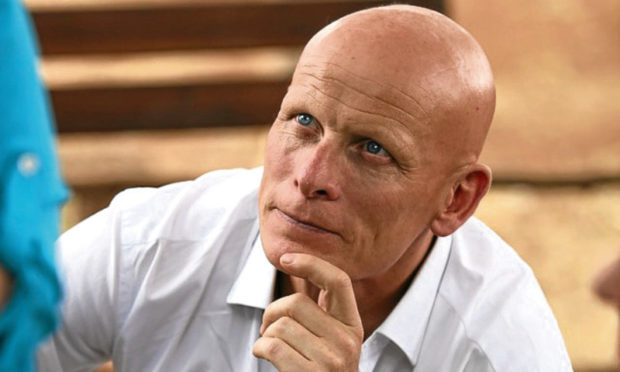 A man who gave up climbing the corporate ladder to fill his life with purpose will speak at Entrepreneurial Scotland's annual conference tomorrow.
Gib Bulloch, from the Isle of Bute, will join an illustrious line-up of keynote speakers at the conference including record-breaking adventurer Mark Beaumont, Cobra Beer Founder Lord Bilimoria and Angus Macdonald, chairman of distance learning group ICS Learn.
Mr Bulloch is an award winning social "intrapreneur" and will talk about the role of business in society.
He believes passionately in the ability of the private sector to change the world and in the power of the individual to change the world of business.
After an early career in BP and Mars, Mr Bulloch's life altering epiphany came from a year as a business volunteer with Voluntary Services Overseas (VSO) in the Balkans in 2000.
Gib's next 15 years were spent founding and scaling Accenture's global "not-for-loss" consulting business, ADP.
He left Accenture in 2016 to explore new ways of supporting purpose driven insurgencies into the corporate world.
Speaking ahead of the conference he said: "I went into the big bad world of business in the London rat race.
"After doing that for a few years the story changed for me in around 2000.
"After having a successful career with money, cars and a jet-set lifestyle it was all going well from that perspective but I felt there was something missing that I couldn't quite put my finger on and it was this sense of purpose.
"For me I felt, 'Is this all there is to life, making money and getting up the career ladder?'
"At that time I was reading an article about VSO looking for business folk and I found myself, within a year, in the Balkans just after the Kosovo crisis.
"That's where my career epiphany took place and I discovered this drug called purpose.
"At the time I intended to do some good for a while then climb back up the corporate ladder, but together with a team of people we created a social enterprise within this large consultancy called Accenture.
"We were trying to bring our skills to parts of the world that didn't have access to them but where there was greatest need.
"What made it unusual is we would take people from Accenture offices around the world and they would give up half their salary, the firm would give up profits and the charity would pay for services at half the normal rate.
"My job was to ensure the whole thing would break even."
The conference, which is being supported by headline partner Cazenove Capital and The Courier, The Press & Journal and Energy Voice as co-media partners, kicks off at Gleneagles resort in Perthshire tomorrow.