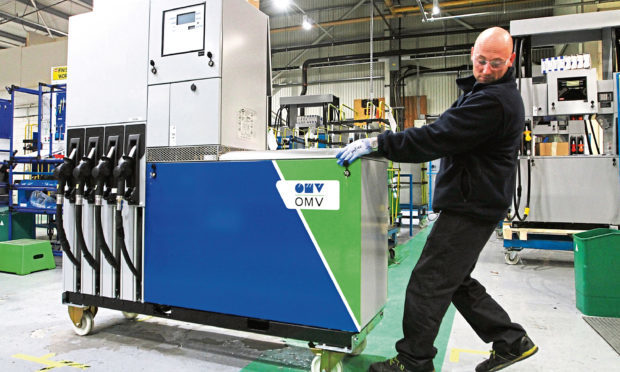 A Dundee petrol pumps manufacturer saw sales and profits rise in its first fuel year trading under the Dover Fueling Solutions UK banner.
New filings at Companies House show DFS – whose Dundee arm previously operated as Tokheim UK Limited – generated sales of £80.7 million in the year to December 31, up from £77.1m in the prior year.
Pre-tax profits doubled from £1.07m to £2.202m in the period.
The uplift follows the establishment of DFS in late 2016 after the acquisition of Wayne Fueling Systems by US-based parent group Dover Corporation.
The division supplies a range of advanced fuel dispensing equipment into worldwide markets.
It has its manufacturing and assembly hub at West Pitkerro Industrial Estate in Dundee, a site which has been significantly refurbished since Dover took over in early 2016.
The work includes a £14 million, 45,000 square foot addition to the factory to cope with additional volumes and new production lines
In his strategic report to the accounts, director Alistair Johnston said: "The group has continued to focus on aligning business synergies, product development and continues its focus on lean manufacturing.
"A key part of aligning the business is to relocate manufacturing from Sweden to the Dundee facility.
"During 2017, this project commenced with final execution on May 1, 2018.
"Dover Fueling Solutions UK Limited has continued to focus on the European, Middle Eastern and African markets."
The business is one of Dundee's largest private sector employers, with an average monthly workforce of 432 in 2017.
While the Tokheim name was superceded by DFS last October, the company still retains the brand.
Illinois headquartered Dover is a diversified global manufacturer which operates across the energy, engineered systems, fluids and refrigeration and food equipment sectors.