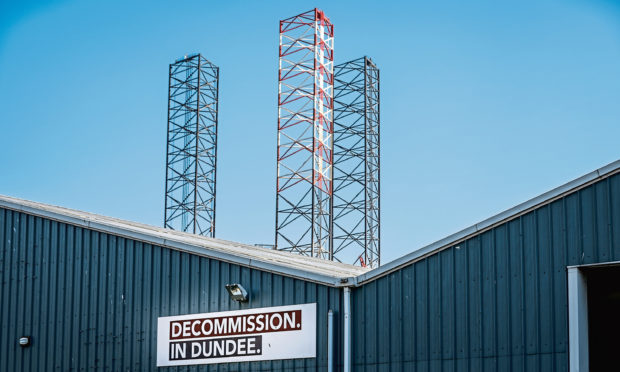 A withheld report setting out the rationale for the Scottish Government's backing for an ultra deep water decom hub in Shetland has been published.
The government announced in September that Dales Voe was the "optimal and most cost effective location" for such a facility, but EY's full analytical report was not made public.
It later transpired that Dundee had been among the original long-list of 40 ports considered for the new facility but had fallen at the first hurdle because of the inadequate depth of the approaching marine channel into the city's docks.
The reasoning, partially revealed in a Parliamentary answer, sparked a war of words, with Dundeecom CEO Callum Falconer saying the selection of Dales Voe "flew in the face of impartiality, objectiveness and fair competition".
He said there were technological solutions that could overcome the need for an ultra deep water facility and suggested Dundee's ultra-strong quayside, existing supply chain and skilled labour force meant it was better placed to capitalise on the decom opportunity.
EY's report was published in full today at the Offshore Decommissioning Conference in Fife.
It came just days after Offshore Decommissioning Services revealed plans to base its Moonraker heavy lift decommissioning vessel in Dundee, with the intention of bringing major North Sea infrastructure into Dundee for break-up.
The EY report confirms Dundee was one of 22 ports that never made it past the first hurdle because the river channel was less deep than the required nine metres.
In the case of the Tay, the approach channel was estimated at six metres.
Energy Park Fife and Montrose's Norsea Support Base fell for similar reasons.
The wider report suggests the new ultra deep water facility would have to secure 10 decommissioning projects to pay for itself.
It states the base could target £580 million of the £1.2 billion forecast to be spent on onshore recycling and disposal in the UK and estimates about £10m worth of taxpayer money would be required to support the project.
However, the authors also concluded a facility would be of little use to the marine and offshore wind markets.
Delivering his keynote conference speech, Energy Minister Paul Wheelhouse said Dales Voe was the most cost effective project and the lack of an ultra deep water in the UK meant decom work risked being lost overseas.
Mr Wheelhouse said such a facility would provide direct access for ultra-heavy-lift vessels, removing the need for barge transfers which add to project costs and risk.
The business case and financing for Dales Voe is still being worked on.