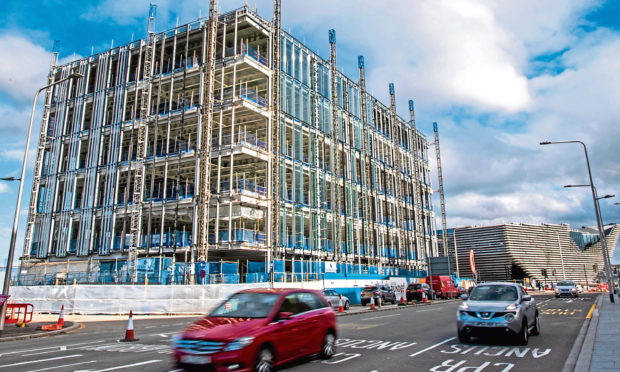 The construction and services group which is currently building out the controversial Site Six development at Dundee waterfront has posted strong profits growth.
New filings at Companies House show construction, infrastructure and support services giant Robertson Group achieved sales of £752 million from continuing activities in the year to March 31, up from £565m in the prior year.
Earnings also rose, with pre-tax profits jumping by £5m to £31.04m in the year.
Robertson Group is the umbrella which sits over 22 distinct business units.
Robertson Tayside is based at Camperdown Industrial Park and its projects include the office development at site six within the central waterfront.
It is also delivering the new build Bertha Park High School in Perth and the refurbishment of Perth Theatre.
Group chairman Bill Robertson – who founded the company in 1966 as a small joinery – said the firm had made strong progress during a "record" 2017/18 financial year despite stiff competition within the construction and support services marketplace.
"During the year, we continued to focus on using market knowledge and innovation to target and secure improving quality workload," Mr Robertson said.
"The business continues to be successful in what remains a highly competitive market place, with turnover up 33% over the year."
He added: "We have created a diversified portfolio of infrastructure based business units producing a mix of long and short-term cash flows, profits and investments.
"With a strengthened balance sheet, the business is in an excellent position to support future growth and new investment."
Among changes made during the year was a decision to demerge three businesses – Robertson Homes, Robertson Partnership Homes and Robertson Living – and place them into a new Robertson Residential Group.
It will concentrate on the domestic market while the wider group focuses on its wider construction portfolio.
Mr Robertson said the group had a forward order book of £2 billion and 2018/19 was poised to be another "highly successful" year.
However, he sounded a note of caution following the collapse of outsourcer Carillion earlier this year, saying its demise had sent shockwaves through the industry and demonstrated that companies could not continue to withstand the impact of constrained budgets.
"It is evident that the tight margins being experienced by main contractors and suppliers further down the supply chain cannot continue," the executive chairman said.