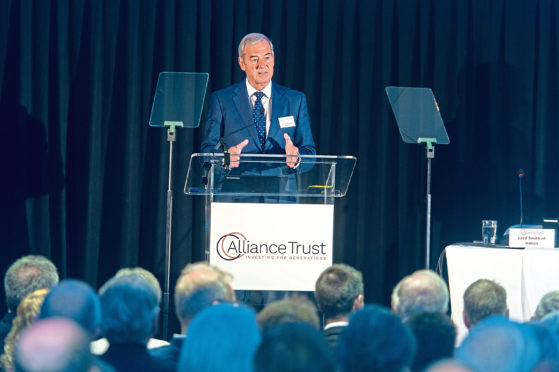 Dundee-based finance giant Alliance Trust today reported an "encouraging performance" against a backdrop of significant volatility in the equity market.
The firm's half year report said the firm was reaching the end of its 'simplification' programme which will see all of its investments move to equities.
Last month's £40 million sale of its Dundee-based Alliance Trust Savings arm to Interactive Investor, along with the sale of mineral rights, meant 99.5% of the trust's assets were now invested in equities.
The remaining "non-core" investments of less than £14m will be realised before the end of the year.
Lord Smith of Kelvin, chairman of Alliance Trust, said: "With the sale of Alliance Trust Savings having closed in June, we have completed the simplification of the Trust as approved by our shareholders just over two years ago following the strategic review.
"I am pleased to report an encouraging period of strong absolute returns to shareholders.
"Global equity markets rebounded strongly in the first half and we delivered a total shareholder return of 16.8% against the 16.7% return of our benchmark index.
"We have also outperformed many of our peers in a challenging period for active managers."
Lord Smith said the proceeds of the ATS sale to Interactive Investor were £34.2m after costs, which has now been invested into the trust's equity portfolio.
The firm's iconic West Marketgait building was included in the sale to Interactive Investor but yesterday the firm said it was committed to retaining its headquarters in Dundee. It has leased offices in the Dundee One building at the Waterfront where it will hold board meetings and the executive functions.
Discount to the company's net asset value dropped to an averaged 5.1% in the first half of this year against 5.8% in the same period last year.
The interim dividend of 3.49p is an increase of 3% year on year and takes the successive dividend growth to more than half a century.
jimillar@thecourier.co.uk