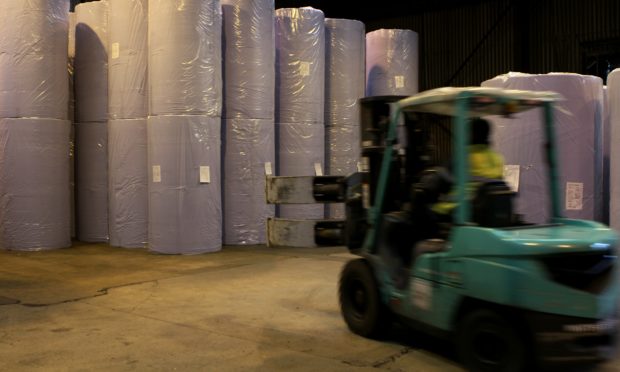 A Fife paper mill has contributed to another strong performance for its owners who saw a pre-tax profit boost of more than 30%
Fourstones Paper Mill, founded in the 18th century, is the owner of Saphire Mill at Fettykil in Leslie.
The firm, which also operates the South Tyne Mill at Hexham in Northumberland, manufactures a broad range of products including disposable absorbent pads for industrial, pet and health use.
It also produces heavy duty wipes, specialist toilet roll products, hand towels and facial tissues.
Accounts filed at Companies House show the company's revenues increased by more than 10% last year to £31.6 million for the year ending March 31 2019.
The firm achieved a pre-tax profit of £1.2m against £911,000 in 2018.
In his strategic report, managing director Peter Duxbury said: "The trading result for the year was in line with expectations and with all sites operating efficiently.
The business achieved reasonable revenue growth."
However, Mr Duxbury cautioned that while revenue growth is "positive", cost pressures continue to be "considerable", with waste paper and chemical costs, along with heat and power costs increasing.
The director added that the business is in a "strong position and will show improved operational and financial performance in the future" but that rival companies and the underlying state of the economy posed uncertainties.
The UK continues to present the biggest market for the firm, accounting for more than £30.8m of Fourstones' sales, against almost £766,000 from income generated by overseas sales.
The firm has an overall workforce of 158, an increase of three from last year, which consists of 124 production personnel, 17 management staff and 17 administrative employees.
Fourstones' staff bill for the year, including pension and social security costs, came to £5m, an increase of 6% from £4.7m in 2018.
The firm underwent a management buy-out in 2000 with the death of previous owner GT Mandl.
Since then the company has spent millions of pounds on upgrading its equipment and developing new products.
The parent company is now Sandco FPS, based at South Tyne Mill in Northumberland.
jimillar@thecourier.co.uk