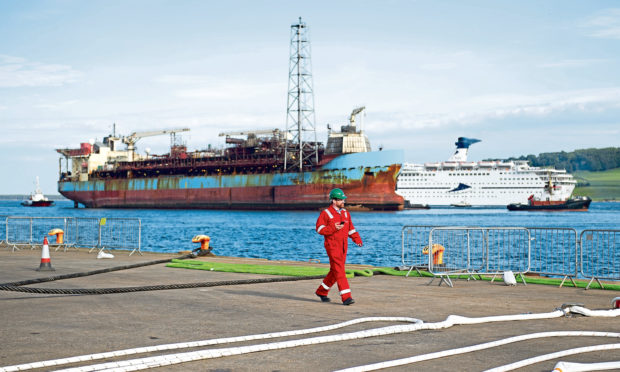 Increased profits at the Port of Dundee helped operator Forth Ports to a surplus of almost £100 million last year.
Forth Ports has eight ports across the UK, including Dundee, Rosyth, Burntisland, Kirkcaldy and Methil.
It also operates Port of Tilbury, London's closest port, which handles 20 million tonnes of cargo a year.
Accounts for the year ending December 31 2018 show Forth Ports increased its revenues by £11m to £225.8m. Pre-tax profits rose from £90.2m in 2017 to £98.8m.
Carole Cran, chief financial officer of Forth Ports, said: "2018 was a strong year for Forth Ports with good revenue growth across Scottish Ports, Scottish Marine and The Port of Tilbury.
"The Port of Dundee grew it profits by 21% year on year on the back of increased North Sea oil and gas revenues; jack up rig related activity and a higher number of cruise calls.
"We have significantly invested in Dundee with the new heavy lift quayside to accommodate decommissioning and offshore wind projects."
The group has identified securing more decommissioning and renewables work into the Port of Dundee as a key strategic aim.
Work is under way on the city's first major piece of decom work in the form of cleaning and waste disposal of the Curlew vessel, which arrived in June.
Forth Ports is also part way through a £200m project to construct a new port at Tilbury, which is due to be finished next year.
Ms Cran added: "The group's plans for the future are focussed on developing the core port operating assets whilst seeking to maximise any value that can be generated from any non-port operational land.
"On the back of the investment in the quayside at Dundee, and existing infrastructure at Leith and Rosyth, we look to secure more North Sea decommissioning and offshore renewables projects."
During the financial year port operations brought in £190.3m of sales, while property rental added a further £35.5m.
The group's Scottish operations – which also include sites at Leith and Grangemouth – delivered revenues of £85.7m, while Tilbury Port brought in £104.4m.
Cargo handling is the firm's largest income generator at £121.6m, followed by storage (£19.8m), marine charges (£18.8m), ancillary services (£17m) and vessel charges (£12.9m).
In the financial year, Forth Ports employed an average of 1,052 staff.
rmclaren@thecourier.co.uk