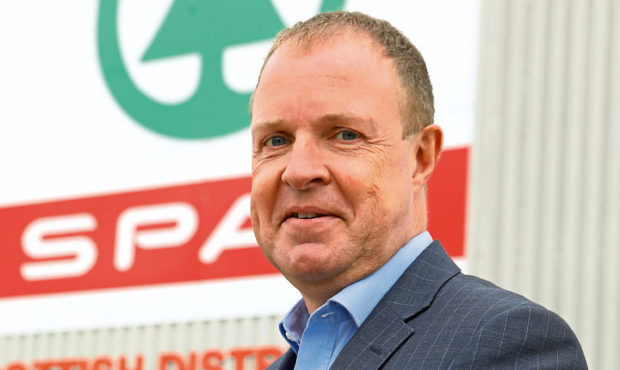 Dundee-based Spar supplier CJ Lang said it had made a strong start to its turnaround plan with the first increase in sales for four years.
CJ Lang owns and operates 113 Spar convenience stores and acts as a wholesaler to more than 300 Spar shops in Scotland.
Last year sales rose by 2.6% to £187.9 million for the year ending April 30 as the firm entered its 100th year of trading.
Underlying profits, before exceptional costs, increased by 56% to £764,000.
However, a £1.6m charge related to asset write-downs and closing loss making stores, resulted in a pre-tax loss of £863,000 against a pre-tax profit of £490,000 in 2018.
Chief executive Colin McLean, who was appointed 18 months ago, said both the wholesale operation and independent stores were back in growth.
He said: "We are in the early days of the turnaround plan which has been very much a journey to get back to basics.
"Yes, the retail environment is tough but with this business there's a lot of opportunities.
"We are trying to get better deals, better availability, better standards and more people focus. We are starting to see results.
"Both our independent business and our company owned stores business back in growth for the first time in many years."
Among the measures put in place is more central control of what each Spar shop stocks and charges customers.
The company has also put focus on developing its 'food to go' range.
In the past 18 months the number of independently operated Spar stores has increased from 180 to 212, which has boosted the wholesale operation.
CJ Lang chairman Jim Hepburn said the decision to close stores had not been easy.
He said: "The stores we closed were loss making and had been for several years. If it hadn't been for the one off charge then we would have increased our net profits this year."
CJ Lang employs around 300 staff at its offices and distribution centre in Dundee. The group employs 2,000 staff across Scotland.
The firm's margins rose from 23.9% to 24.3% last year.
Mr McLean added: "We know the Scottish retailing industry and its challenges – whether it's deposit returns scheme or other legislation.
"We understand the Scottish consumer and we are determined to get the business back to where it should be."
rmclaren@thecourier.co.uk