Formerly absent due to persecution, pine martens now occur throughout much of Courier Country, with a recent survey detecting their presence in Perthshire, Stirlingshire, Angus and Fife.
It was a strange coincidence but as I trudged through my local wood, a red squirrel bounded away from me and scooted straight up the nearest tree, before perching on a high branch from where to watch me in safety.
This animal was cuteness personified, with fluffy ears, pert face and a long bushy tail that flickered in nervous agitation. Both red and non-native grey squirrels thrive here – and have done so for as long as I can remember, which makes the wood unusual as normally greys out-compete their red cousins.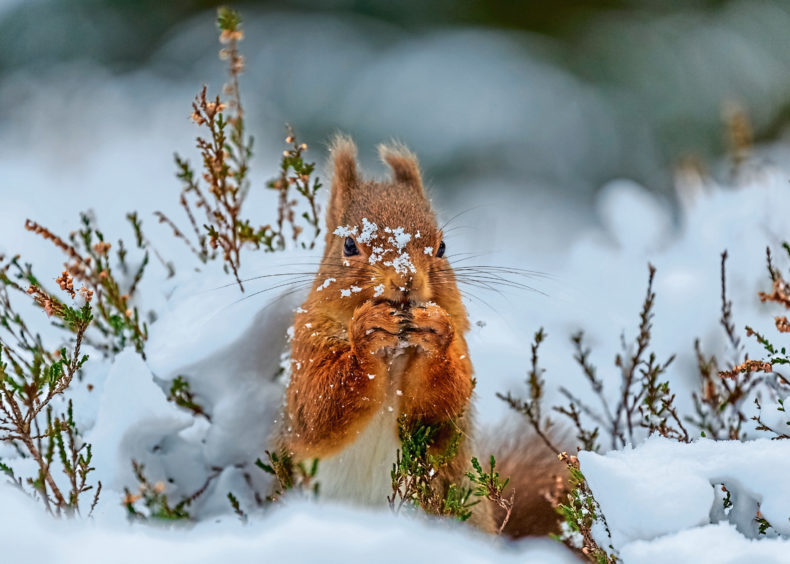 But a change is afoot, for I have noticed that there are fewer greys nowadays in this wood and more reds – which brings me to the coincidence mentioned. When I encountered this red, I had just retrieved my trail-camera, which had been remotely monitoring a nearby animal track.
Using a trail-cam is a bit like going fishing – you're never sure what is going to turn-up – so once back home, I connected the device to my computer to see what creatures had been filmed. There was a good mix – badgers, foxes, roe deer, and yes, even a red squirrel.
Then I came to a night-time clip of rascally whiskers curiously pressed against the camera. The creature momentarily disappeared, before returning once more and bounding away into the darkness, a thick bushy tail trailing in its wake. A pine marten!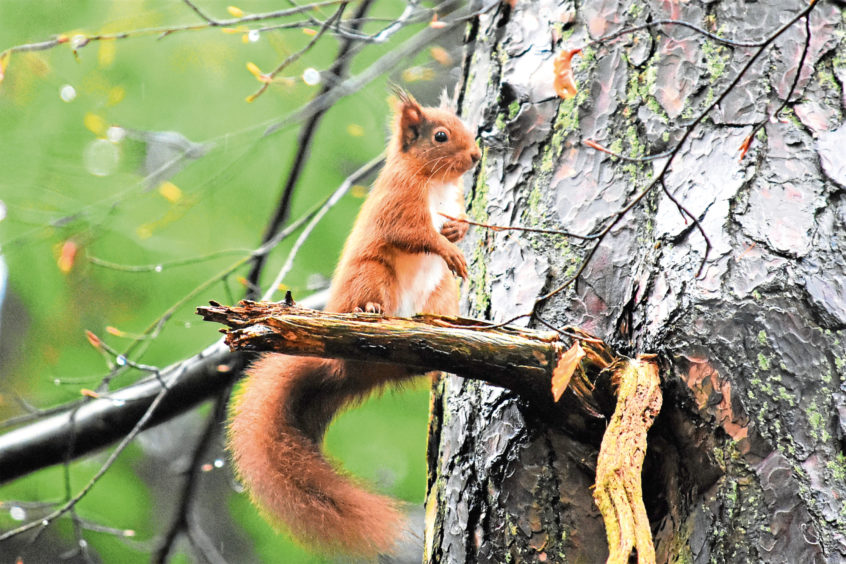 This was the third pine marten I have recorded in recent times, indicating that they are now well established in my home area, having gone from being one of Scotland's rarest mammals to a creature that is now widespread.
Martens are proficient climbers and powerful enough to take squirrels, which is perhaps why the greys in my wood are scarcer. The smaller red is so agile that it can usually dodge a pine marten by fleeing to flimsy branches on the very edge of the tree canopy before leaping over to the next tree. For a pine marten, the less nimble grey is much easier to catch.
The ease with which the red squirrel lives in its arboreal environment is astonishing and I recently watched one travelling across this woodland without once touching the ground, running along boughs and jumping from tree to tree with consummate ease.
So, is the red really bouncing back in these squirrel wars? I don't know to be honest and can only describe what is happening in my local patch. But while such a perceived shift in squirrel dynamics would be a positive thing, I suspect such changes are most likely to remain localised and greys will always thrive, especially in our towns.
In any case, I have a soft spot for greys. It is not their fault they are here and feeding them by hand in a local park is one of my earliest memories from childhood that helped forge my passion for nature. And for that, I will be forever grateful.