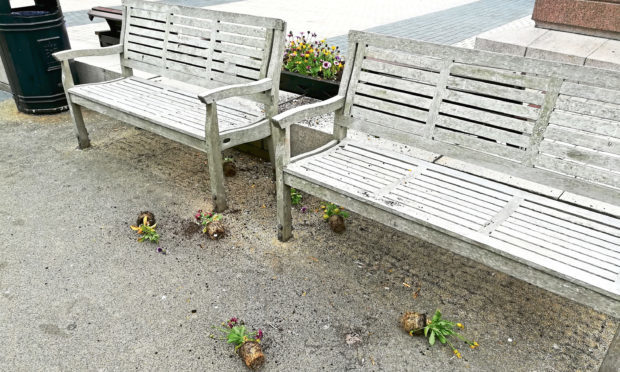 Please excuse me if I go slightly off piste from my usual business focused column. But my dander is up.
I spent the weekend getting increasingly angry at mindless acts of petty vandalism and people being so unbelievably inconsiderate that I really should be lying in a darkened room right now rather than committing my thoughts to paper.
It started on Friday as I went to have a look at my first Maggie's penguin.
Right next to the 'Journalism' statue outside McManus in Meadowside, some idiot had taken it upon themselves to rip individual flowers from a planter and throw them on the ground.
There is no rational reason or excuse for such an action, it is just badness.
Fast forward a day and I'm back out on the Penguin Trail, soaking up the glorious sun and enjoying the fantastic family atmosphere.
On this occasion my anger was piqued by a takeway drinks container dumped amongst a flower display outside Malmaison hotel – despite there being a bin less than a metre away.
And then on Sunday as I headed to the Broughty Gala I challenged a young lad whose past-time of choice was to repeatedly karate kick a bin full of waste until it fell over in the street.
My protest garnered no response.
At least the lady in Brook Street who attempted to put her litter in a bin only to watch it spill back out had the good grace to look ashamed at her actions – even if she left me to clear her mess up.
The tin lid on the weekend came when I heard three of the penguins had been deliberately damaged just hours after being put on public display.
Why? Actually, why would you do any of these things?
Putting this in to a wider context, there is a real business and economic issue at stake here.
In the next fortnight, Dundee will be a gateway for The Open championship at Carnoustie.
And in September, V&A Dundee opens its doors, hopefully sparking a tourism influx the likes of which this city has never seen before.
We all know first impressions count and if we – as the people who live and work in this city – don't show a pride and care in our environment, then why should we expect others to?
Businesses have been urged to get V&A ready – that's about flashing the pearly whites and ensuring visitors have the best possible experience.
It is also, crucially, about persuading them to return and bring their friends.
That's a one time deal.
Make the wrong impression and all of the good work which has gone into dragging Dundee up by its bootstraps will be lost in an instant.
You wouldn't litter or smash up your own home, so why would you do it when you venture outdoors?
A little mindfulness, care and pride will go a long way in helping this city achieve its considerable potential.