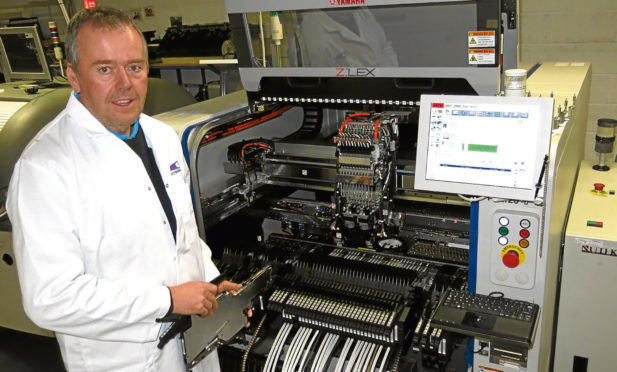 A Fife circuit board manufacturer has invested £400,000 on two new machines as it seeks to increase its workforce this year.
Kirkcaldy-based Key-Tech Electronic Systems hopes the cutting edge equipment — which can reach speeds of more than 90,000 chips an hour — will allow it to do work on smaller components and bid on more jobs.
The firm, which will celebrate its 25th anniversary in May, has clients a wide variety of industries including oil and gas, nuclear, security and subsea.
The printed circuit boards it builds can be used in anything from CCTV systems to medical equipment to helping to run electronics on train carriages.
The boards are usually finished by hand by members of the firm's 60-strong workforce who operate from neighbouring buildings within Mitchelston Industrial Estate.
Last year the company recorded £5 million in sales but, with two major contracts recently secured, the technology firm hopes to increase this to £7m over the next two years.
Director Jim Spence said: "The year before last was tough with the decline in the oil and gas industry but this year's accounts will be much better and it looks like we'll have a good 2018.
"We didn't think oil and gas such a big part of our business — but a lot of our customers' customers were involved in the sector.
"We diversified away from that industry a bit and things have picked up as well as winning some new business.
"This year and next year we are looking at some good growth.
"We are now looking to recruit again.
"The new machines should future proof the firm for any future technology that we see in the next 10-15 years."
The firm was one of the suppliers to CERN's large hadron collider project in Switzerland.
"It was a coup because we were the only one in Scotland and might be close to being the only one in Britain," Mr Spence added.
He said the company has linked up with Fife College to try to recruit younger members of staff and is offering six jobs to college students.
"We are positively trying to recruit youngsters to try to get some new blood into this industry," he added.
rmclaren@thecourier.co.uk