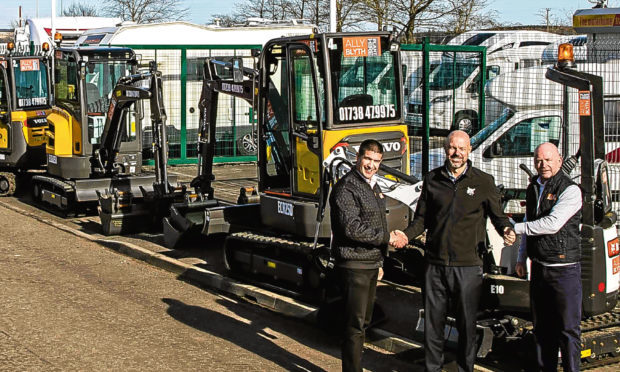 A new plant hire business has been established in Perthshire after a £1.2 million investment.
Based at Aberuthven, Ally Blyth Plant Hire has 45 machines such as dumpers, excavators and telehandlers, from a variety of manufacturers.
The firm, which currently has four staff, is hoping to expand quickly and double its stock and staff numbers by the end of the year.
Business operations director Bobby Berwick said: "Ally's father was a very successful salesman in the 1960s and 70s of plant hire equipment.
"Ally saw an opening in the market for this as nobody in the Perth area has a range to the extent we have.
"All the equipment is brand new out of the wrapper.
"The level of interest so far has been encouraging and we are talking to some major companies as well as local construction firms.
"Although it is plant hire at the moment, we are planning to go into sales of equipment later this year.
"As we state on the website, it's like father, like son."
Mr Blyth is also managing director of Scot Motorhomes, based at Perth's Inveralmond Industrial Estate.
He is in the final stages of securing a premises on Dundee's Kingsway, primarily for the motorhome business, but it will also have plant hire equipment available.