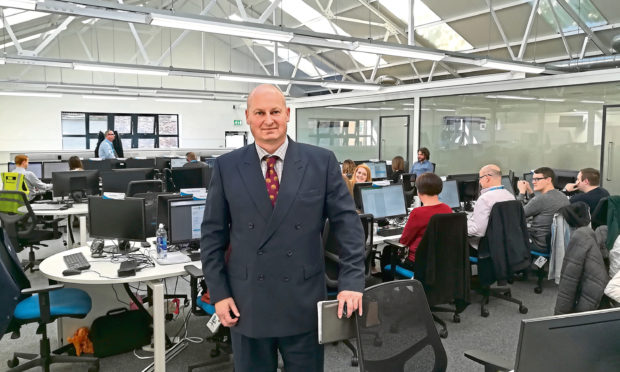 A Perthshire water supplier has cemented its reputation as one of Scotland's most exciting companies after booking a near 25-fold increase in annual sales to almost £440 million.
Accounts published at Companies House show Castle Water Limited of Boat Brae, Blairgowrie, generated revenues of £439.5m in the year to March 31, a huge leap forward from the £17.8m booked in 2017.
Profits also made strong progress, with a pre-tax return of £6.94m comparing with the flat £1m booked in the previous year.
After tax, the business – which was set up four years ago and is now the largest private sector employer in Blairgowrie – made a near £4m profit, up from £446,000 in 2017.
The group is focused on exploiting opportunities in the non-domestic water markets across the UK and has seen huge growth since deregulation of the English water market last year.
Much of the uplift relates to the completion of the transfer to Castle Water of the non-domestic supply books of Portsmouth Water and Thames Water.
The firm also acquired Cobalt Water's business base and has continued its acquisitive strategy in the current financial year with the £10m purchase of Invicta Water Limited, which provides water services in south east England.
"The group provides services across small and medium sized enterprises (SMEs) through to large corporates in both the private and public sectors," chief executive John Reynolds said in his strategic report to the accounts.
"The English non-household market for water services opened on April 1, 2017.
"The company has participated in the market, seeing customer losses in the Thames Valley and Portsmouth regions offset by gains across other English regions, including from public sector customers.
"The group also continues to operate in the Scottish market."
The accounts show the business carried an average staffing base of 252 during 2017 – a more than doubling of the prior year.
However, that figure has grown considerably since, with the business currently employing around 370 staff.
Chief financial officer Iolo Morris said: "These results show the successful implementation of Castle Water's strategy of expansion into the English water market during 2017-18, which has continued in the current year."
Douglas McLaren, chief operating officer, added that the group's success was down to its workforce.
He said: "Our people are fundamental to delivering our results, providing excellent service to our customers.
"We currently employ around 370 people, the majority of whom are based at our service centre in Blairgowrie with regional offices in London, Portsmouth, Leeds and Ayr."
In October, Castle Water scooped the top Business of the Year prize at the annual Courier Business Awards.
Mr Reynolds was also named Entrepreneur of the Year at the glittering ceremony.