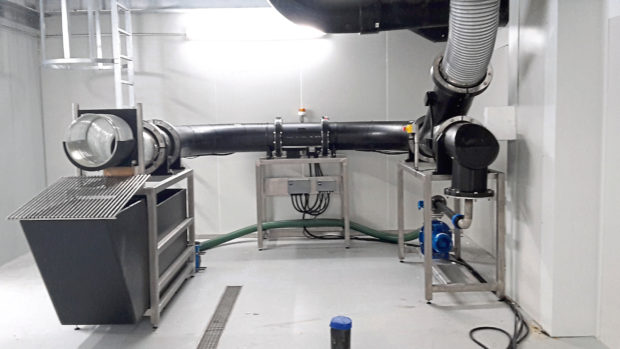 A Dundee firm which creates sustainable seafood technology has been awarded the Queen's Award for Enterprise Innovation for the second year in a row.
Ace Aquatec, based at City Quay, has been recognised for the positive impact their fish stunner is having on animal welfare across the global seafood industry.
The patented Humane Stunner Universal uses electricity to immediately render fish unconscious without removing them from the water.
This reduces fish stress, improves fish quality and can double the volume of fish which farms can process per hour.
The Queen's Awards for Enterprise are the highest official UK awards for British businesses, made by The Queen based on the advice of the Prime Minister.
Last year Ace Aquatec's Queen's Award recognition was awarded for their acoustic predator deterrents which had reduced conflict between fish farmers and seals.
Ace Aquatec's managing director, Nathan Pyne-Carter said: "Being recognised last year for the positive difference our predator deterrents are having on the Scottish economy was amazing.
"To be acknowledged again this year for the wider global impact our electric stunning technology has on animal welfare is a huge honour.
"International growth over the last couple of years has felt like a bit of a whirlwind but it's the result of years of experimentation, refinement and a firm belief it's possible to improve fish welfare without sacrificing on quality or efficiency."
The firm, which moved from Dingwall to Dundee in 2017, said their stunner was the result of years of research.
It is now used in farms across the world, including ones in Chile, New Zealand, Japan, Germany, Greece, USA and Canada.
They plan to continue rolling out the electric stunner to more fish farmers around the world and with big retailers committed to having the highest possible welfare standards in their supply chain, the adoption of this technology shows no sign of slowing down.
Ace Aquatec's head of sales and marketing Mike Forbes added: "We work with fish farmers all over the world and everyone we speak to is looking for ways to improve sustainability and animal welfare.
"Supply chains have never been more transparent and the aquaculture sector has been quick to embrace any new technologies that improve welfare standards and environmental impact."
The Queen recognised 201 businesses in this year's awards in a huge range of industries – from construction, agriculture, motoring and software development. Eight are based in Scotland.
This year, three quarters of the total are SMEs, 30 of which have fewer than 10 employees.
Dundee City Council leader John Alexander said: "I think it is fantastic Ace Aquatec has won this prestigious award for the second year running.
"Ace Aquatec have built a thriving business from Dundee.
"This illustrates how Dundee is a great place to run an internationally successful business."
rmclaren@thecourier.co.uk