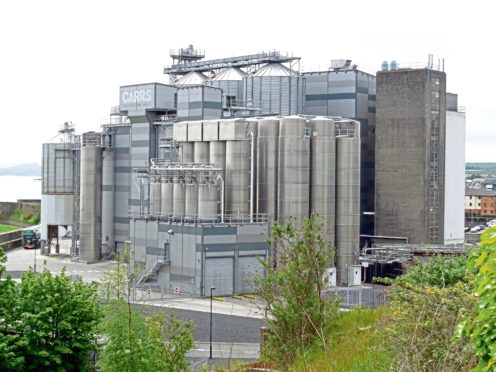 Turnover at Fife-based Carr's Flour Mills rose by almost £10 million last year as global wheat prices increased.
The firm, which can trace its roots back to the 1830s, produces around 300,000 tonnes of wheat a year at its sites at Hutchison's Mill at Kirkcaldy harbour, Silloth in Cumbria and Maldon in Essex.
Newly filed company accounts show sales of £91.6 million for the year to March 31, a rise of more than 12% on £81.7m in 2018.
Pre-tax profit was in line with last year at £2.1m.
The rise in revenue was partly due to the effects of dry spring and summer seasons which pushed the price of wheat up by between 25% and 20%.
Company chairman Roger Butler said volumes at Carr's had increased by 5% on the previous year due to organic growth and customer gains in targeted sectors.
In his strategic report he said: "Turnover per tonne rose as global wheat prices increased following the 2018 harvest.
"Gross margins per tonne of flour sold increased by 3.2% as increased costs, particularly energy, were recovered.
"We continue to strengthen ties with a number of important customers and have seen growth in sales reflecting this.
"This is underpinned by consistency of product, high levels of customer service and good commercial relationships."
Around a sixth of the company's sales come from Europe.
Last year an average number of 168 people were employed across the company's three locations.
Carr's invested more than £17m into its Fife site in 2013. Its modern technology includes computerised flour blending and particle size control.
Whitworth Holdings – the UK's largest flour miller – acquired Carr's in September 2016 in a £36m deal.
The Northamptonshire based firm, whose interests also include farming, estate management and forestry, recorded sales of £397.9m last year, a rise from £321.7m in 2018.
Pre-tax profits for Whitworth rose from £10.3m in 2018 to £11.8m last year.
rmclaren@thecourier.co.uk