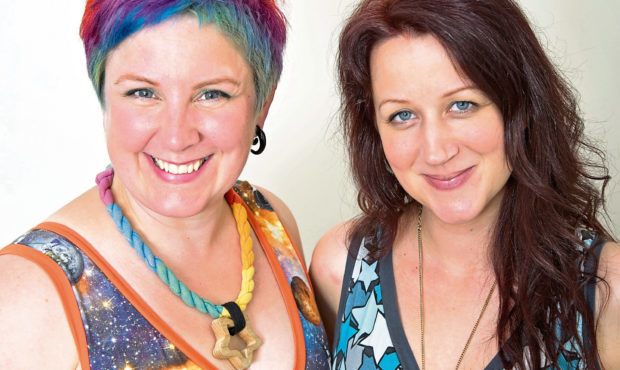 Why did you start in business?
Molke came about after my initial business idea which was making custom cloth nappies. While they proved popular it was nothing compared to when I began selling the underwear.
I launched Molke as I wanted to help women do what comes naturally in an easy and if desired, discreet way.
How did you get to where you are?
I started selling the brightly coloured pieces after struggling to find clothes that would allow me to easily breastfeed my children. I spotted a gap in the market and once Ros came on board we set out to grow the business.
We now sell our range across the UK, Australia, New Zealand and USA.
To cope, we took on staff and moved into a bigger space to allow us to make the products, pack and get them out to delivery from one place.
Who has helped you along the way? With our Business Gateway advisers' help we were able to turn Molke into an effective business that is constantly expanding. The HR support we received was fantastic.
Also, much of our success has been due to social media.
What was your biggest mistake?
Initially we approached several factories without thinking about IP or really knowing what we were talking about.
We had no business plans in place either and as a result we made some mistakes and lost a lot of time, but fortunately only a little money.
Your greatest achievement?
The feedback we receive from our customers. They even have their own Facebook group where they share tips and advice. We've been told by women that our products have changed their life and they can breastfeed comfortably, which is ultimately what we strive to provide.
Hopes for the future?
We launched our new cup size recently and, as far as we know, we make the only ready-to-wear bra in the world that covers the size range we do.
We really want to increase our inclusive underwear range given how popular our products have been with all women, not just those breastfeeding. We also have plans for swimwear and are looking at international distribution and increasing our exports. Not to mention the clothing range when we find time.
Do you want to recruit in the future?
We now employ three members of staff and we expect to take on more in future.
What is the hardest thing about running your own business?
Balancing my time.
Not just spending time with my family but also finding time for myself. It's so easy to throw yourself into the business and risk burning out.
Any advice to other wannabe entrepreneurs?
Go along to your local Business Gateway office – you'lll be surprised at the support you can get for free.
Also, make sure you have a good support network around you like other business owners and friends.