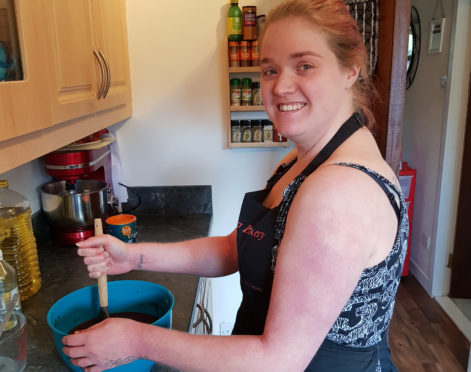 When her son developed severe food allergies, Louise Baxter began whipping up birthday cakes he could enjoy.
After it was discovered her second child also had food allergies, the whole family decided to go vegan.
In January, after encouragement from her mum, the 28-year-old launched Louise's Vegan Bakery from her home in Burntisland.
What does your business do?
I run a 100% vegan bakery. A lot of clients come to me because of allergies and for ethical reasons. I can guarantee there will be no cross contamination.
I sell bespoke celebration cakes, including wedding cakes, traybakes, tarts and biscuits.
Why did you start in business?
My four-year-old has a dairy and egg allergy which became severe after someone mistakenly gave him milk to drink and he had to be rushed to hospital.
His allergy is on contact, so if anyone has dairy on their hands or clothes and he touches it he will have a reaction.
When we realised our daughter was also allergic we decided to all go vegan – even my mum has gone vegan!
Because I didn't want my son to miss out on birthday cakes, I started baking them for him and also for my daughter.
When I was thinking about starting the bakery I asked on Facebook if there would be demand for it and my phone blew up.
How did you get to where you are?
I had a job at the local hospital but after health complications during my first pregnancy I couldn't go back to work, then I fell pregnant again and have been a stay-at-home mum until I launched my business earlier this year.
Who has helped you along the way?
I wouldn't be where I am today without the help I've had from my Business Gateway Fife adviser, Marissa.
She has been a huge help, giving me so much advice about my business plan, marketing, networking and business connections, which helped me secure a regular order from a local cafe.
My mum has always encouraged me and pushed me to start a bakery.
Your biggest mistake?
I wasn't very business minded when I first started and I was under charging.
Thankfully, after going to Business Gateway I was able to understand how to calculate my pricing.
Your greatest achievement?
Each cake is an achievement, as each one is unique. I've also just made my first three tiered wedding cake, which I am very proud of.
Hopes for the future?
In the next couple of years I would like to expand into a bigger space. Currently I work from my kitchen.
Do you want to recruit in the future?
Eventually, yes, as the business grows.
What is the hardest thing about running your own business?
The juggle of running a business with two small children.
Advice to wannabe entrepreneurs?
I learnt how to run a business after I'd actually set one up so I was tripping myself up right from the start.
I would say, do as much research as you can and speak to Business Gateway as soon as you have an idea. I wouldn't be as far on now if I hadn't gotten their help.
How would your friends describe you?
Loud! Happy, friendly, helpful, and hardworking.
Favourite film and book?
I don't have enough time to watch TV. My favourite book at the moment is the Bosh! cook book.