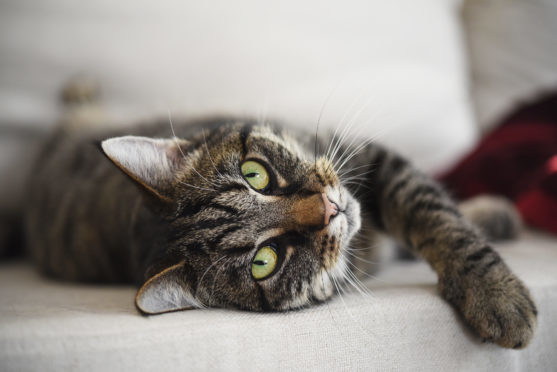 Bertie has been in a scrap. Or, perchance, he's had an accident. At any rate, the tubby tabby cat suffered a lot of bruising and swelling to his chest area, and has had to have an operation.
With his owners once more gadding about the four corners of yonder Earth, who they gonna call to look after the little mite in his hour of need? Correct: his Uncle Rab, sometimes known hereabouts as Bertie Senior.
There are complications in the cat-watching business this time around. He's not allowed out, because his wound could get infected and, of course, if he's been scrapping with Moriarty, the local bruiser of a moggy round here, then a return bout might ensue.
If you think keeping him in is simple, think again. Sad to say, I made a botch of things almost immediately. Gadding about at the front door, on my way to a pub lunch with mates before the footer, the little blighter snuck past me all unnoticed as I tried to set the alarm and work out which key to use.
Too late, out the corner of my eye, I saw him waddling rapidly across the lawn, whereupon I gave chase but quickly lost him and was reduced to blundering round the streets of the posh suburb shouting "Bertie! Bertie! Your Uncle Rab needs you to come home!"
When I returned, I saw him skulking in some bushes and enticed him back in by shaking a bag of treats that he particularly likes. Hate to say it, but he's not bright.
Me neither, alas, so the battle of wits that has continued here has been unedifying. Every time I come in from the garden, he's waiting to try and skedaddle.
A neighbour suggested getting a lead and walking him aboot the demesne. But he's a big, strong lad and I got a picture of him dragging me through the streets like a boat trailing a jet-skier behind it.
It's usual here to leave the cats – well, just Bertie now – in the porch at night, with a cat-flap letting them out for their satanic rituals by moonlight. But, at the moment, Bertie is caught between a rock and a hard place, as he can't get oot and he can't get in.
It's easy to lure him out to the porch last thing at night with treats. Dense, d'you see? Or maybe not so much. Because, either through cunning or brute force, he has managed to get the inner cat-flap open, whereupon he makes his way upstairs to jump upon the heid of his sleeping master.
It's a shame he can't get out in the Spring sunshine (as I write), but Bertie has never been one for getting morose, and he doesn't bear grudges. He'll find a pool of sunlight on the floor and just lie in that.
Sometimes, I get down on the floor and lie beside him. He looks at me with his snake-like eyes and purrs deeply. Bertie is at his most affectionate when you come down to his level. If you try yoga, he gently nudges you, as if to say: "Never mind all that baloney. Just lie down and chill."
Yep, he might be a bit dim. But you can learn a lot from him.