On November 2 2013, Allan Bryant Jnr left his home in Glenrothes to attend an engagement party at a local golf club.
Around midnight he travelled with a group of friends in a minibus to Styx nightclub, situated less than a mile from his house.
Shortly after 2.02am, in the early hours of November 3, Allan was seen on CCTV leaving the nightclub.
He has never been seen again.
More than nine years have passed since the 23-year-old went missing and his family are desperate to know what happened to their son.
New Allan Bryant Jnr documentary
Our exclusive new documentary, A Short Walk Home: The Disappearance of Allan Bryant Jnr, takes a fresh look at the case, speaking to his family and local journalists who have covered the investigation over the years.
We also reveal witness statements that shed light on what occurred at Styx that night and explore the failings of the Police Scotland investigation which has so far failed to find Allan.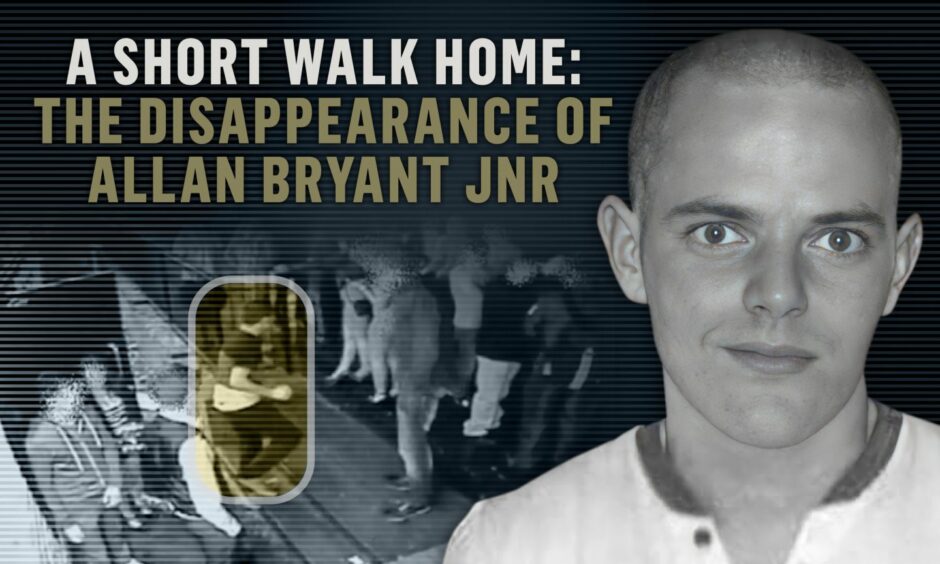 Who is Allan Bryant Jnr?
Allan Bryant Jnr is a 23-year-old man from Glenrothes who lived in the Fife town with his mum, dad and two sisters up until the day of November 2 2013 when he left to go to a friend's engagement party.
Where was he last seen?
The last known location of Allan is Styx nightclub on Caskieberran Road, less than a mile from his home on November 3.
Allan was seen on CCTV leaving the club at 2.02am – although other witnesses put him in that area slightly later.
What happened to him?
Despite a huge search operation to locate Allan, the 23-year-old has still never been found.
A Short Walk Home: The Disappearance of Allan Bryant Jnr takes a close look at why, in a built-up area, close to his house, no further sightings of Allan have ever been confirmed.
Problems with the investigation
Allan's parents have long questioned the Police Scotland investigation into their missing son – especially the initial weeks and months of the inquiry.
They remain unhappy with the collection of CCTV from the area around Glenrothes that night.
Police delays meant that footage of nearby cameras had been overwritten by the time officers were in a position to collect it and the family were also told that local authority cameras had not been recording that night.
They also had to fight and plead with Police Scotland for seven months before the footage of Allan leaving Styx nightclub was made available to the public.
Because of these issues Allan's parents made a list of complaints to the Police Investigations & Review Commissioner (PIRC) and a number were upheld.
Do you have information about Allan Bryant?
The disappearance of Allan Bryant Jnr remains an open missing person case and anyone with information should contact Police Scotland on 101 or Crimestoppers.
The force also works closely with the Missing People Charity who can be contacted on 116 000 or by visiting their website.
If you would like to speak to our Impact team please email cheryl.livingstone@ajl.co.uk
You can read more about the Allan Bryant Jnr case here.
---
More from our Allan Bryant Jnr investigation