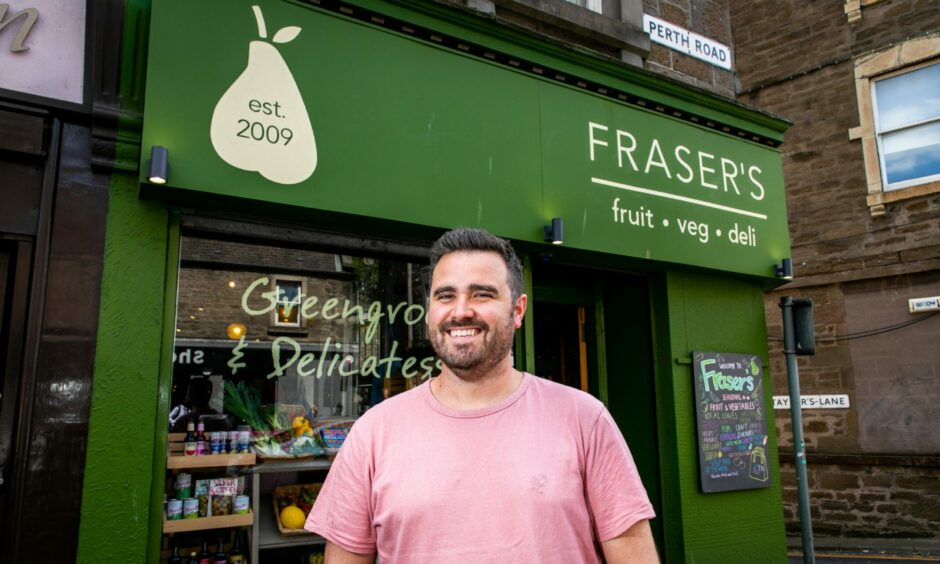 "Fraser, You got that honey that I like?"
"You had the last jar", Fraser responds, to the customer that has suddenly appeared around the door to the back room of his shop.
"But I'll phone them and get it in, don't worry."
"What a guy", the customer replies.
It's 11:42am on a Monday and there are six customers queuing in Fraser's small shop. His business is clearly thriving.
Fraser Reid is the owner of Fraser's Fruit and Veg.
Fraser's is one of the many businesses in the city centre coping with a new shopping world – a world that has experienced lockdown, rising fuel costs, inflation, and the constant fight with online giants.
His personal touch has no doubt helped his survival but many others haven't been able to outrun the shifts in society.
As a result we decided to investigate the health of our high streets. Do we have scores of empty units with To Let signs? Are we being swamped with bookies and do vape shops now outnumber cafes?
We found that on average our high streets have a vacancy rate of 15.5% and our shopping centres sit with just under a third of their units vacant (28.3%).
We plan to keep track of the changes to these streets and shopping centres long term and produce regular reports on the changing state of our shopping districts, keeping our fingers on the pulse of the Dundee city centre economy.
You can find the most up to the minute details regarding the high streets here.
And Dundee's shopping centres here.
As part of this series we also spoke to some small business owners to get their thoughts on the state of the high street and the challenges they face.
Dundee's Perth Road is prime shopping real estate
One of the keys to Fraser's success is his location on the Perth Road.
Our data shows only 8.4% of the 83 units we are tracking on the street are unoccupied. Making it one of four streets to have a vacancy rate of less than 10%.
Perth Road is in fact the fourth most occupied street of the 11 included in our investigation, with Union Street showing the highest rate of occupancy and Castle Street showing the lowest.
While Fraser keeps a close eye on his customers needs and makes small changes to the product lines they carry in response, his business model has barely seen any changes in the past 14 years.
At the other end of the scale, just a few doors along the street is Jillian, owner of Little Green Larder.
Little Green Larder is a low waste shop that has been a fixture of the Perth Road for four years.
Jillian has recently completed a crowdfunder to enable her to change up her business model and refit her shop. She tells me that the driver for her upcoming changes was her community.
"At Christmas we always do a little collection for the foodbank/community larder and since then our customers have just continued to keep buying things in the shop even though we weren't planning to continue that. They just keep on saying, 'This is for your foodbank donation', so we decided, 'You know what? We're going to continue this but we'll have the mini foodbank here'."
Keys to high street success
When asked what makes a successful high street both Fraser and Jillian agreed that variety is key and competition is to be celebrated not feared.
Fraser tells me: "Competition-wise it's really good to have a number of places that do similar things, which sounds counter intuitive but actually you can't just be a shop that sits on its own on a street because no one would come to you."
Jillian emphatically agrees: "What makes a successful high street is literally the more businesses the better. The more shops that are open, the more people that are here to greet you the better. I think customers will come to an area to go to a few shops, do a few things. People maybe aren't as inclined to travel a distance for one shop or one thing. I have so many customers that come here for so many refills and then go to Fraser's for fruit and veg and I'm glad. I want them to come to everyone."
A tale of two shopping centres
The Overgate and Wellgate have both undergone some turbulence in recent years with both centres coming under new ownership. Most recently the Overgate was purchased by Mike Ashley.
We found a wide variation in both the occupancy levels in both centres, as well as in the category of retail unit found within each.
Mike Ashley will be glad to hear that our data shows the Overgate has a vacant unit level of 12%.
Although unfortunately the closure of Debenhams leaves the Overgate with its largest unit sitting vacant.
With the recent closure of Paperchase also a blow.
And the old Hawkins Bazaar unit holds the title of longest vacant unit in the Overgate at approximately 1,243 days.
Data for the Wellgate shows that more than half of the units are currently vacant.
Looking at the data for the types of units held within the Wellgate shows a different focus to the Overgate, with far more units let to third sector organisations.
In fact this comprises 35% of the top level of the centre according to our analysis.
Charity begins on the high street?
One anecdote you often hear when people talk about the health of the high street is that we have too many vape shops.
Some people would say our high streets are overrun with charity shops.
As well as keeping high level data on categories of retail units (shopping, food and drink etc) we also got down to the nitty gritty and collected data on these very questions.
While we were only able to tally up four vape shops (three in the high streets and one in the shopping centres), charity shops made it into the top 10 of our subcategories with 13 across the city centre.
Reform Street was charity shop central with four charity units alone.
No vacancies?
It doesn't take long to come across a vacant unit when walking down our high streets.
This unit was created in October 2019 and has never been occupied.
The large unit previously occupied by 172 The Caird closed down in November 2022…
…and the Dundee music scene was shocked when the legendary Groucho's closed its doors for the last time in September 2020.
Where we discovered a vacant unit, we started to investigate how long each unit has had that status.
This consisted of checking the social media accounts of business to see if they had posted regarding closing down, checking Courier reporting on changes to businesses, checking Companies House for evidence of companies being dissolved, and in some cases, physically looking around the premises for any signs the owners may have left.
There were some properties we were unable to fully track down but the following is based on the units we were able to pinpoint, to the best of our abilities.
As we plan to track this data long term we are counting on our readers to inform us if they spot any changes or if they have any more accurate information. You can do this by emailing us at datateam@dcthomson.co.uk
Taking into account those caveats, the longest vacant unit in the 11 high streets was the former Victoria Wine unit on Reform Street, which at time of writing has been vacant for approximately 4,966 days, which is roughly 13 and a half years.
This was closely followed by the former Angler's Creel fishing supply shop on Exchange Street, which has sat vacant for approximately 4,194 days – or almost 11 and a half years. Its storefront is one of only two vacant units on the street.
The shopping centres fared much better in terms of turning around vacant units, with neither centre having a unit vacant longer than 1,500 days.
The oldest vacant unit in the Overgate was the old Hawkin's Bazaar unit, which has been lying vacant for approximately 1,243 days (roughly 3.3 years), with the Wellgate only slightly ahead with their longest vacant unit – which is currently their old McDonald's premises on the ground floor, which closed down around 1,394 days ago (3.8 years).
Tough times for shopping in Dundee
Jillian and Fraser name the pandemic as one of the toughest times for their businesses.
Jillian says: "Before Covid all we had to do was open the door and people would come in. The Perth Road was such a busy area, people were just walking about interested, popping in to have a look and have a blether."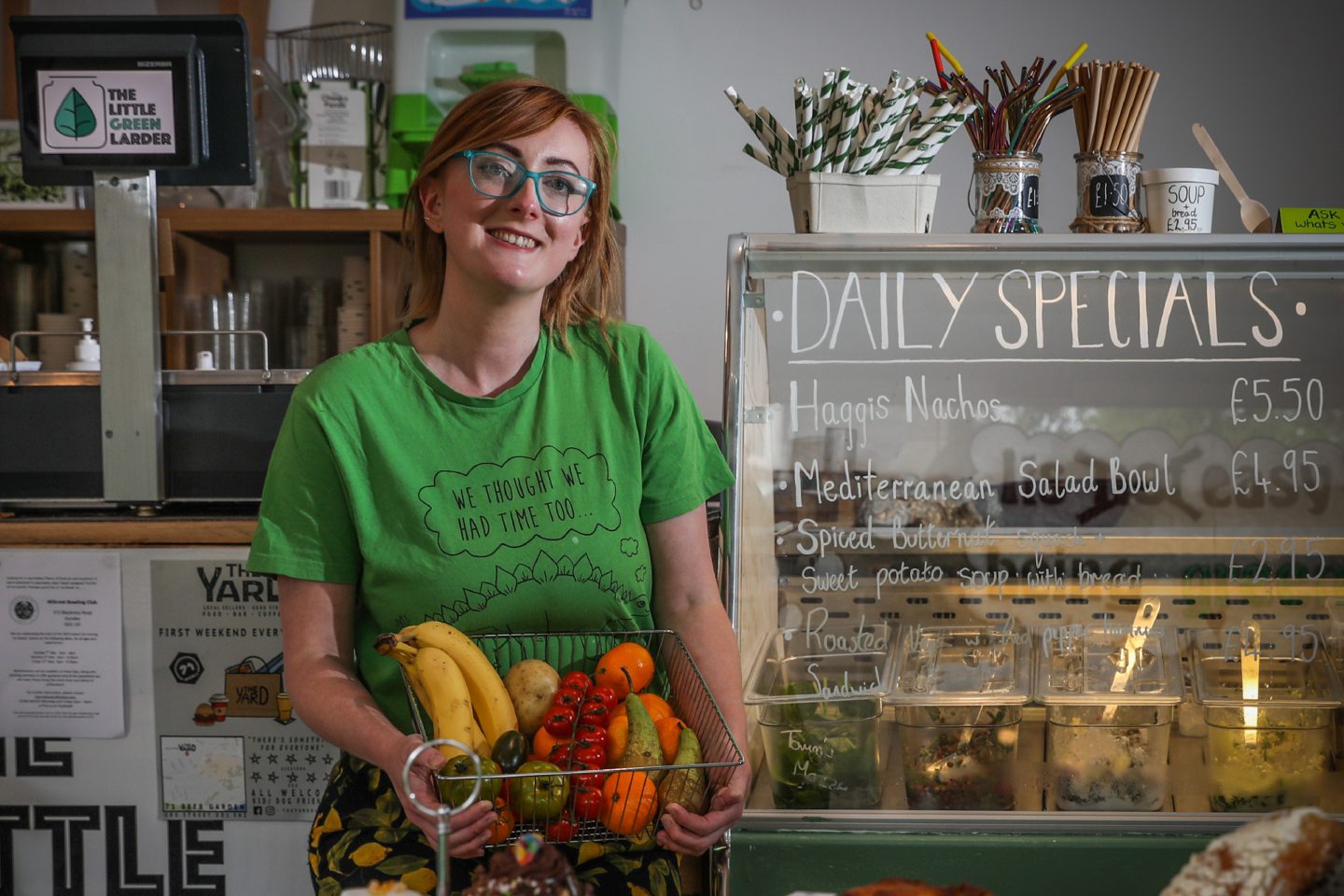 Jillian from Little Green Larder. Image: Mhairi Edwards/DC ThomsonFor Fraser, while the pandemic kept his shop busy with vegetable box deliveries, he found having to make his customers queue outside frustrating. Although for some of his customers the return to normality has also been stressful, leaving him in a no-win situation.
"We were not trying to make you queue, we were just trying to keep you safe and that's really all it is. And we'll have lost customers since we've opened up and allowed more customers in. And maybe they'll come back but people will be going, 'Oh it's too many people in a small shop'. It's a balance. There's always something."
When asked what more can be done to support small businesses, Jillian is quite clear that more targeted support from the local council would be very welcomed.
"They've done this whole Thursday night thing and we asked to be involved and were told it's for the city centre only," she says.
"They funded shops to stay open later. Things like that would be great."
A Dundee City Council spokesperson said: "Think Thursday is supported via the Scottish Government's City Centre Recovery Fund so was specifically for the city centre, the boundaries of which are determined by the Local Development Plan.
"However, the council offers other support to the business community across the city through a variety of initiatives, for example the forthcoming Dundee Restaurant Week.
"There are tourism and food and drink closed business to business Facebook pages which any business in Dundee can join. These provide information on events, cruise ships, courses, funding and other areas of interest.
"Business Gateway supports businesses at all stages of their development and there have been other recent funding opportunities, for example via the UK Shared Prosperity Scheme."