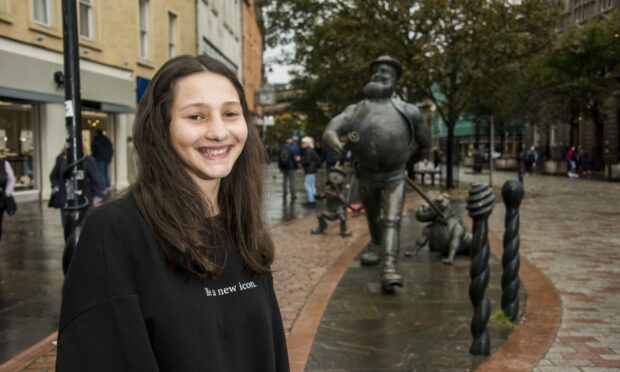 Despite being over 3,000 miles apart, Dundee and the Palestinian city of Nablus have long had a strong connection.
Twinned for more than 40 years, the two cities have often worked together to encourage residents and schools to find out more about their overseas partner.
One youngster who has experienced living in both cities, however, is third-year Harris Academy pupil Layan Al Shakhshir.
The fourteen-year-old has been living in Dundee with her family for almost three years, having moved from Nablus whilst her mum completes a PhD at Dundee University.
The family are set to move back to Palestine at the end of year and ahead of their departure, Layan is sharing her experiences of schooling in city and what she'll miss when she leaves.
What is the curriculum like?
Before coming to Dundee, Layan attended a private school in Nablus which followed the American system of education.
One thing she has found since coming to Dundee, however, is the variety of the curriculum on offer in Scotland.
Layan said: "There are a lot of differences between the schooling in Dundee and in Nablus. Back home, my school experience is different from a lot of people as I went private school."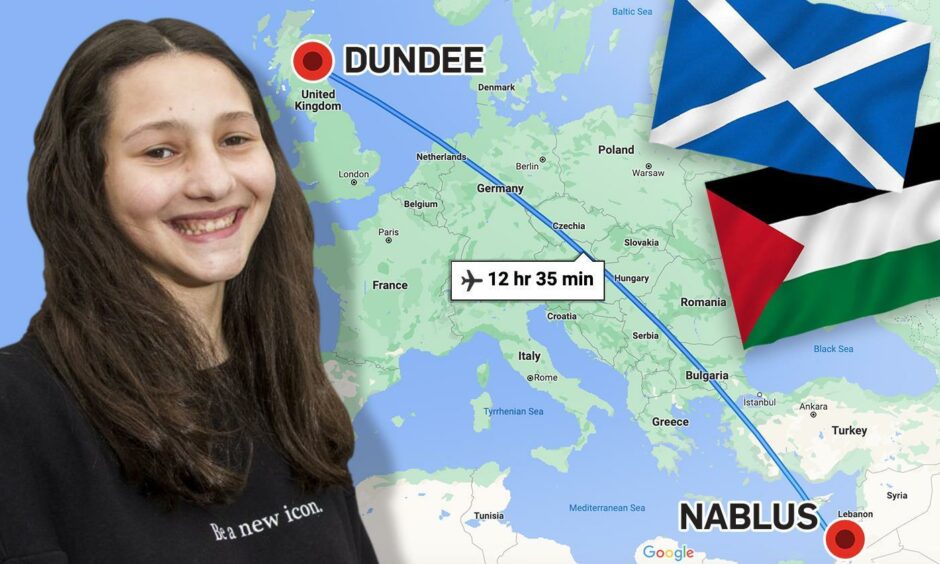 "When you think of private school here though, you think it is fancy. But there it's not half of what you would get in a state school (in Scotland).
"For example, I go to Harris Academy and that gives way more than what I got at my old school.
"There is a lot of variety of subjects here.  We have the main stuff like Arabic, maths, English, science back home but we don't have things like home economics or design and technology.
"When I came here it was a really big change"
Unlike in Scotland, primary and secondary aged pupils in Nablus attend school in the same building.
So when it came to leaving Blackness Primary, where she attended upon arriving in Dundee in February 2019, to move onto Harris, Layan found it a strange adjustment to make.
She said: "Any person moving up to high school would find it a huge difference but for me it was even bigger because back home our schools are from primary two to sixth year all in the same school.
"You move years within the school and you stay in the same classroom as well.
"So for example, you could have maths and the teacher will come to the classroom then there is a break and another teacher would come in to teach another subject.
"So when I came here it was a really big change."
"I thought the accent was strange at first"
Aside from the differences in the schooling system, Layan has also gotten used to a variety of other cultural differences during her time in the city – including the famed Dundonian accent.
"I thought the accent was strange at first but I got used to it", Layan explained.
"The buses are different as well. We have buses (in Nablus) but not like this – they would go from city to city but not within the city so that was very exciting going on the bus – especially the double decker!
"Going back will probably be a bit of culture shock, even now we know it we've gotten used to this."
Hopes of a return
Although Layan and her family are moving back to Nablus in December, the teen is hopeful of returning one day and has even set her sights set on attending Dundee University in the near future.
She said: "I'm interested in PSE (personal and social education) and mental health.  The career I'm looking into is somehow opening a mental health system in an Arab school because it's limited there."
There's a lot of differences between the schooling in Dundee and in Nablus."

Layan Al Shakhshir
"In some areas there are no schools, or some schools are not allowed because of the occupation.
"I'm very lucky that my area isn't heavily affected by this, but I can tell you of many different places very impacted by it.
"I want to come back for Dundee university and to get my undergraduate degree. I'm hoping to get a scholarship so I'm going to focus on my studies because I love Dundee."
'I used to think I wasn't capable or worthy': Former Baldragon pupil recognised for helping younger pupils overcome bullying and depression