People often say that time seems to speed up as they get older, and for legendary Scots singer Lulu it is no exception.
However, as the gravelly-voiced Glaswegian brings the  biggest ever tour in her 50+-year career to Glenrothes and Perth, she says she has no problem keeping the magic alive.
"Six decades is amazing!" says the 69-year-old, who celebrates her birthday on Friday November 3.
"You know the weird thing is I have to say is 'It's really been that long?'
"They say time passes really fast when you are having fun and I could apply that to me.
"It's happened without me even blinking because this is what I live for, I live for music.  It's a blessing in my life."
The 'All About The Music Tour' saw the Grammy-nominated singer embark upon 43-dates across the UK in October with the tour due to end in Southend on November 25.
Performing hits from a career spanning over 50-years, fans can expect to hear huge hits such as 'Shout', 'To Sir With Love', 'Relight My Fire' and 'The Man Who Sold The World', amongst many others.
After a 10 year period of relative inactivity on the live scene, Lulu performed at the Glasgow 2014 Commonwealth Games and the release of her most critically acclaimed album to-date, 2015's self-penned 'Making Life Rhyme', sparked the most prolific touring period of her entire career, leading to sell-out tours in both 2015 and 2016.
So how does she keep the shows exciting? "First of all I've only been with this band for around four years and that's helped shake things up," she says.
"They're all younger than me, so there's a young energy which I love.
"We keep it fresh and new and the great thing is these guys are influenced by the same music that I was and still am but they have a new slant."
Lulu tells stories between songs. She has a set list and certain songs evoke certain memories.
She remembers her first performance when she was very young and sang 'Smoke Gets in Your Eyes' in a theatre or small hall – and she forgot the words!
"I just repeated the first verse and I wanted to die," she laughs, "but nobody mentioned it afterwards.
"I thought it was the worst thing I had done in my whole life. I was probably about six.
"What I do remember is I had a sticky-out frock and I think I was so pleased with myself that the excitement affected my memory!"
But after all these years she still has no shortage of energy – it's all about pacing herself.
"I guess I was blessed with a lot of energy," she says.
"I think if you are healthy you have a lot of energy. Some people love it and some would prefer you to shut up and sit down. It's all about how you use your energy for the positive, and as you get older it's about pacing your energy – and for that I do meditation and Chi Gong."
Lulu, real name Marie McDonald McLaughlin Lawrie, was just 15 when she was signed to Decca Records and her version of the Isley Brothers 'Shout', peaked at number seven in the charts.
However, she believes today's young female bands and artists are under too much pressure to look good.
"Now it's world domination or nothing," she says, "and that is tremendous pressure – you'll be dropped like a hot potato if you don't sell a certain amount of records. It was different back then."
Lulu loves listening to new music including Lady Gaga, Zayn Malik, Adele, Rihanna, Ed Sheeran, Bruno Mars, Sigma – and she describes Beyoncé as a "consummate entertainer".
She adds:"I also love Paolo Nutini – Paolo is the real deal; he's a real blues singer. I also think Calvin Harris is doing the most unbelievable work. There is so much I enjoy."
Lulu says most things become easier as she gets older because she lives from a position of having gratitude.
"I've become philosophical, and as tough as it is for me not to kneejerk into a negative place when things go wrong, I always have a way of getting back and looking at acceptance of what is and what I can't change," she says.
But she admits some things also get tougher with age.
"Maintenance. It's a bitch" she laughs.
"There's a big piece of acceptance in growing older. I look at myself and go 'oh my God'. You never really thought this would happen. When you have success at a young age, the pop star sort of thing, you think you're invincible, so it's a shock to see that you are not."
Lulu: All About The Music Tour: November 12 at Rothes Halls, Glenrothes and November 16 at the Concert Hall, Perth. luluofficial.com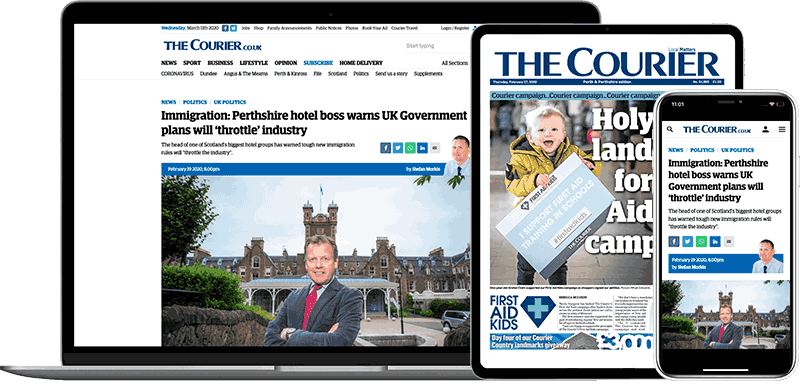 Help support quality local journalism … become a digital subscriber to The Courier
For as little as £5.99 a month you can access all of our content, including Premium articles.
Subscribe