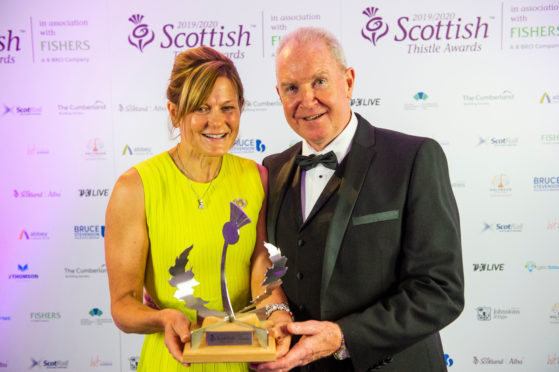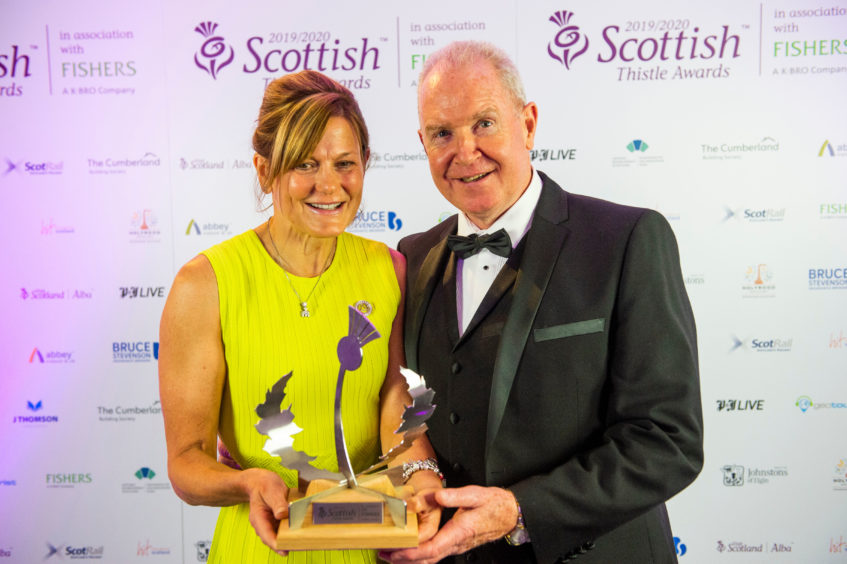 The Real Food Cafe owner, Sarah Heward shares the dishes that mark the different chapters of her life
Aside from the luscious landscape, one of the great things Scotland is known for is its abundance of homegrown produce and high-quality eateries. The Real Food Cafe in Tyndrum, Perthshire, is no exception with its offering of handmade, carefully sourced and award-winning fare.
Just a few minutes on The Real Food Cafe's website shows this traditional British dish is at the heart and soul of Sarah's business, which has been serving great food to customers off the A82 since 2005. It even won the National Federation of Fish Friers (NFFF) Quality Champion Award for 2020 earlier this year.
Here owner, Sarah Heward, 55, who lives in Killin, reveals the role food has played through the different stages of her life and how it has helped shape her career, from wining and dining in some of the most expensive restaurants around the world, to setting up shop in a small village in Perthshire.
Childhood – fish and chips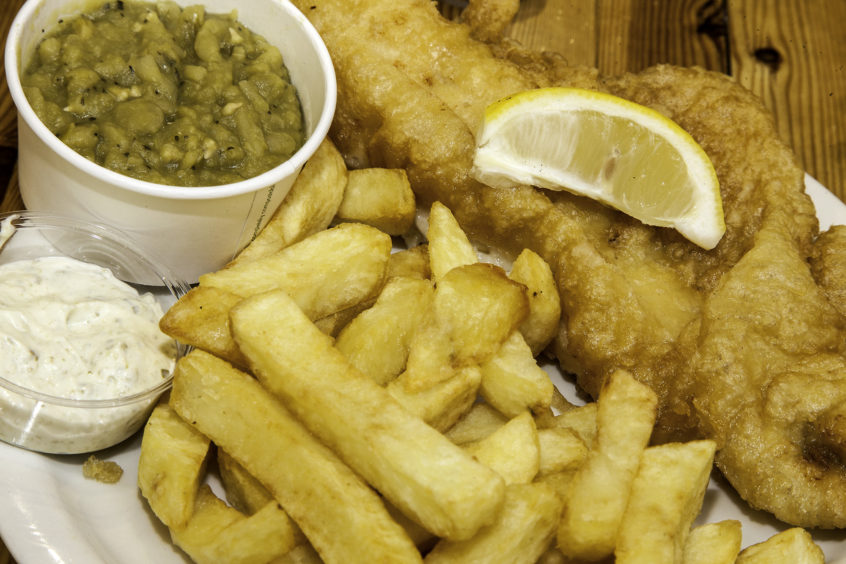 "I was brought up in Warwickshire in the Midlands. My mum is from Scotland and my dad was from the Midlands, while my brother Angus was born in Scotland. So we were a bit of a crossbreed.
"It is quite ironic because it's like my whole life has come full circle. After school on a Wednesday my mum would take me and my brother to swimming club and on the way back from swimming we were starving, and we would stop at the fish and chip shop.
"I used to really look forward to that, and I can still really vividly remember it and the excitement building up to it.
It's really strange that now I make my living, under normal circumstances, out of fish and chips.
"It was the whole thing I loved – that hunger after swimming, the fact the fish and chips were hot and warming, and the smell going into the fish and chip shop and looking into the cabinet.
"Then we'd get to eat them in the back of the car on the way home.
"At home, my mum and dad weren't gourmet cooks but we ate pretty well and ate good food. We weren't brought up on pizzas and McDonald's and convenience food. My mum and dad cooked proper food. We would eat things like pigs' trotters and tongue – you'd look in the pan one night and there'd be a big hairy tongue in it!
At Christmas we would have things like goose and not just the bog standard turkey. I wouldn't say it was a 'gourmet' household by any manner of means but it was a bit old fashioned foodwise.
"We had an AGA and we would do things like put the porridge in the bottom oven overnight and slowcook things. It was very traditional and the AGA was coal-fired so we'd fill it up twice a day and riddle it out.
"So it was a very traditional upbringing foodwise, no convenience or 'modern food' as I'd call it."
Teens – boarding school mince and tatties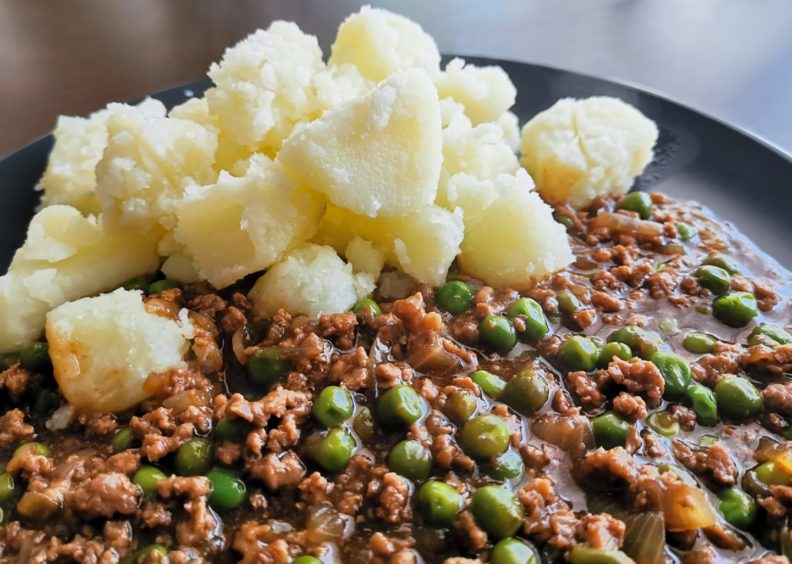 Despite the positive influence Sarah's childhood experience of food has since had on her career, food in her teens wasn't quite so mouth-wateringly delicious.
"I was packed off to boarding school, and in those days – this was in the early 80s – despite the fact that parents paid a lot of money for their children to go to these schools, I'm afraid the food wasn't all that great.
I remember once being asked for feedback about the school's food and I thought it would be hilarious to say that there weren't enough hairs in the mince!
Mince and tatties was one of the classic meals for me in this time of my life, but it wasn't good quality.
I also remember that on a Sunday morning – I think the school must've been short staffed on a Sunday – before we went to church, our breakfast would consist of a bowl of cornflakes and a Mars bar!
My parents were absolutely appalled that their daughter was being fed this 'rubbish' basically, especially considering what they were paying.
So my memories of food in the 80s was 'boarding school slop'. I love food, and food has been a big influence for my whole life, I've always loved it."
20s – Coronation chicken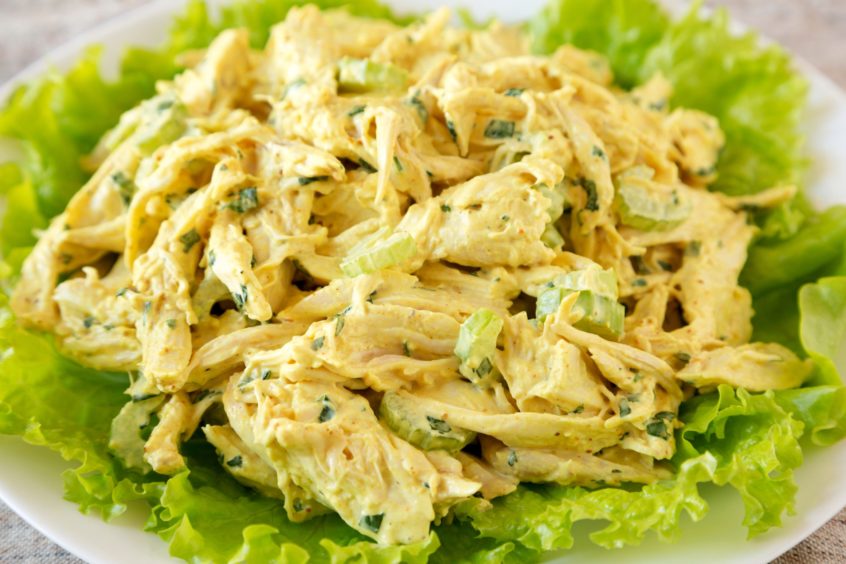 With the experience of 'boarding school slop' safely behind her, Sarah went on to train as a chef at the prestigious Le Cordon Bleu in London, but took with her the memories of good food from her childhood.
"Boarding school gave me an insight into what bad food was really like but Le Cordon Bleu revolutionised my whole knowledge of food.
"It's a classic training you do there but I loved it. I loved learning how to make even basic things that I had no experience of.
"One of the dishes that's a classic Cordon Bleu dish, and it sounds so passée now to say it but it blew me away at the time, was Coronation chicken. I think it was created in time for the Queen's Coronation by one of the Cordon Bleu founders.
"I thought this was fantastic. It's basically cold chicken curry but I thought it was terribly exotic.
Going there took my interest in food up a level because it started to educate me about lots of ingredients I'd never come across before and methods of making things like chioux pastry.
"It was a classic and basic – a good basic – level of cookery.
"From there I started working in catering, for directive dining rooms, in shooting and hunting lunches and so on, for a while. I was also a Chalet girl and put my training at Cordon Bleu into practice."
Find out more about Cordon Bleu and the history of Coronation chicken here.
30s – Tournedos Rossini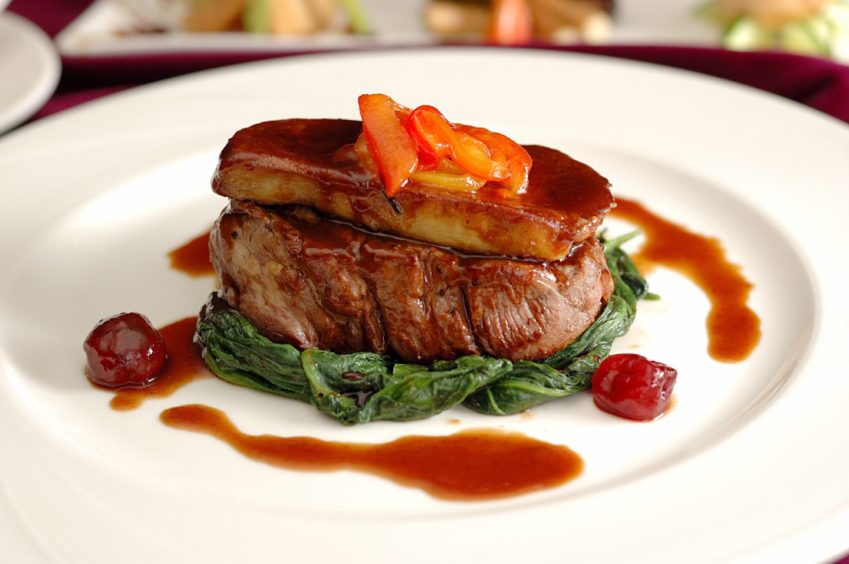 Having had her eyes and mind opened to a whole new world of food, Sarah then went on to take her career to new heights and experience it on an even grander scale than anything she had been used to.
"I then got a job at wine supplier Corney and Barrow, which was established in 1780. At the time they had three royal warrants for supplying wine to the royal household. But they also had a couple of wine bars in the City of London. I started working in one of their wine bars, which was very traditional indeed.
"To cut a long story short, I actually became managing director of Corney and Barrow wine bars and I worked at that company for almost 15 years and for the last decade I was managing director for a growing empire of wine bars.
I had a big expenses account and ended up never cooking in my house. I never cooked anything – I ate out every day of the week in expensive London restaurants. Or sometimes it could be somewhere like Paris.
"I've eaten at all the best places. So I went from having an interest in food and cooking well myself, to then just eating and drinking well. It was an incredible experience – I went to place like the Champagne region of France. I was managing the biggest retailer of Champagne in the United Kingdom. I was being wined and dined by all of these suppliers.
I was eating things I'd never dreamed of eating, for instance foie gras, which I would never dream of eating now, but this was in the late 80s/early 90s."
Sarah believes this era of her life is perhaps best portrayed through a Tournedos Rossini, a French steak dish containing filet mignon and foie gras and something which she says she would never even think about eating nowadays.
40s – Cafe menu with vegan, veggie and gluten-free fish and chips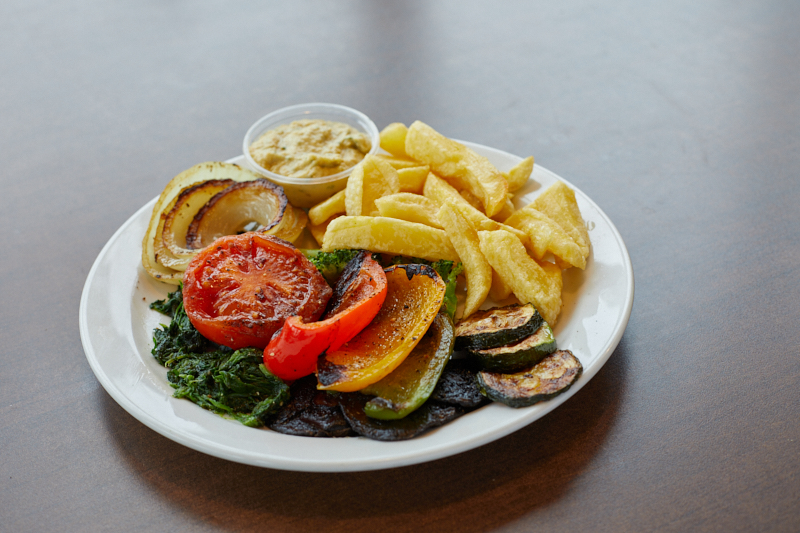 Having left the bustling life of London behind, Sarah packed up and came north for a quieter life.
"When I was 40 I moved up here to Scotland, so I've been living here for 15 years and it feels like I've come back full circle.
"In my 40s I would say I went back to fish and chips and developing my cafe menu with a lot of fast food favourites.
"I've developed an interest in vegan, vegetarian and gluten-free food now, and have done a lot of research into all of those things."
50s – Pea risotto
Now 55, and with her cafe constantly appearing in guides and lists of the best places to dine in Perthshire, Sarah has set her sights on other things.
"In my 50s I've taken up the sport of Ironman Triathlon, which is a one-day sporting event consisting of a 2.4-mile swim, a 112-mile bicycle ride and a marathon, done in that order.
"And that brings with it a whole different type of eating because that's a very important part of Ironman.
"So I eat a lot of porridge and a lot of jacket potatoes and a lot of things like poached eggs on toast – high protein and high carbohydrates. Simple foods done well with avocado."
For her 50s, one of Sarah's favourite meals is a pea risotto-stuffed peppers, which gives her the fuel she needs for her training.
---
Pea risotto in baked peppers
(For 2-3 persons)
Using red peppers is best for this because the pea risotto has a vibrant green colour and looks very eye catching with the red peppers.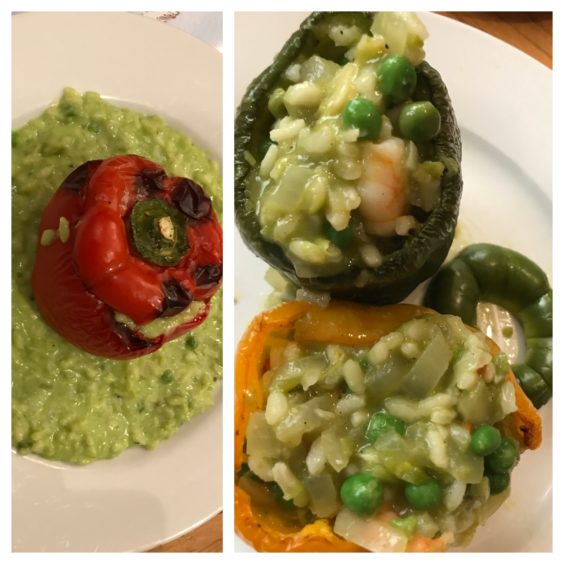 Ingredients:
200g risotto rice
1 small/medium onion, very finely chopped
1 glove garlic, crushed
A little olive oil or coconut oil
600ml vegetable stock
150g peas cooked and blended to a puree
150g prawns (optional)
1 spoonful peas for stirring in at the end
3-4 peppers cored out, seasoned with salt and pepper and baked for 20 minutes in a hot oven (180°C) with a knob of butter inside each pepper
Method:
Prepare the peppers and turn on the oven to 180°C
Finely chop the onion and crush the garlic.
Heat a large frying pan with the oil and add the onion and garlic and gently sautee it for about 10 minutes until they are opaque and soft.
Add the risotto rice and stir for a minute until it looks glossy.
Put the prepared peppers into the hot oven (as per the directions above).
Add half the vegetable stock and stir well and leave to gently simmer for about 20-25 minutes, stirring frequently and adding the remaining stock a little at a time as it gets absorbed by the rice. Continue with this until all the stock is used up and the rice should be cooked buy slightly al dente.
Check the peppers and when they are soft remove from the oven.
Fold the pea puree (and prawns if you are adding them) into the risotto and leave on a low heat for it to heat through.
Taste and season the risotto and spoon into the baked peppers.
Eat and enjoy!